Bisa Butler
Stitching History Together
Have you ever seen a picture of
Frederick Douglass? I have, too. In most photographs, he is wearing a suit, carrying the weight of injustice in his furrowed brows, with an intensity in the eyes that permeates the photo's grey glaze. He sits like a king upon his throne, looking every bit the legend he will become. Fiber artist Bisa Butler captures Douglass in a new light—literally. In her version, titled
The Storm, The Whirlwind, and The Earthquake
, Douglass is imposing, towering at seven feet tall. She used various grades of silk in hues of marigold, mauve, and magenta to create Douglass's puckered lips, almond eyes, textured hair, and chiseled cheekbones. In Butler's version, Douglass feels human, and not only does he appear to be debonair, he is so fly. If this version of Douglass appeared in my dating app, I would definitely swipe right.
Butler works solely in textiles, but her most recent work, a debut exhibition at NYC's Claire Oliver Gallery, where she is represented, would have you believe otherwise. In her dynamic montage of patterns and textures that interact so seamlessly, it actually appears that the works are painted. The life-size subjects, all of whom draw from the African-American and African diasporic experiences, meet viewers at eye level and draw them in. When I visit Butler at her home-studio in West Orange, New Jersey, she is knee deep in her new work, Warmth of Other Son, for The Newark Museum of Art. This show and her first solo exhibition at the Katonah Museum of Art were derailed by the pandemic, and though we are in tumultuous times, Butler hasn't been knocked offcourse; in fact, she is as focused and steadfast as ever.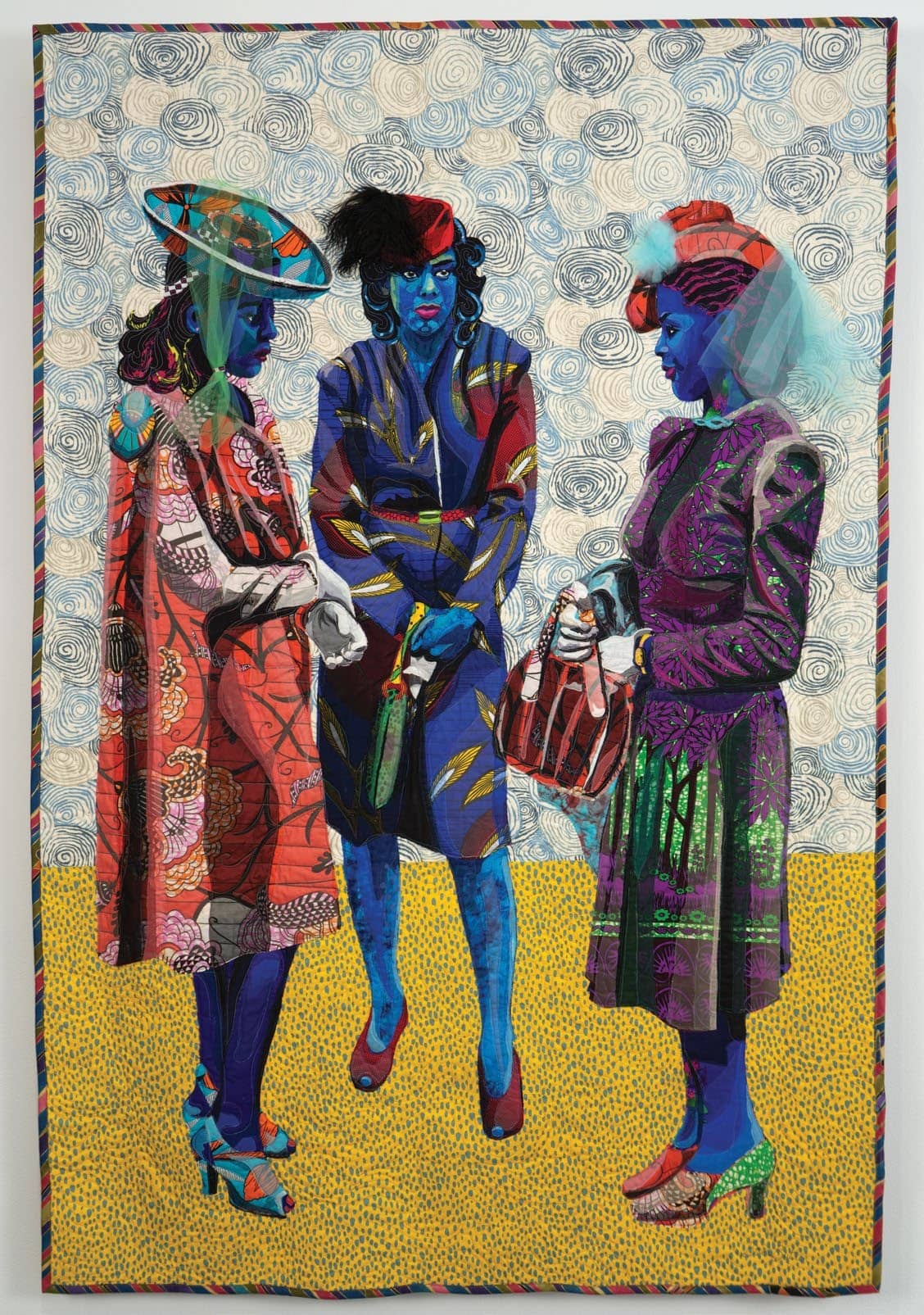 Bisa Butler was born and bred in South Orange, New Jersey, to an African-American mother born in New Orleans but raised in Morocco, where Butler's grandfather worked in the Foreign Service. And her father, a hard-working Ghanaian immigrant, was the president of Essex County College in Newark for 39 years. Butler first discovered her penchant for art at what she smilingly describes as the "deep hippy" Children of the Rainbow school, located inside a big Victorian house that allowed students to wander from room to room exploring various disciplines. The diminutive Butler could never pull herself away from the art room. Much like now, she constantly worked on her pieces, and recalls, "I spent every day in the art room. That's when I first started getting into doing hundreds of hours of artwork. And I remember people coming in the art room saying, 'Bisa, that looks really good.'" That response stuck with her. Later, she graduated from South Orange's Columbia High School, a cradle of creativity producing alumni like Lauryn Hill and SZA. Years later, Butler worked at her alma mater while honing her own artistic practice.
On a sweltering day in early July, I arrived at Butler's suburban home, greeted by her husband, John, and their younger daughter, who share a gracious personable warmth. Butler soon appears like an apparition from the style Gods, wearing a tailored jumpsuit made from the same West African fabrics used in her work. Like the artist herself, the jumpsuit's polychrome fabrics are vibrant and dynamic. I had briefly encountered Butler for the first time at the EXPO Chicago art fair in 2019, and, in fact, it was her monochrome chartreuse green ensemble that caught my eye before her work etched itself into my lexicon. Like body language or facial expressions, style is a form of communication, a language laced throughout Butler's work. It's no wonder her subjects always appear to be in their Sunday best, even when it's not Sunday.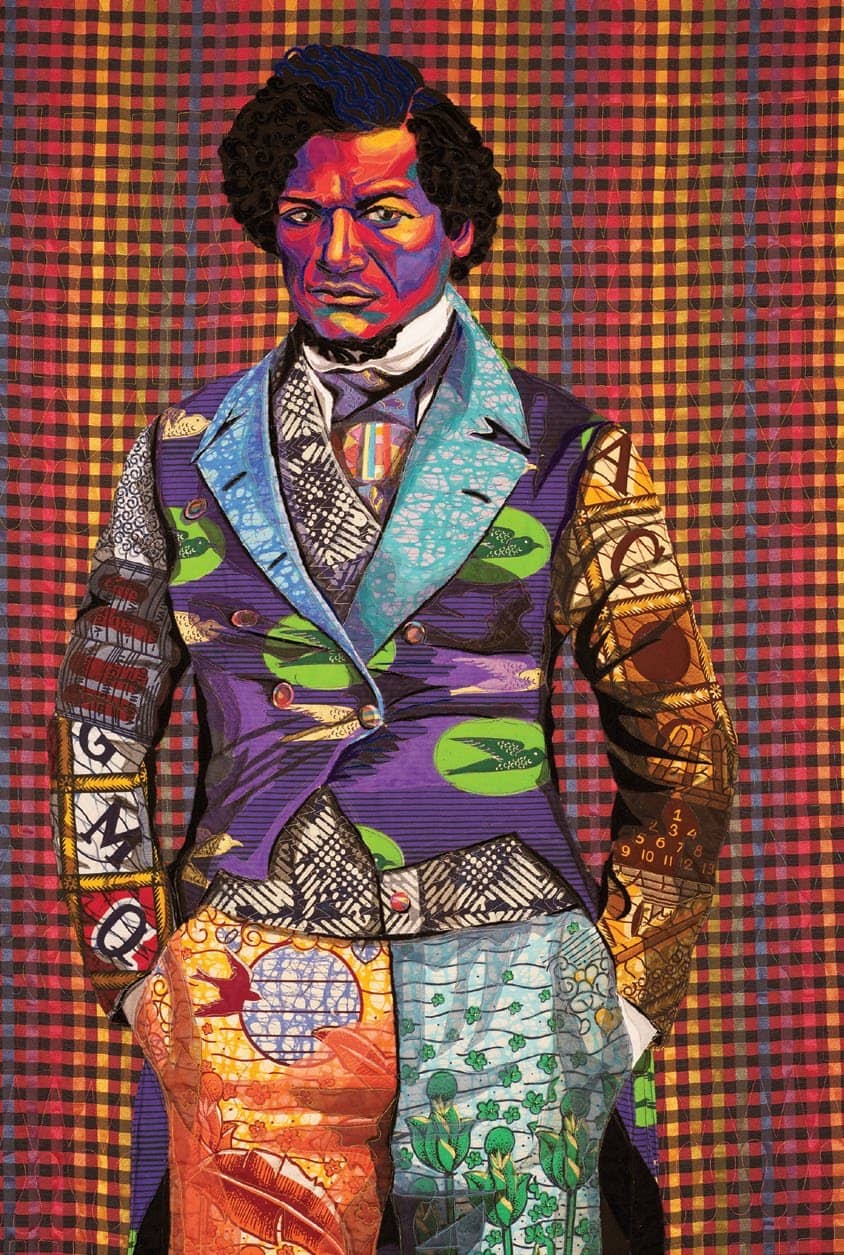 As we sit under a netted gazebo on her back porch, sunlight radiates her face, her eyes are bright, her lips are full, and her skin is like pressed silk, so rich with melanin; Hershey's owes her dividends!
It's hard to believe she's a child of the 1970s. She tells me that as an art student at Howard University, she began using fabric to avoid paint, which made her nauseous while pregnant. But she realized something deeper was at play, her actual dissonance with paint. "I could follow the rules technically but I didn't have the voice. The paint didn't connect to me." Butler was introduced to textiles by her mother and grandmother, both dressmakers, who taught her how to make her own clothes. "Fabric was of my family, so using kente related to my heritage. When I made the portrait of my grandfather whom I'd never met, I realized I needed to use all African fabrics, and I used my grandmother's fabrics that were old because I wanted to assert that this man lived before," she said. Through textiles, Butler found her voice.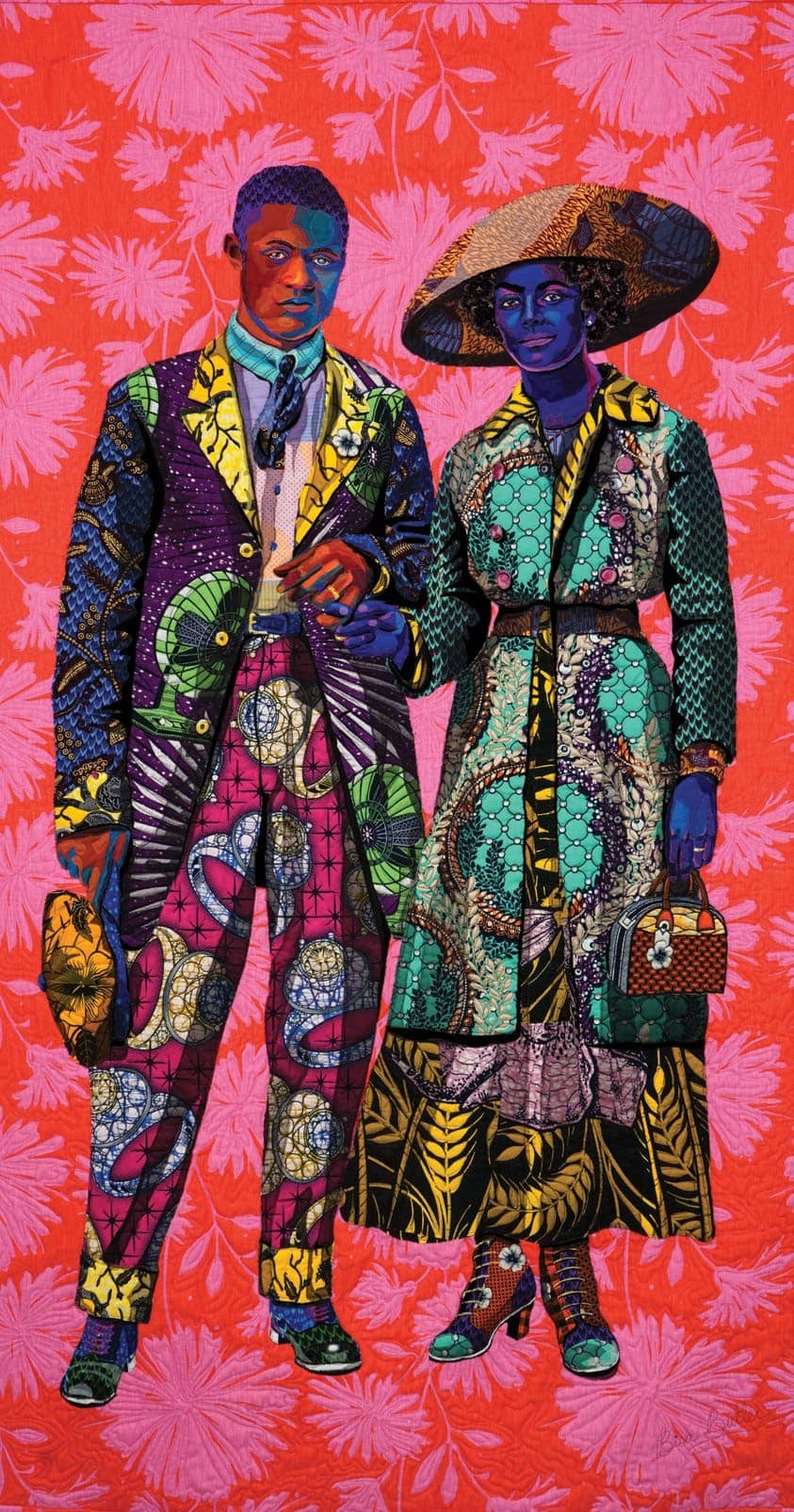 You can read up to 3 premium stories before you subscribe to Magzter GOLD
Log in, if you are already a subscriber
Get unlimited access to thousands of curated premium stories, newspapers and 5,000+ magazines
READ THE ENTIRE ISSUE
Fall 2020