The Turnaround
International Artist
|
August - September 2019
Harley Brown's fascinating things no one else will tell you
I'm finally at that point in life when I don't mind being thought of as narrow-minded: "Oh, my gosh, have you heard what Harley is saying about art; in particular contemporary art? I'm guessing it's just that he's getting older and less open-minded. I sure do recall his wisdom from the past. That's the Harley I remember."
In earlier times, I had nothing but raves regarding art; heartfelt innovative works. The world wasn't quite prepared for them when they first entered the art scene. But in time and with grand efforts of the art communities, they're with us and bringing us to a new aesthetic.
And now, I can finally say, "I DON'T GET IT!" It's a secret I've kept from other people; actually a secret I've kept from myself. That's right. I believed I understood all that was being thrown at me visually. Yes, there were moments of doubt. But no, I was on the bandwagon.
It's important that my eventual turnaround began a number of years ago, like a friendship that starts to peter out. You go for a few more years just because of all that time spent. It can sometimes take courage and energy to finally opt out of something that has been a good part of your life.
There are those who think my position in the visual arts is horse and buggy compared to today's Porsche. That's okay and they're surely fine people, welcome to have coffee with me any time. Let me put it another way: neither of us is more advanced or filled with more wisdom than the other.
We're just taking our personal modes of advancement down different routes. All legal and allowed.
Young artists of today were born and raised in different periods from my youth; more than half a century apart. If we want to use that same time, before I went to art college, that would be in the 1890s. So you can understand my lingering. I drive a zippy, modern car but my mind remains "horse and buggy."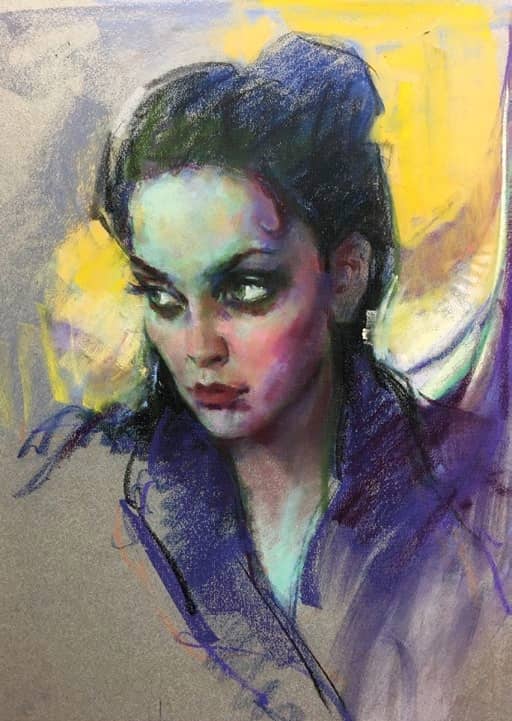 Being Ourselves
The time comes when we finally and justifiably realize that we are here on earth to be ourselves as artists and to appreciate ourselves and find what satisfies us in a very individual, positive way.
Satisfy others? Well, yes, there are people who like my works enough to buy them. But I don't know those people and didn't do my works for them. I do art for my own "selfish pleasure" and thankfully, a few buyers like what they see.
Whatever you do, there'll be someone, somewhere who likes it. I can show you a hundred images that go all over the place in style, skills, subject matter. I'll also show you that each one of them sold. Some for quite amazing prices. Think positive, you're worth it.
We artists, aside from the talent aspect, are relatively insecure types. One of the reasons we draw is to express what's within us visually. Like an actor acting and a dancer dancing. So here and now in this very spot, I declare that I'm happy to be me and I am doing what I need to do for me.
You can read up to 3 premium stories before you subscribe to Magzter GOLD
Log in, if you are already a subscriber
Get unlimited access to thousands of curated premium stories, newspapers and 5,000+ magazines
READ THE ENTIRE ISSUE
August - September 2019