Dreamscapes
International Artist
|
August - September 2019
J. Louis blends artistic styles in his textural figurative paintings that have a strong focus on technique and subject matter
Strength manifests itself in many ways, and for the keen of eye, it can be observed in often the most subtle manner. A spark in someone's eye or a resilience palpable in the soul yet ostensibly unseen on the surface, the idea of strength goes far beyond its typical associations—that of robust physical build or a hardiness in attitude. New York-based artist J. Louis captures this through his figurative expressionist works of the female form. Though the figures are rendered soft and delicate, one thing is abundantly certain: these women, in their repose, exude self-assuredness, whether through their unflinching gaze or the comfort they seem to hold in their own bodies.
"I want people to be hit by the incredible women in my life. I want people to see that women are strong in these dreamy states, that they aren't helpless in any way," says Louis. He cites his mother and wife among his greatest inspirations.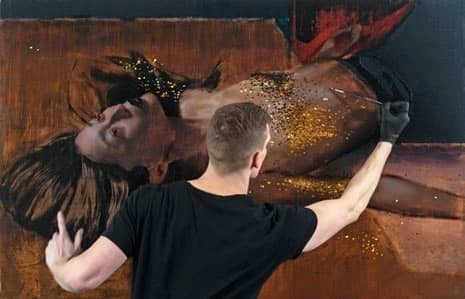 "Throughout my life I've been inspired by these strong feminine figures who've supported me... One of the reasons I paint women is to understand them," he says. "Since meeting [my wife], traveling the world, just being together, I've been hit with how she handles life...She is really empathetic and I appreciate that about her."
Weightless In A Heavy Space depicts a woman lying on the floor with her legs up against the wall on the right side of the composition, her dark hair flowing like waves out of frame on the left. This is the only painting of Louis' wife in the exhibition. "Those are always very special to me," the artist says. He doesn't take on the task often, however, finding it difficult to "capture her essence perfectly. I'd never finish a show if they were all of her," he says.
Louis' paintings blend various artistic styles, and while the artist says he used to be concerned with defining himself and his style, nowadays, he'd like to do just the opposite, allowing intuition and creative freedom to take over. The backgrounds of his artwork channel expressionist vibes with textured surfaces and clearly defined brushstrokes, utilizing multiple layers of paint and scraping them away until the desired aesthetic is achieved.
You can read up to 3 premium stories before you subscribe to Magzter GOLD
Log in, if you are already a subscriber
Get unlimited access to thousands of curated premium stories, newspapers and 5,000+ magazines
READ THE ENTIRE ISSUE
August - September 2019