An Immersive Experience
Arts Illustrated
|
June - July 2019
Self-taught artist and author, Manish Pushkale lives in his South Delhi home with his studio in the basement of the building. The façade faces the Chor Minar (Tower of Thieves), a 13th century minaret built under the rule of Alauddin Khilji. The backyard of the house shares a wall with a temple. A trustee of the Raza Foundation, Pushkale literally and metaphorically lives between history and religion. We talk to him about his love for the arts and philosophy.
The tradition of hanging art on the wall came from my maternal grandparents
I grew up in Bhopal and my grandparents lived in a small town, Sagar, in Madhya Pradesh. It houses the illustrious Gaur University that led to the town becoming an educational hub for the region. My family never had direct interest in arts, but I distinctly remember seeing walls adorned with Ravi Varma oleographs, tapestry on the floor, and mirror work on the ceiling of the living room. Aesthetics was a way of life.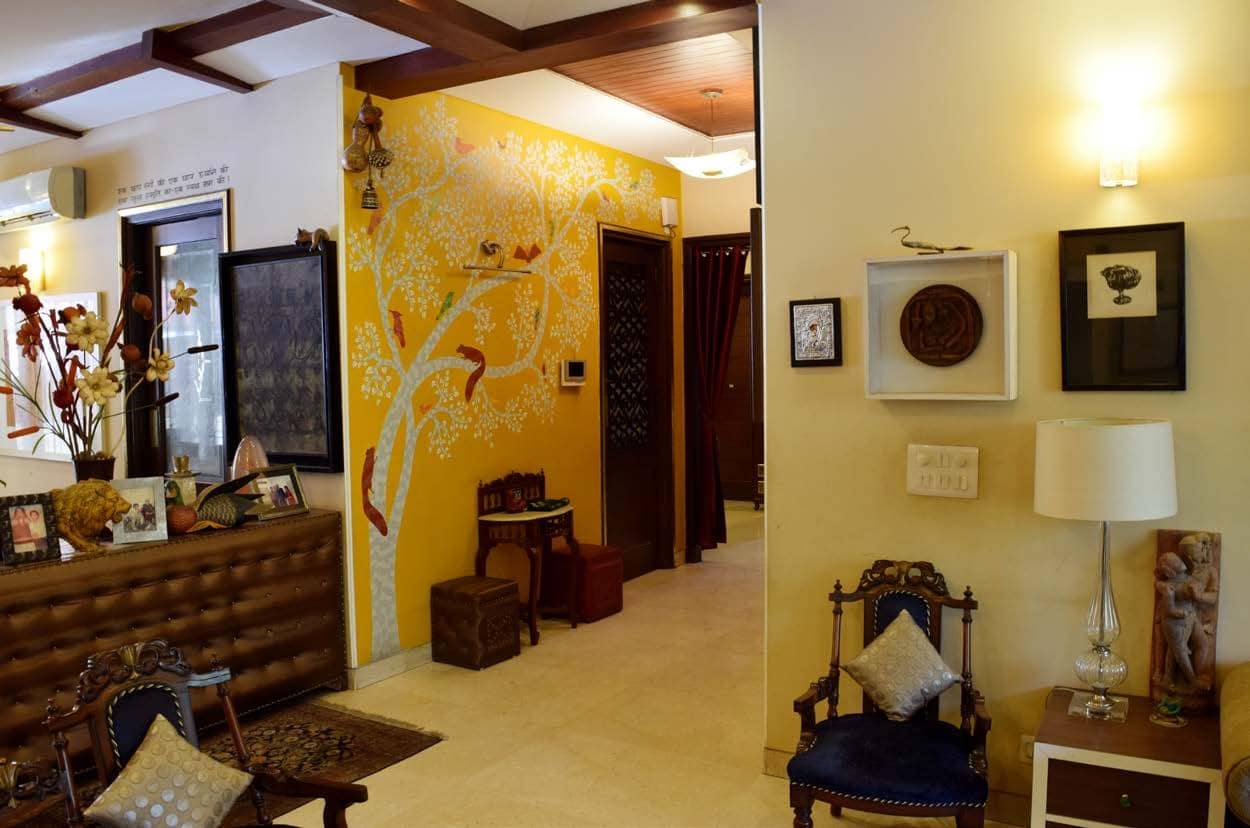 Two significant events of 1983 shaped my life
I was ten years old when the Bhopal gas tragedy happened. We lived just off the city centre. There was no television or mobile phones then, so news travelled slower. As a result, the morning after the incident was usual for us and I left for school. It was customary to see stray animals and busy roadside shops, but that morning I saw dead cows and silent roads. On reaching the school, I was told that school would remain closed. By the time I walked back home, there was mayhem on the streets. It was the biggest exposure to death for me at that impressionable age. I too inherited breathing allergies and asthma, having been exposed to the poisonous gas on that ill-fated morning. It was also in that year that Bharat Bhawan, an arts complex and museum, opened its doors in the city. It was the early days of the institution, but the energy was palpable. I had not seen architecture like that before. Everything at Bharat Bhawan was a wonder for me. From then on, seeing exhibitions, experiencing artists working in studios, listening to conversations... I soon knew that art was my calling.
My exposure was to a holistic creative world
You can read up to 3 premium stories before you subscribe to Magzter GOLD
Log in, if you are already a subscriber
Get unlimited access to thousands of curated premium stories, newspapers and 5,000+ magazines
READ THE ENTIRE ISSUE
June - July 2019