Watercolour Skies
Artists & Illustrators
|
November 2020
FABIO CEMBRANELLI shows you how to capture those big skies we fall in love with on our holidays, by lifting out colour and keeping the little details varied
My painting technique is based on an intuitive approach to watercolour, so all subjects are painted in a similarly loose way. My landscapes are no different. I am always striving to paint something that conveys a certain mood and has an effect on the viewer.
I have been lucky to teach watercolour painting in so many countries over the last 20 years, but one of the most beautiful places I have been is the Indonesian island of Bali. I love the sunny summer days there; all tropical nature, vibrant greens and stunning skies. That's what I aimed to represent: a typical Bali landscape.
The painting is based on a sketch I made when I last visited Bali. The painting's composition could be divided into two parts: the larger area of the sky (filled with moving clouds, interesting highlights and a diversity of blues) and the smaller foreground (represented by a few buildings, palm trees, tropical plants and green grass).
My painting relies on the contrast between these two areas. The foreground here acts as a support for the sky area, painted with a darker tonal value and fewer details so that all the attention is drawn to the sky. I also chose a low horizon line to further enhance the sense of depth and interest in the composition. www.fabiocembranelli.com
Fabio's materials
•Paper Arches Aquarelle 300gsm watercolour paper, 61x46cm
•Brushes Rounds, sizes 6, 10 and 16; flats, sizes 1/2", 3/4" and 1"; rigger, size 2
•Paints Raw Sienna, Burnt Sienna, Burnt Umber, Indian Yellow, New Gamboge, Transparent Orange, Permanent Alizarin Crimson, Rose Madder, Green Gold, Quinacridone Magenta, Sap Green, Manganese Blue Hue, Undersea Green, Cobalt Blue, French Ultramarine, Ultramarine Violet and Shadow Violet, all Daniel Smith Extra Fine Water Colour
•Pencil Derwent water-soluble 2B sketching pencil
1 Establish the skyline
I sketched my landscape with a water-soluble 2B sketching pencil, just placing my horizon line and a few buildings so I can determine the sky area.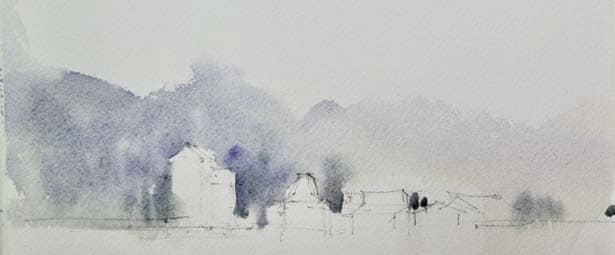 With my size 10 round brush, I started adding a mix of blues behind the buildings, a combination of Ultramarine Violet, Cobalt Blue and Quinacridone Magenta. I also added a little bit of Undersea Green in places just to suggest a few bits of background foliage.
2 Softly suggest shapes
I mixed more greens for the background and started suggesting a few buildings using Burnt Sienna for the roofs and a lighter mix of New Gamboge and Burnt Sienna for the walls.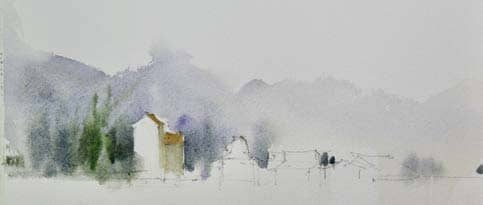 You can read up to 3 premium stories before you subscribe to Magzter GOLD
Log in, if you are already a subscriber
Get unlimited access to thousands of curated premium stories, newspapers and 5,000+ magazines
READ THE ENTIRE ISSUE
November 2020