Underway Studio
Artists & Illustrators|April 2020
STEVE PILL visited the South London printmaking collective to find out how four individual artists have pooled their talents to create a singular creative vision
The four printmakers that currently make up London's Underway Studio are sat around a table, cups of tea in hand, trying to explain how they collectively make prints. Unusually for a studio such as this, every screen print that goes out under the Underway banner has been honed by all four artists. Working in this way sounds like autopian dream, yet as anyone who has ever shared so much as a flat will tell you, it is a set-up that does not always produce harmonious results.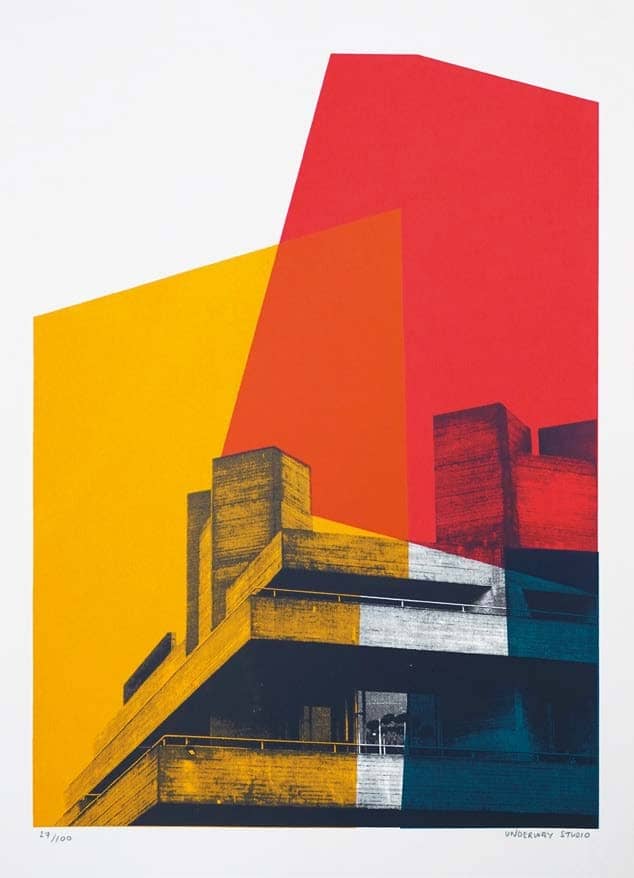 The mood around the table is very cheerful today, however. Although screen printing is a very tangible process, almost every Underway design will begin as a digital image. "We might start by quickly cutting a few bits but that will be an immediate brainstorm and then it's put on the computer," explains Anna Schmidt. "With Photoshop, you can even mimic the multiplying effect when you screenprint overlapping colours."
"One person will lead an initial composition idea and put some stuff on the page and then it gets passed around, with all of us having a go at moving things around," adds Melissa North. All four members clearly have a good idea of who is the best person to consult for certain problems, so a strong collective aesthetic has built up as a result. "I think now we play that to our strengths," says Melissa. "You'll be working on a print and you'll get this block and you…"
Caitlin Parks jumps in. "…You just know the right thing is to give it to someone else."
"I think there are certain rules to what an Underway Studio print looks like," agrees Aiden Barefoot.
Collectively, they suggest those qualities include grainy textures, block colours and interesting overlaps.
As all four still make art separately, does it get difficult to decide which ideas they save for Underway?
"It's just a band metaphor over and over again," says Aiden. "You can do your own solo stuff, but as a band you have that sound. When I come here and we work on our stuff, it has its own feel to it."
Working collectively has put an interesting spin on colour for Aiden. "I tend to work very monochromatic or like one or two tones, but then I look at something like our Hackney Empire print and think, 'Well, these two work well together', and it might influence me. There's a conversational element to it, it does go back and forth."
You can read upto 3 premium stories before you subscribe to Magzter GOLD
Log-in, if you are already a subscriber
Get unlimited access to thousands of curated premium stories and 5,000+ magazines
READ THE ENTIRE ISSUE
April 2020