Toffee APPLES
Artists & Illustrators
|
October 2020
KENDRA FERREIRA prepares for Hallowe'en with this month's drawing project, as she shows how solvents can be used to create a painterly finish with coloured pencils
In this project, we will learn how to combine coloured pencil with solvent to create a more painterly effect. Solvent melts the wax binder in the pencil, eliminating strokes and smoothing out the surface of the drawing. This technique also helps speed up the layering of colours.
HOW IT WORKS
Adding a little solvent to a layer of coloured pencil with a soft bristle brush will break down the wax binder and allow you to move pigment around the paper. Solvent fuses the colour into the paper and the layers of pencil become thick and opaque. After it dries, you can apply more layers of coloured pencils and solvent if needed.
I enjoy this technique because I can create rich, vivid colours and make my drawing look more like a painting. It also means I can apply the coloured pencil more quickly and less evenly because I will smooth it out at a later stage.
WHAT YOU WILL NEED
The best pencils to use with solvent are those that have a soft wax base and blend more easily than harder pencils. Practise with different brands to determine which will work best for your type of drawing application.
Choosing the right paper is also a factor. I like a sturdy paper or board that will withstand layers of colour and solvent, and won't buckle or disintegrate when solvent is added.
I often choose a sanded paper surface because the rough tooth holds the pencil, blends and builds colour quickly, but keep in mind it will also wear down the pencils faster.
For this project I chose a warm red-toned sanded board, as the red background complements the apples so I could allow it to show through in some areas.
A word of warning when using solvent: even though it is considered odourless or natural, all solvents release some toxins into the air. We will only use a small amount of solvent for this project but be sure to work in a well-ventilated area. Odourless mineral spirits and natural turpentine are the safest to use.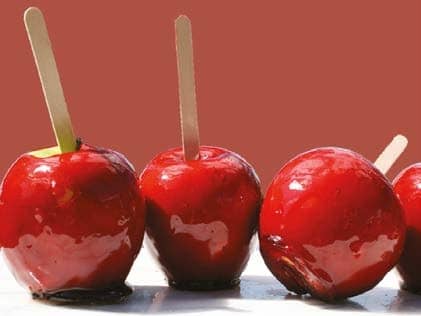 Kendra's materials
•Coloured Pencils
Beige, Spring Green, Blush Pink, Nectar, Clay Rose, Process Red, Cloud Blue, Pink, Ultramarine Pink, Carmine Red, Crimson Lake, Crimson Red, Poppy Red, Scarlet Lake, Tuscan Red, Black Grape, Luminance White, Blue Violet Lake and Indanthrone Blue, all Prismacolor or Caran d'Ache Luminance
•A sheet of red sanded paper
•White spirit or turps
•1/4" soft flat synthetic paintbrush
•1/2" soft flat or soft round brush (optional)
•Kitchen paper
You can read up to 3 premium stories before you subscribe to Magzter GOLD
Log in, if you are already a subscriber
Get unlimited access to thousands of curated premium stories, newspapers and 5,000+ magazines
READ THE ENTIRE ISSUE
October 2020