'The Natural History Of The Skies Above'
Artists & Illustrators
|
December 2018
JOHN CONSTABLE is one of the greatest painters of British weather. MARK EVANS reveals what you can learn from his sketches and diaries
John Constable (1776-1837) is best known today as the painter who transformed the art of landscape painting by combining the lessons of the Old Masters with his own profound observations of nature. This resulted in some of the most familiar and best-loved paintings of the English countryside.
He was also a peerless painter of the weather, whose depictions of the sky determined the remarkably expressive mood of his great landscapes such as The Hay Wain (1821) and Salisbury Cathedral from the Meadows (1831). These were based on many vibrant and spontaneous oil sketches which he painted mainly outdoors, direct from nature. The most spectacular were made on Hampstead Heath in 1821-2 and at Brighton in 1824. Some of the most radical are pure skyscapes in which the clouds appear alone. Constable's interest in accurately depicting the sky coincided with an expansion of popular interest in science and the birth of modern meteorology, a subject he followed closely.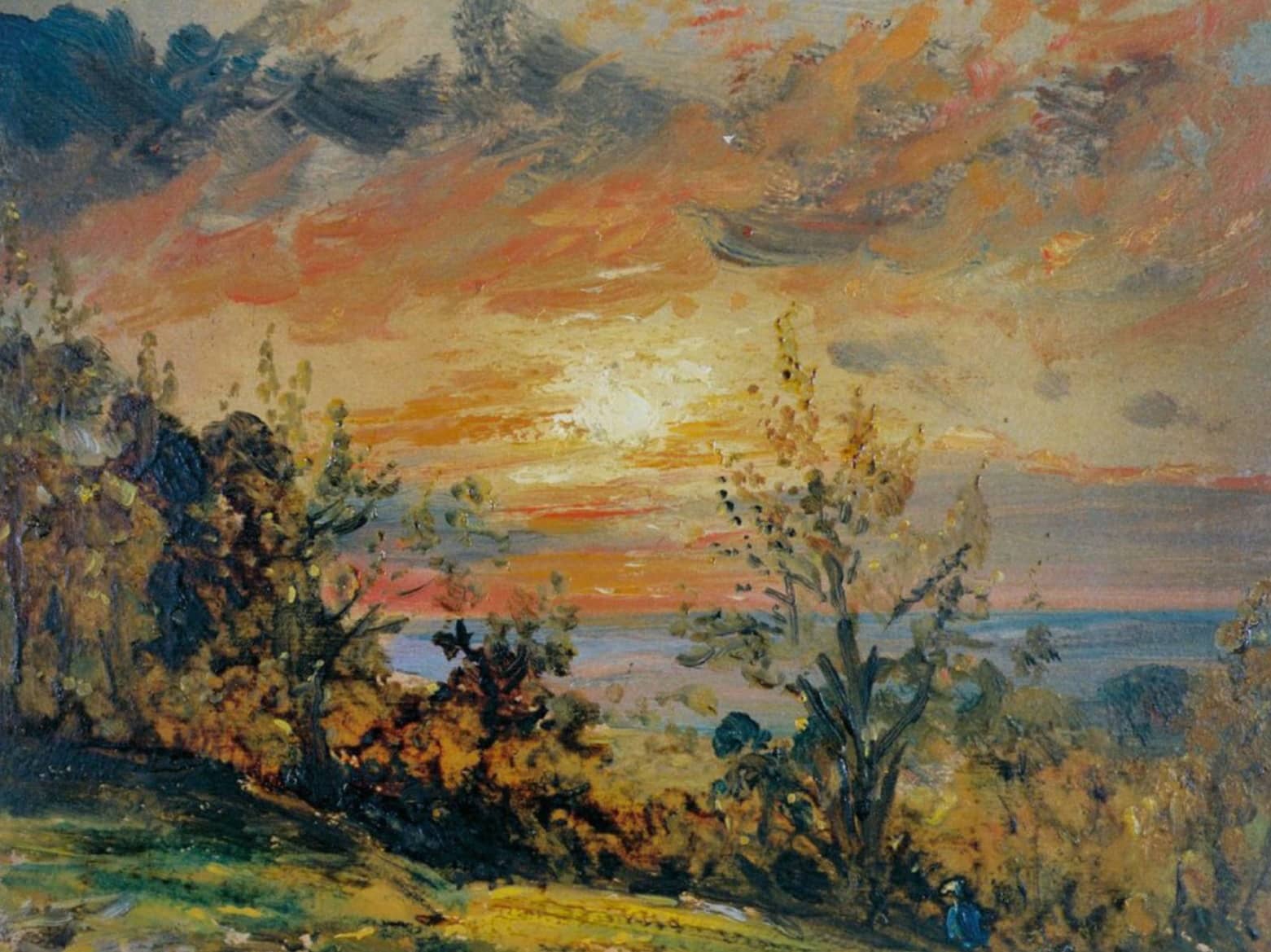 HAMPSTEAD AND THE SKY STUDIES, 1819-24
On account of the poor health of Constable's wife, Maria, the couple rented accommodation at Hampstead from August 1819, and settled there in 1827. High above the city, its elevated location and relatively smoke-free environment offered an ideal location to view the sky, as had been discovered over a century earlier by the Dutch master Willem van de Velde the younger (1633-1707).
At the British Institution on 13 July 1819 Constable studied two of van de Velde's maritime paintings, and he could have read in his copy of William Gilpin's On Landscape Painting: A Poem (1792) how his Dutch predecessor made cloud studies from a boat in the Thames, in black and white chalks on blue paper.
It can be no accident that Constable used this very technique in his earliest datable pure sky studies, one of which is inscribed 9 July 1819, just a few weeks before his move to Hampstead. From mid-October 1820 he began more systematically to sketch the skies in oils.
You can read up to 3 premium stories before you subscribe to Magzter GOLD
Log in, if you are already a subscriber
Get unlimited access to thousands of curated premium stories, newspapers and 5,000+ magazines
READ THE ENTIRE ISSUE
December 2018