Simon Pierse
Artists & Illustrators
|
September 2020
The watercolour artist with a flair for finding beauty in the harshest of landscapes tells REBECCA BRADBURY about his love of emptiness and extremes
An artist who mainly paints landscapes in watercolour is of course not a surprise in itself. However, it is somewhat of a revelation when you discover the artist was born and bred in London and studied at the capital's Slade School of Fine Art where the emphasis was very much on painting still life and the figure in oil.
The man who has carved out this trajectory from a city-dwelling, formally trained oil painter to a watercolourist renowned for his big, desolate landscapes is Simon Pierse.
Now a member of the Royal Watercolour Society, Simon left art school in 1979 and began an Italian government scholarship in Florence. On meagre earnings, he bought a sketchpad and watercolour set and began to paint landscapes that caught his eye while travelling around southern Italy.
A trip to Australia's otherworldly Red Centre, the desert region around Alice Springs, changed everything. Simon was visiting his girlfriend (now wife) who was on an exchange in the country at the time.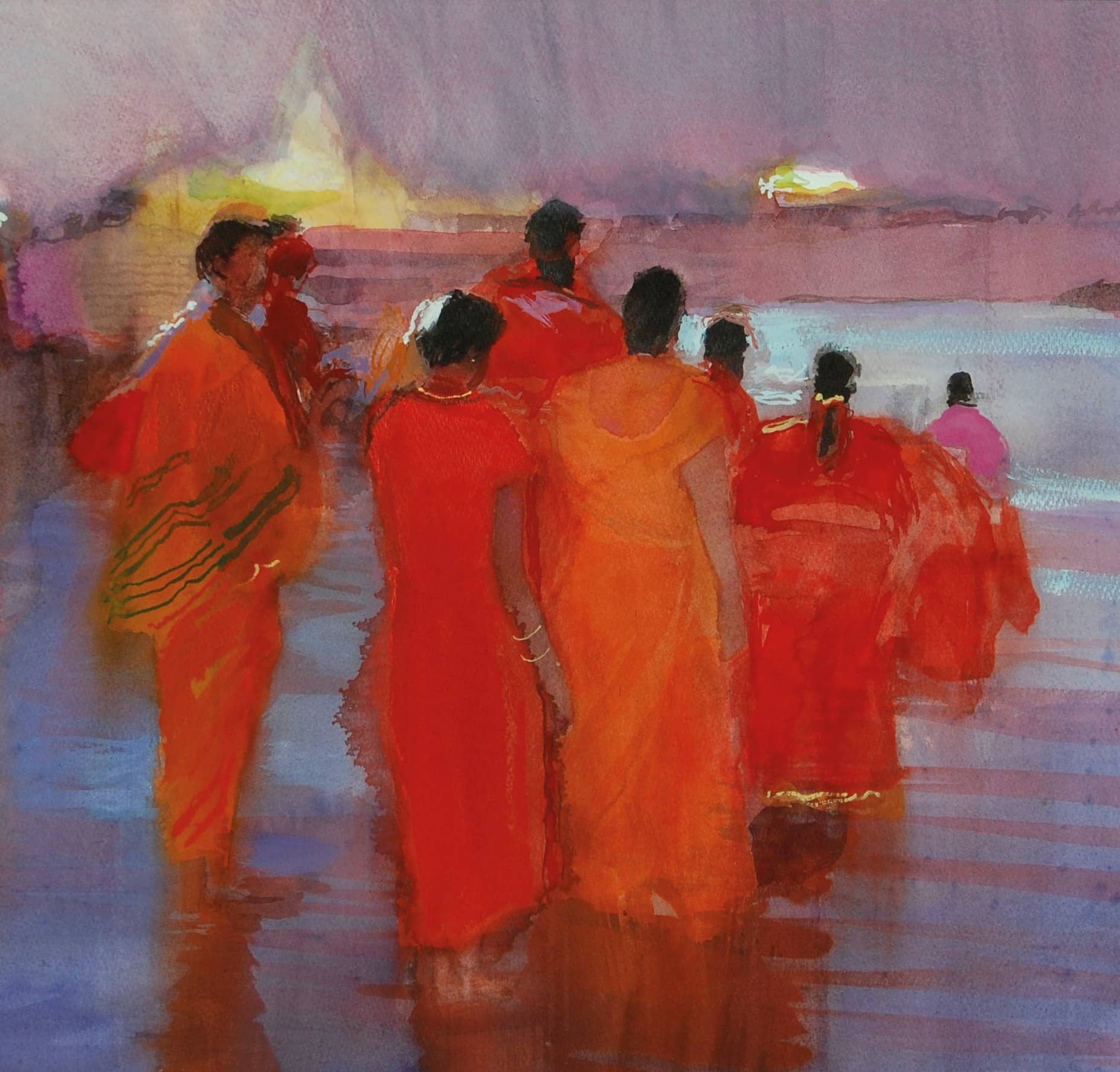 The experience cemented his yearning for the extreme desert and mountain scenes that continue to frequent his work today.
"I became really drawn to this landscape," he says. "It enables you to experience solitude, emptiness and quietness. It has this extraordinary pinky-red sand and no trees to speak of. It's flat and open with lots of space, and from that I developed into a painter of what I would call 'barren' landscapes – and mountains were an extension of that."
Since his first visit to Australia, Simon has returned more than a dozen times to paint, so much so that he has become an honorary member of the Australian Watercolour Institute. He's also become something of an art historian, researching Australian artists who spent time in London during the 1950s and 60s.
But he has travelled to many other destinations across the globe, creating a body of work that documents his adventures, from the Italian Alps and the Himalayas to Morocco, Malta and Greenland.
No matter the place depicted, the artist has an ability to imbue it with an ethereal quality. There is a dream-like essence to his work, one of calmness and serenity, even in those that capture the harshest of habitats, such as snow-capped peaks or sun-scorched desert. (He is also serving as Honorary Keeper of the Club's Paintings at The Alpine Club, the world's first mountaineering club.)
Earlier this year Simon managed to fit in a trip to India before the travel restrictions hit. He has since spent lockdown at home near Aberystwyth in Wales, painting in the studio on the top floor of his house. Here his easels take centre stage between two plan chests. Resting on the windowsill is a radio – an essential companion constantly tuned to BBC Radio 4.
You can read up to 3 premium stories before you subscribe to Magzter GOLD
Log in, if you are already a subscriber
Get unlimited access to thousands of curated premium stories, newspapers and 5,000+ magazines
READ THE ENTIRE ISSUE
September 2020