SIDE PROFILE
Artists & Illustrators
|
November 2020
AINE DIVINE'S new set of workshops looks at the head from different angles, continuing with a sideways look at portrait painting that utilises shape and colour
With this series of articles, I am delighted to have the opportunity to focus on that most mesmerising of subjects, the human face.
For me, there is no more fascinating a view of that face than the side profile. All the features take on a new appearance from the side and the real challenge is creating a feeling of form and three-dimensionality. This is especially tricky when a face seen from this angle can often read as flat as a cut-out silhouette.
However, attempting a painting from the side view can also make us more keenly observant. Above all, you must believe your eyes and paint what you see; the lips from this viewpoint are almost triangular, for example, as are the eyes.
The main consideration when it comes to positioning the features is to find where they sit, both in relationship to each other and in relationship to the whole face.
Once the positions of the features are found and the front edges negotiated, you are away and can enjoy weaving the flesh of the face into place in joyful transparent layers.
AINE'S PALETTE
For this demonstration, I used Cadmium Red, Cadmium Orange, Lemon Yellow, Yellow Ochre, Viridian, Sap Green, Ultramarine Blue, Burnt Sienna and Vandyke Brown.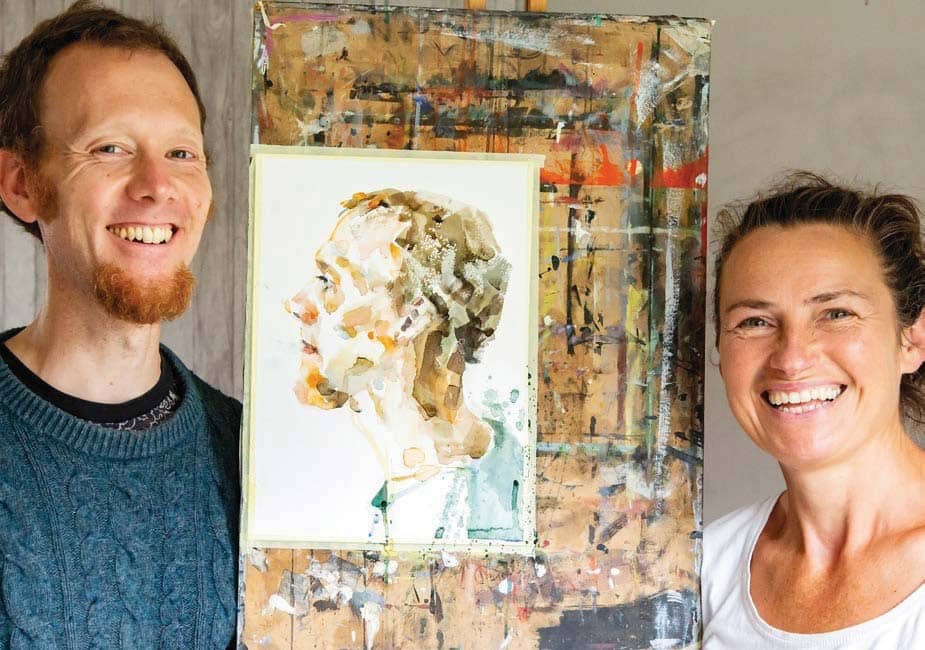 DEMONSTRATION SIDE VIEW
1 PLACE THE HEAD
When working on a side profile, I like to start with the back of the head. It feels like a less critical part to place and it also means the back is anchored down. With the back of the head in place, we can move across the face from there (in my case, working right to left), eventually measuring the position of the features horizontally against the curve of the head. To paint Danny's hair, I needed to warm the colours up as they reached his crown, moving from a Vandyke Brown and Ultramarine Blue mix to Burnt Sienna.
You can read up to 3 premium stories before you subscribe to Magzter GOLD
Log in, if you are already a subscriber
Get unlimited access to thousands of curated premium stories, newspapers and 5,000+ magazines
READ THE ENTIRE ISSUE
November 2020