Mindful portraits
Artists & Illustrators
|
September 2020
LANCELOT RICHARDSON guides us through a more considered approach to drawing, building a portrait with careful soft layers to achieve maximum detail and impact
In this masterclass, I wanted to show you the process of creating a long-form portrait drawing, taking a straightforward approach in pencil. Longer drawings require some extra pacing and planning; the aim is to take things slow and stick to the process. It is very tempting to focus upon an interesting corner of the portrait and neglect the rest of the drawing. As you will see over the next few pages, while I tackled each feature in turn, I was still thinking generally about the head as a whole subject, so all aspects of the portrait developed together.
To keep things naturalistic, I've avoided hard outlines, and have erased or covered any construction lines. By working with a light touch and adding lots of layers, I was able to erase the graphite more easily.
What follows is quite a tight drawing, but I tried to balance this with character in the marks and edges. Applying pencil marks in creative ways helps inject style and avoid a photographic look, while maintaining likeness. www.lancelotrichardson.com
1. Plan with thumbnails
Planning is the first step in any long effort, be it drawing or painting. Taking 10 minutes to sketch out some rough ideas will save a lot of pain later on. With these thumbnails, I was trying to decide between two different poses, and how I wanted to place the head on the page.
With portraiture, it is important to consider the space around the head. For a three-quarter view like this, it tends to look better when there is more space in front of the features. Similarly, positioning the head further up the page tends to look better than dead centre.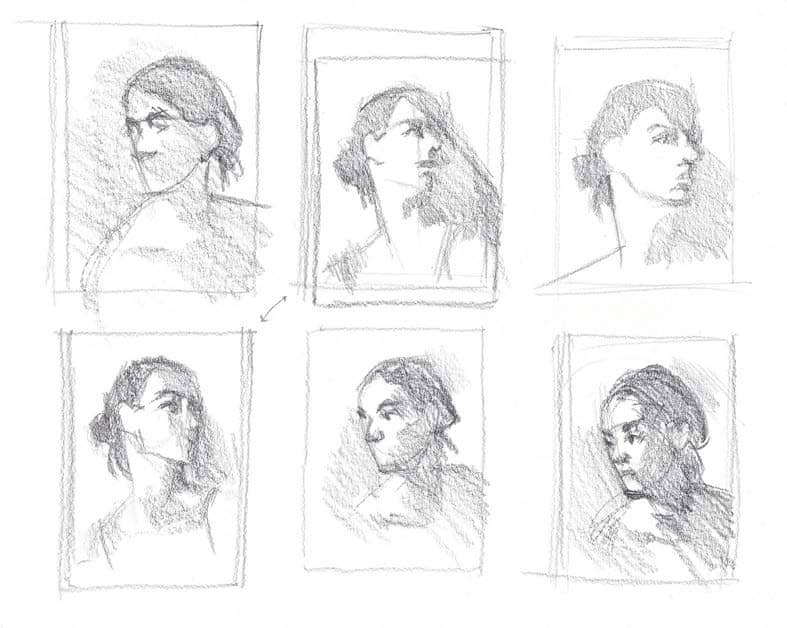 2. Plan out the head
I started by working with a harder HB pencil while being very light with my marks; these need to be easy to adjust in order to fix proportions.
I referred to my thumbnail to work out where to place the head. I then checked the overall shape of the head, made lines for the centreline of the face, and marked out the proportions. Below the hairline, I split the face into thirds for the eyebrows, nose and chin, with another marker for the mouth.
3. Make an initial drawing
Using the armature of the previous step as a guideline, I drew the facial features and tried to get a bit more precise with the shape of the head.
At this point it is important to be sure that everything is placed accurately, as we are still using a hard pencil and pressing very lightly. To do this, I compared how things align horizontally and vertically, and checked the angles between different features.
Don't worry about the contours being absolutely perfect, as we will be able to adjust them later. Resist the urge to put down any extra detail at this point too.
4. Introduce tone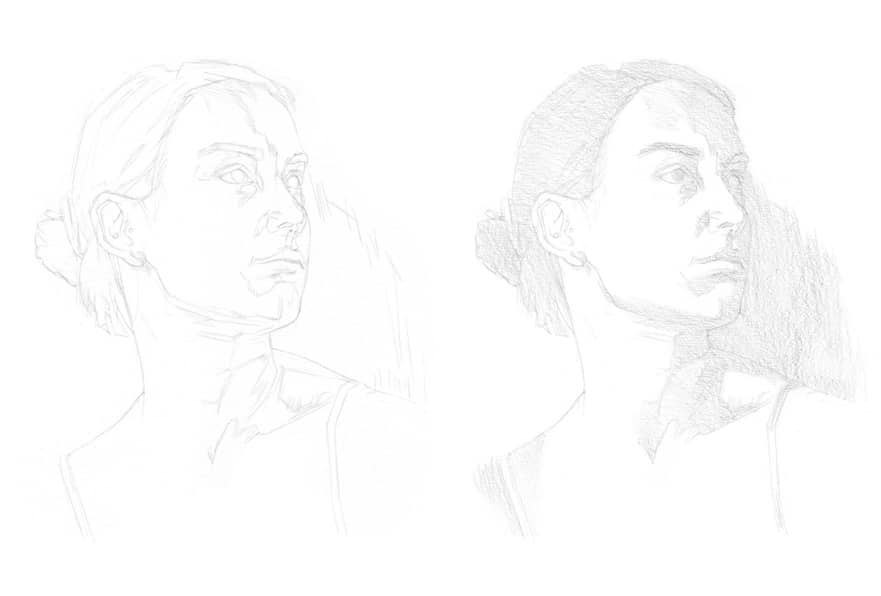 You can read up to 3 premium stories before you subscribe to Magzter GOLD
Log in, if you are already a subscriber
Get unlimited access to thousands of curated premium stories, newspapers and 5,000+ magazines
READ THE ENTIRE ISSUE
September 2020