Magic Circles
Artists & Illustrators|April 2020
An unusual round format and a shroud of fog has elevated GILL ROCCA 's imaginary landscapes to a new level. STEVE PILL visits her calming studio to find out more
Ahaze has settled across the entire valley. The field of vision is limited with only the nearest trees visible, isolated by fog from the rest of the woodland. There's a warm glow to the sky though; it might be sunrise or dusk, it's hard to tell. A pair of car headlights pierce the mist, indicating a road ahead that would otherwise have been shrouded in darkness. We're looking down on this entire scene, as if we're a spirit leaving the body or a drone camera filming the opening scenes to the latest Scandi noir crime drama.
Looking at one of Gill Rocca's paintings from her latest Figment series can have a strange effect on you. There's a sense of space and calm to these imagined landscapes, a confidence that only comes from an artist hitting her peak, yet there are also only a few recognisable elements within each picture. As a viewer, you find yourself clinging to these signs of life – the headlights, the moon, a wintry tree – as you try to make sense of everything.
The fog has only settled in Gill's more recent landscapes, adding an extra layer of mist to the mystery. "I love the feeling of mists," she explains. "Everyone is almost shocked by them, like when it snows. The landscape is completely changed. When you wake up and it's misty, it brings everything into you. The world is not visible, so it brings everything into a closer proximity and it makes you more introspective. It sparks the imagination slightly because you can't discern everything all of a sudden. I'm always quite fascinated by mists, or changes like that that are temporary. You feel like it's a moment to experience."
The circular panels are a clever device, literally softening the edges of what would otherwise be a more obviously cinematic format. Gill acknowledges that circular paintings in general are "having a bit of a moment", but she has been working on them since her time at Winchester School of Art in the mid-1990s.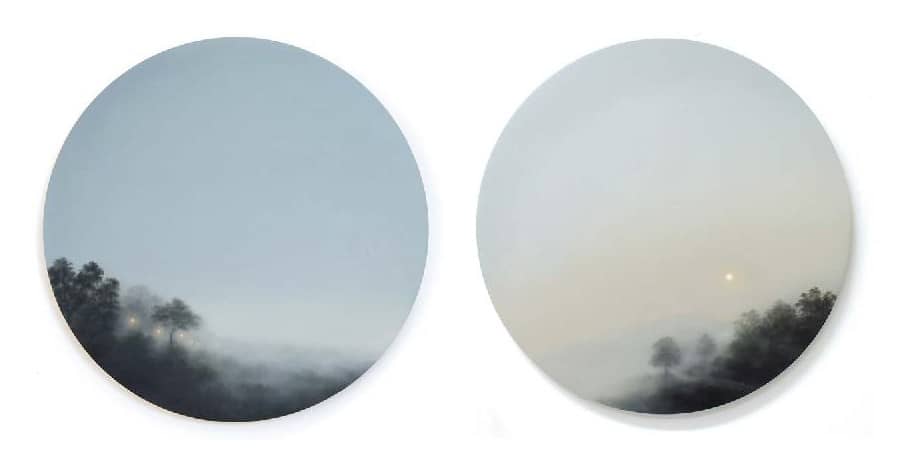 She has them routered to size from thick plywood, before multiple layers of transparent gesso are applied and sanded back. "I think there's something quite tactile about the circles. And it's nice when they're all ready and they're all blank. There's something really lovely about a circle in the abstract sense too, that idea of infinity. It's just a beautiful form, particularly the little ones."
You can read upto 3 premium stories before you subscribe to Magzter GOLD
Log-in, if you are already a subscriber
Get unlimited access to thousands of curated premium stories and 5,000+ magazines
READ THE ENTIRE ISSUE
April 2020