MASTERCLASS: EXPLORING EXTREMES
Artists & Illustrators|July 2020
Taking a leaf out of Matisse's book, TERENCE CLARKE uses pure black and white pigments as part of his main colour scheme to create a vivid still life composition
When Henri Matisse first visited Pierre-Auguste Renoir at his Les Collettes home outside Nice, he showed him some of his work. Renoir was a little taken aback by the younger artist's style but told him that he thought he used black beautifully. The comment goes against the widely held belief that the Impressionists were somehow allergic to using black in their pastel-heavy paintings. Indeed, one need only look at works by Renoir, Monet and their contemporaries in order to see that they used a great deal of black paint, particularly in accents. The idea that pure black and white are taboo is a misconception.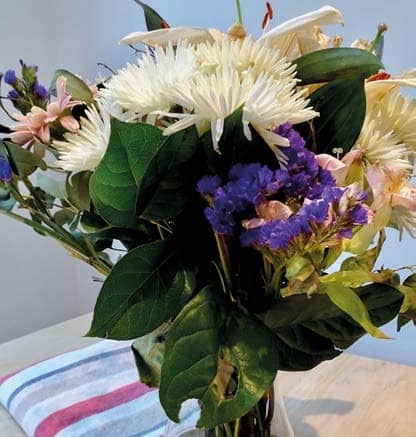 In this masterclass, I consciously tried to use both extremes of tone to enhance and dramatise the colour of a still life, using pure Process Black and Titanium White not only as accents but also as part of the main colour scheme. Each picture you paint is unique and the process you follow always involves some unexpected decisions. As you will see from the later stages, my decision to incorporate such bold extremes came about through trial and error as well as calculated judgement. I find that the best paintings always arrive out of this combination. The object of the exercise was to make a very ordinary subject appear vivid and colourful. I hope to show you that the use of black and white as colours in themselves was crucial to the overall effect.
www.terenceclarke.co.uk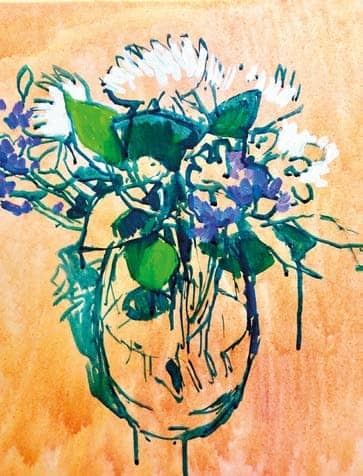 1. Establish a ground
Using a dilute mixture of Yellow Ochre and Vermilion Hue, I put a thin wash over the entire canvas to create a mid-tone ground. Doing this always helps me to judge the tonal values of mixes better from the beginning.
Once that wash was dry, I used a thin mixture of Prussian Blue Hue and Phthalo Green to draw the basic composition. I used the 2" background brush almost like a fat felt-tip pen, dipped into the inky paint, which I find is a lovely way to draw a picture.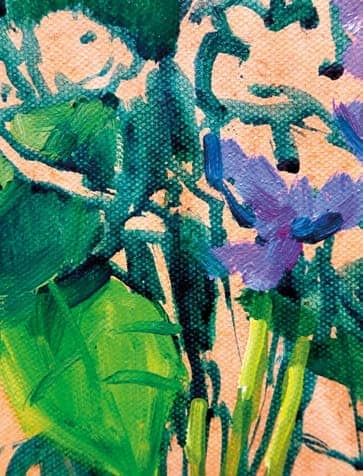 2. Sketch spontaneously
I sketched the first tones of the still life, working all over the image and taking on most of the accents which will create the effect of light.
The aim was to avoid completely covering the underpainting at this stage as when it shows through underneath it helps to keep the colours active as they contrast with the warm tone. The brushwork was consciously free and spontaneous, suggesting the petals with single brushstrokes.
You can read up to 3 premium stories before you subscribe to Magzter GOLD
Log in, if you are already a subscriber
Get unlimited access to thousands of curated premium stories and 5,000+ magazines
READ THE ENTIRE ISSUE
July 2020