In or Out?
Artists & Illustrators
|
November 2020
Unsure which subjects and details to include when you are painting from life? You need to decide what your painting is really going to be about, says ROB DUDLEY
When tutoring workshops and art breaks, I'm often asked a similar question: when faced with a complex subject, how does one decide which elements to include in a painting, and which ones to leave out?
Though I'm often asked in relation to landscapes, the question applies across all genres of painting. And thankfully, the answer may be far simpler than one might think.
The easiest way to make the decision about what to put in and what to leave out is to decide as early as possible what the painting is going to be about. I'm not suggesting that it's as easy as simply deciding that the painting will be a portrait of a friend or harbour scene – that is the subject. I'm suggesting that we, as artists, should have a clear understanding of the reasons behind why a painting is being made.
Ask yourself: why am I painting this subject at this moment in time? Once you have decided this, it's much easier to choose elements that support the meaning behind the painting while also rejecting others.
For example, take a simple beach scene. This is our subject. By including a lone figure on the beach, however, the artist could attempt to convey a sense of solitude through the painting. This is what the painting is about. However, if several figures or groups of people were included then the meaning behind the painting would be altered, that sense of solitude would be lost, and it would become a different painting. As such, a clearly defined reason for making the painting is key when it comes to deciding what's in and what's out.
CASE STUDY
BELOW ARE SIX STAGES OF A SINGLE PAINTING WITH AN EXPLANATION OF THE DECISIONS MADE AT EACH POINT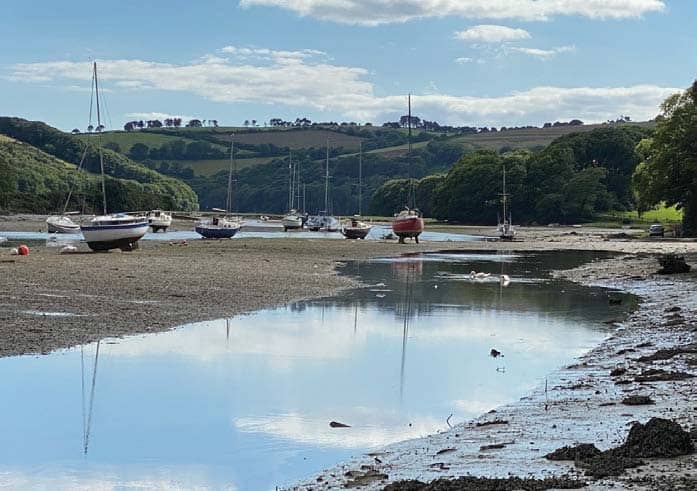 1. REFERENCE PHOTO
This stretch of the River Avon at Aveton Gifford in Devon is one that I have painted many times. It never fails to inspire me. Walking along the tidal road one day, I came across the scene shown in this photo. I was struck by the stillness of the reflections in the ebbing river level and quickly decided that would be the focus and what my painting would be about.
You can read up to 3 premium stories before you subscribe to Magzter GOLD
Log in, if you are already a subscriber
Get unlimited access to thousands of curated premium stories, newspapers and 5,000+ magazines
READ THE ENTIRE ISSUE
November 2020