IN-DEPTH: PAINTING WITH Inks
Artists & Illustrators|July 2020
Keen to try a new medium? SUZY FASHT explores exciting ways to draw and paint with inks, including three exercises that show its true creative possibilities
INKS
Inks are transparent and can be used as a drawing or painting medium. They have a uniquely transparent quality and dry with a satin sheen. They differ from watercolour in that once dry, they are insoluble.
Drawing inks are extremely transparent and brilliant in colour but are made with dyes so are not lightfast. An alternative is acrylic inks, which are slightly thicker, still transparent and insoluble, but are made with pigment so are less likely to fade; they can be thinned with water. All inks can be mixed like paint to create new colours. Black Indian ink is extremely strong and is often used with a dipping pen for fine drawing because, when dry it is waterproof, transparent colour can then be washed over it without altering the drawing. Indian ink can also be diluted and worked with a brush to create tonal work or used for tonal underpainting. If the work is to last, look out for inks made with pigment rather than dyes.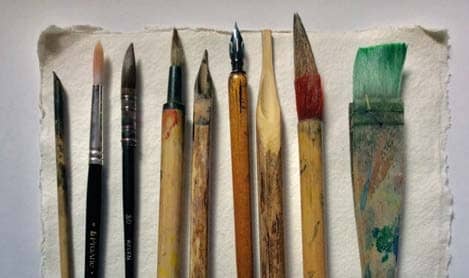 PENS AND BRUSHES
Pen holders and drawing nibs are inexpensive. Nibs come in a variety of widths to create a varying thickness of lines. Take the nib out of the holder to wash it and avoid letting ink dry on the nib as it can lessen the flow. Avoid getting the holder too wet as the wood will crack.
Pens can be cut from thin or thick bamboo (easier when the wood is green) and produce some great lines. They are also really cheap to buy.
I tend to use round Chinese brushes mostly, or a square hake for washes – I use them on their side for depicting grass as they hold a lot of water. You'll notice the ink may stain the hairs, but this shouldn't make any difference to the flow. My Jackson's Raven mop brush, which I also use for watercolour painting, is my new favourite – the quality is excellent for a synthetic brush and my conscience is squirrel free!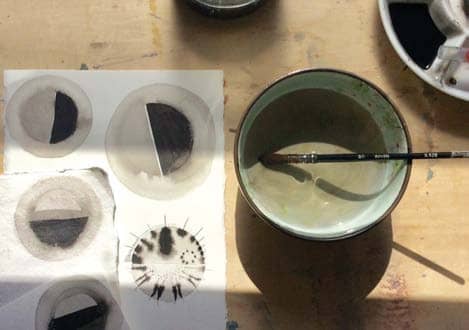 PAPERS
I prefer the smooth surface of hot-pressed watercolour paper because I like detail. A rough paper will absorb more water and is good for creating wet puddles of ink, but I find a fine pen will clog in the fibres and won't flow across the surface well. A cold-pressed (also called "NOT", as in "not hot-pressed") watercolour paper is a good all-round surface, slightly textured but not too rough. I often buy A1 sheets and fold the paper in half, tearing it with a ruler to get two paintings from one sheet.
You can read up to 3 premium stories before you subscribe to Magzter GOLD
Log in, if you are already a subscriber
Get unlimited access to thousands of curated premium stories and 5,000+ magazines
READ THE ENTIRE ISSUE
July 2020