HOW I PAINT Andrew Tozer
Artists & Illustrators|Summer 2020
The Cornish plein air painter has found new ways to work during the lockdown, as he takes inspiration from the masters and draws upon his library of sketchbooks
Andrew Tozer was born in Cornwall in 1974. After a foundation year at Falmouth School of Art and Design, he studied illustration at the University of Westminster, London, followed by a postgraduate diploma at Central Saint Martins.
A plein air painter, Andrew teaches outdoor workshops at Newlyn Art School. He exhibits his work with a number of galleries, including his most recent exhibition, A Beautiful Life, at Cornwall's Beside the Wave Gallery. Andrew also has a working studio and viewing gallery on his family farm in Penryn, Cornwall.
SURFACE TEXTURES
I've been pleasantly surprised by the lockdown in terms of painting. I've not been plein air painting so I've been focusing on my garden paintings and some much bigger studio-based works instead. Hot Sunny Washing Day was a huge four-foot painting of the view from my studio with the childrens' clothes drying.
I usually paint in acrylics and the drive to working in oils came from thinking about the surface of the work itself, the paint quality. I read a book about Monet working on his waterlily paintings during the last 20 years of his life. It's really about how he contemplated and dealt with making big oil paintings. I became quite inspired by that. I was looking at how I could paint pictures with a more intense surface, so it led me to oils.
What I find is that 20 by 30 inches (approx. 50x75cm) is about as big as I can go with acrylics, because you end up with these strange colour shifts – acrylics either dry lighter or darker. It's hard to mix up lots of acrylic paint without getting these shifts across the larger areas, so I hoped to teach myself a new way of working with oils.
Hot Sunny Washing Day started off with a drawing. I enlarged these sketches in the studio and then I took a big canvas outside, I put down a thin turps-y wash of the approximate colours and shapes, let that dry, and then I kept on coming back to it. I had it in the studio for months and kept adding a bit to it – it's almost like a "passage of time" painting, it was painted in lots of different sessions. I think of it as following in the footsteps of Monet.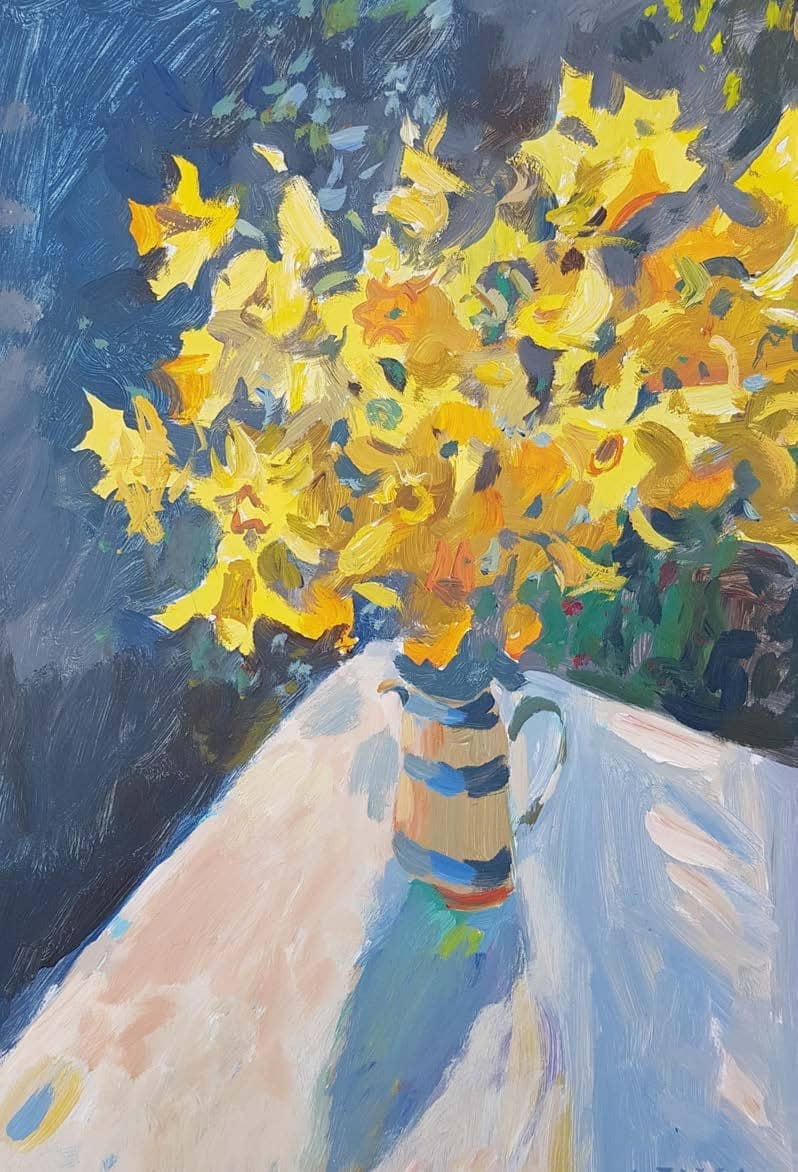 I have a painter friend, Chris Insoll, who works on paintings for a long time but keeps a sense of immediacy to them. I was also thinking about that: how do I make a painting that is at once in the moment, but has also got this multi-layered surface to it?
A painting like this will change each time you work on it. I suppose because you have a drawing and an underpainting, your form doesn't change drastically. The colours and the surface are changing, but I'm not suddenly changing the shape of the figure or the house. The big shapes are all fixed, I'm really just altering the colours and smaller details.
For example, the chickens kept coming in and then being painted out – the same with the washing basket, that went through many different translations. It's like you're improvising every time, like a jazz musician.
You can read up to 3 premium stories before you subscribe to Magzter GOLD
Log in, if you are already a subscriber
Get unlimited access to thousands of curated premium stories and 5,000+ magazines
READ THE ENTIRE ISSUE
Summer 2020