FACES OF A CRISIS
Artists & Illustrators|Summer 2020
The Portraits for NHS Heroes project only began in April, yet it has already become the defining artistic statement of a global crisis. The founder and three participants tell STEVE PILL their stories
On 4 April, Tom Croft posted a short, two-minute video on his Instagram account that would change his life. In the clip to camera, the acclaimed Oxford-based portrait artist was offering to paint a free portrait of the first NHS frontline worker to respond.
Given Tom often paints rock stars, TV presenters and world-class footballers, this was something of a coup. "In days gone by, portraits were a real status symbol and a sign that you'd really achieved something in your life, and it occurs to me that the real heroes of today are obviously working on the frontline of the NHS at the moment," he reasoned. He added the #portraitsfornhsheroes hashtag and also tagged a number of leading artists to suggest they offer the same.
Tom's offer was soon accepted by Harriet Durkin, a nurse at Manchester Royal Infirmary. Then the idea began to take off. Over the next fortnight, he worked tirelessly to match 500 artists with grateful NHS workers. The BBC picked up the story and the following morning, he had 500 more emails in his inbox. He developed a traffic-light system of social media posts so that artists could advertise their services directly. Many of Britain's leading portrait painters signed up and similar initiatives soon started across Europe, the US, Australia and beyond. Over the next eight pages, first Tom and then the artists involved, share their stories.
Were you struggling for motivation when the lockdown began? It must be hard as a portrait painter being stuck without contact to people.
Absolutely. I think this will speak to a lot of artists in that what we do is often very solitary. When normal service allows, I have people come and sit for me. And the main part of portraiture is telling the story of your subject and you do that by obviously getting to know them, and so you're denied that in some senses at the moment. Obviously with social media and Zoom and phone calls, you can find out a little bit about them, but it is a strange one.
How did the idea for the Portraits for NHS Heroes project come about?
My idea was borne out of frustration creatively and a lack of being able to concentrate on my work. I think I over-exposed myself [to the news]. I took too much of it on and thought well, what's the point of pushing paint around the canvas? It all seemed completely pointless. I boiled that question down to well, what is the point of a portrait? Literally, who needs one? What can a portrait be?
I thought portraits can celebrate people, they certainly document moments in time, moments in history. It struck me that the people who should be being documented at the moment, and should be being elevated, were the NHS key workers.
When you recorded your post, did you genuinely have any idea of the potential scope of the project?
Well, I'm an optimist at heart so I ludicrously tagged David Hockney on my post. I thought if you aim at the top, you can see where it lands, and if we get halfway there it's a good thing.
I had hoped it would take off, but I obviously had no clue of the quality and the calibre of artists who would be happy to join in. Former Royal Society of Portrait Painters' president Alastair Adams has already done three free portraits, which is incredible. You've got BP Portrait Award exhibitors, winners of the Sky Arts Portrait Artist of the Yea programme, members of the Contemporary British Portrait Painters group, so you've got a tremendous amount of quality there and people who would, I imagine, charge quite a lot of money for a portrait. It shows you how indebted we all are to the NHS.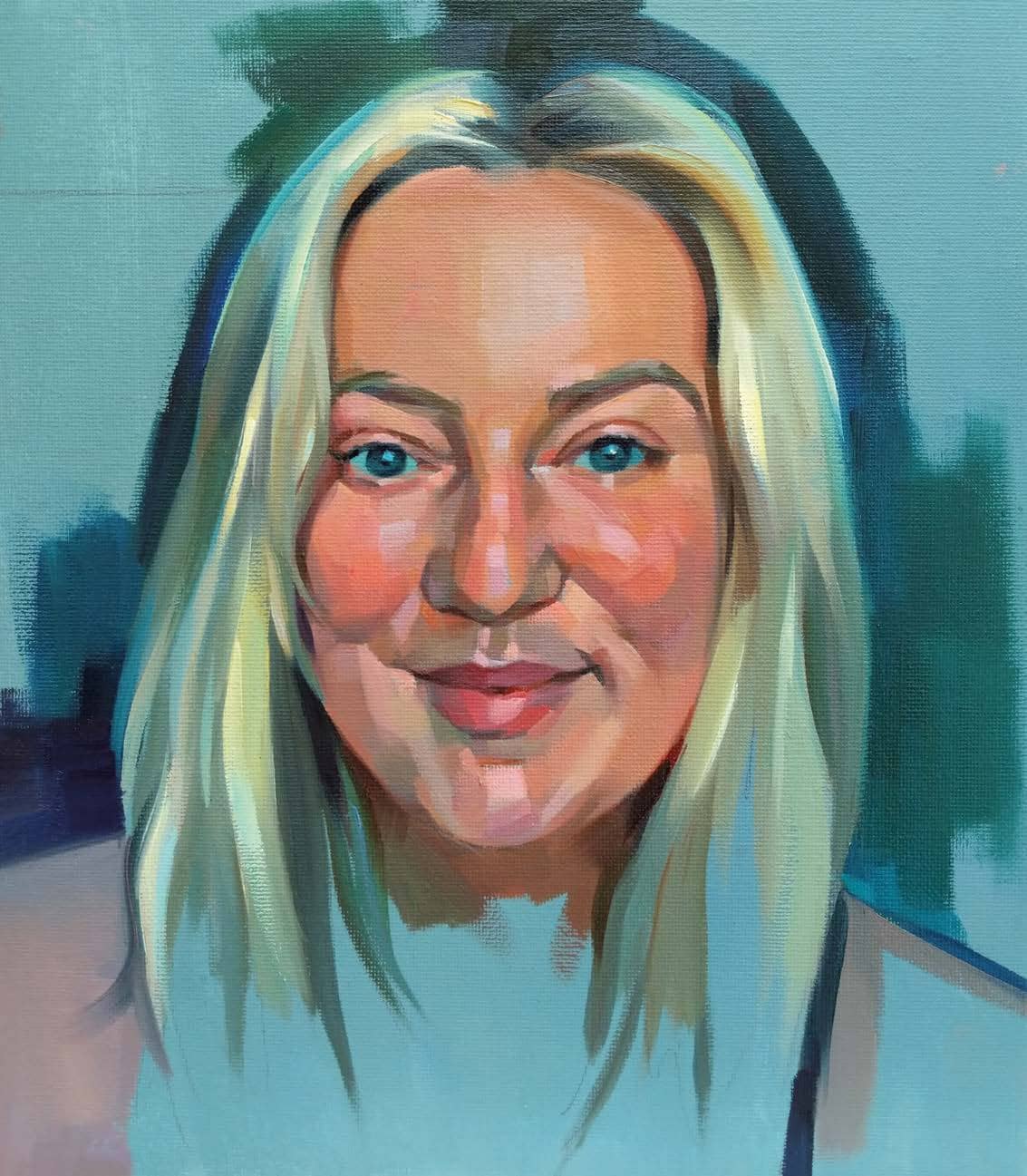 Was there a personal motivation behind highlighting the NHS?
My dad is 90 and I'm deeply concerned about his health and I guess that brought it home, but there isn't a particular person in my family involved. It was just that we are so reliant on the NHS and it is just the best thing about living in this country really. It sounds awful to call them "heroes" as that puts an inhuman level of expectation on them. It is a convenient phrase for a hashtag, but it's to say their actions are heroic.
Having said that, your first portrait of Harriet is very unheroic and honest. Why did you approach it this way?
I wanted to set the scene of what they are having to go through. There are obviously deep concerns about PPE and its effectiveness and our ability to get enough of it to these NHS key workers. I felt it was a way of visually describing that disconnect. She's got a mask on in one painting which just gives you that sense that something is wrong, something is different. I've heard patients say it's incredibly scary because even though you're receiving this wonderful care from somebody, you can't see their face, you can't see their expression.
I felt the need to do a second portrait [above] that was a much more traditional portrait and a more celebratory one – she's happy, she's at home, she's smiling. I thought there were two sides to this and it's worth telling both sides.
You can read up to 3 premium stories before you subscribe to Magzter GOLD
Log in, if you are already a subscriber
Get unlimited access to thousands of curated premium stories and 5,000+ magazines
READ THE ENTIRE ISSUE
Summer 2020