Depth with colour
Artists & Illustrators
|
August 2020
Over the next seven pages, we present a painting workshop on using colour to suggest three dimensions. AL GURY begins by outlining four areas of focus, before DAVID HORNUNG breaks down those relationships in detail
Illusion of depth is one of the hallmarks of representational painting. The genres of landscape, still life, portraiture and figurative painting often depend on illusions of three-dimensional forms existing in a perceptual space. While some art does not require illusions of depth to convey its visual narrative, many do, particularly in traditional genres.
Creating a visual sense of perceivable depth in a painting depends on several artistic principles working in combination with each other. A very important area is colour, but colour in and of itself might not create the full illusion of depth in a painting unless it is combined with the elements discussed below.
Colour must be modified by – and added to – chromatic intensities, edge descriptions, brushwork types and details, and the size of colour touches in the image. This complete package creates aerial perspective or illusions of depth via relationships between these several visual and technical elements.
The four descriptions below are designed to support an increased understanding of the formal and visual elements of colour in creating depth in the painting. The same concepts can be used across oil, acrylic, watercolour, gouache, pastel and other colour media.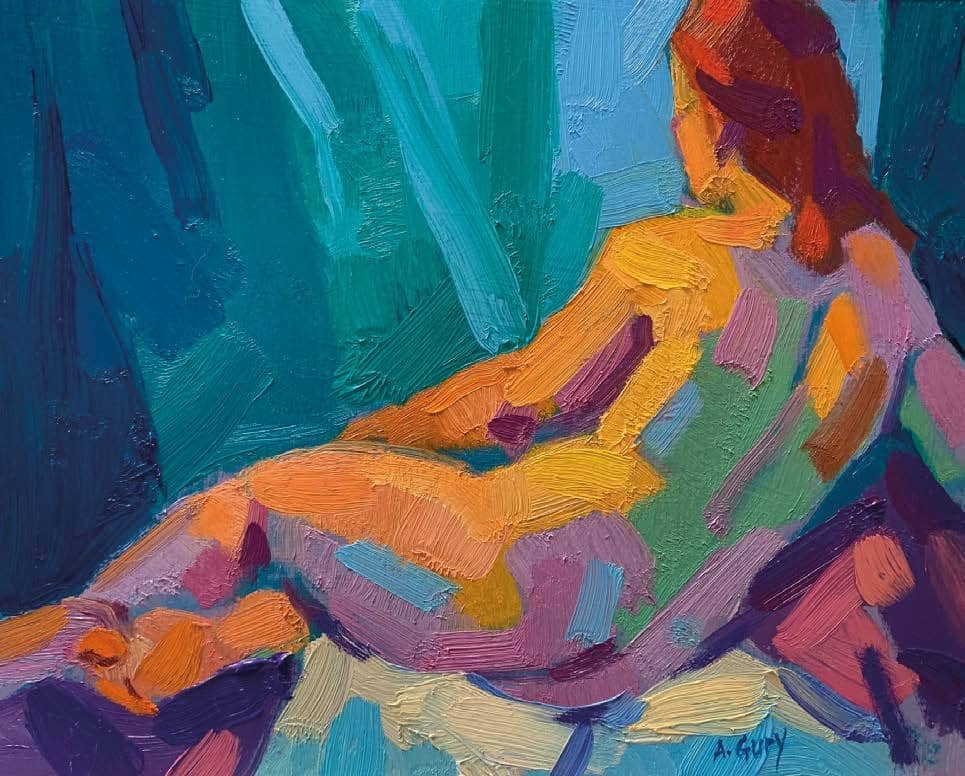 1 CHROMATIC INTENSITY
Degrees of chromatic intensity (or brightness of a colour) can seem to cause areas to visually come forward or recede relative to other colour areas. For example, a brush stroke of pure Cadmium Orange surrounded by otherwise softer or more neutral colours will cause the bright orange to pop forward in a painting. The same Cadmium Orange, if broken or neutralised by a complementary or another neutral colour, will seem to recede into the background relative to brighter colours. Relative to each other, brighter more chromatically intense colours will appear to move forward optically compared to colours that are more neutral in their chromatic intensity.
Changes to chromatic intensity occur in many ways. Colours that are greyer, will optically recede next to colours that are less grey. Cooler colours tend to recede next to ones that are warmer. Colour mixtures that have more white pigment in them will seem to recede next to colours that are purer and so have less white pigment in them.
You can read up to 3 premium stories before you subscribe to Magzter GOLD
Log in, if you are already a subscriber
Get unlimited access to thousands of curated premium stories, newspapers and 5,000+ magazines
READ THE ENTIRE ISSUE
August 2020