Chasing Skies
Artists & Illustrators
|
November 2020
Having forsaken big city life long before it was fashionable, OLIVER AKERS DOUGLAS has spent 2020 in search of remote landscapes, as KATIE MCCABE discovers
There is a certain type of artist who will pursue landscapes like a storm chaser tracking a tornado. Oliver Akers Douglas is one of them. The more remote the location, the more monstrous its topography, the more likely you are to find the British painter driving down byroads in his 4x4 studio, a converted Land Rover, to try and seek it out.
Just a few months ago, Oliver was crossing the low-lying grassy plains of Connemara with his easel packed into a golf trolley. His aim was to reach the Atlantic tip of the Ballyconneely Peninsula, a stretch of land that pierces the bit of ocean between Clifden and Roundstone.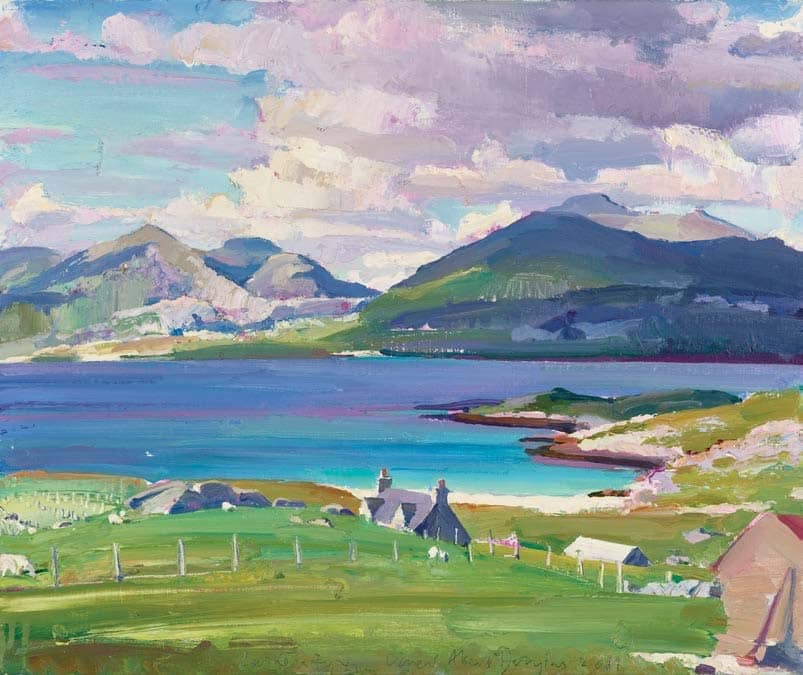 The point is so westerly, he could see the weather beginning to thicken on the horizon above the water. All the while he stood inland, trying to capture the crisp, coastal light before the harsh Atlantic conditions really began to kick in.
Oliver is, by definition, a plein air painter, but there is not much sudden, spontaneous painting going on here. Setups like the one in Ballyconneely are no accident. The artist selects his locations carefully, and he prefers the kind that makes him work for his reward. In anticipation of his next solo show, Land Sea Sky, he has spent much of 2020 travelling alone to find his desired coastal and countryside scenes in Dorset, Connemara and Scotland's west coast, as well as the chalk downland of Wiltshire, a county that the artist and his family have lived in for more than 10 years.
Oliver talks about each of his chosen landscapes much like a portraitist discussing the painting of a beloved but unpredictable friend. Dorset coastlines are affectionately described as "absurd" in their geological beauty; Harris in Scotland is "off the scale". The landscape is the only sitter he needs. "If there's someone in the picture, I generally don't put them in," he explains. "I kind of de-people places. I don't know whether that is something sort of prejudicial in me, or whether it's just looking for some kind of purity."
The artist is solitary on the other side of the canvas, too. "I generally don't invite people to talk to me when I'm working. People often think you're there for their amusement, and actually it completely destroys your concentration."
This appetite for outlying locations and artistic seclusion makes it tempting to draw analogies with the lockdown, a situation that has seen us all cut adrift, the usual reassuring picture of our lives de-peopled. It's a comparison Oliver resists, however. "Everyone has to reference that. It's so boring. I think not mentioning that, and painting massive skies, without people in, it reflects on modern life better, without being in any way literal or conscious. The less you say, the better."
You can read up to 3 premium stories before you subscribe to Magzter GOLD
Log in, if you are already a subscriber
Get unlimited access to thousands of curated premium stories, newspapers and 5,000+ magazines
READ THE ENTIRE ISSUE
November 2020