Brush And Palette Care
Artists & Illustrators
|
November 2020
Looking after your tools not only saves money, it also improves your art. Here is everything you need to know to get great results for longer...
HOW SHOULD I CLEAN MY BRUSHES?
This depends on your medium of choice. Watercolour is the easiest paint to remove – you simply rinse your dirty brushes under a gently running tap until the water runs clear. An optional step after this is to lather up some soap in your hands and softly wipe the brushes across your palm. Rinse thoroughly afterwards and finish by squeezing all the water out and reshaping the brush heads.
WHAT IF I'M USING ACRYLIC PAINTS?
Acrylics require a bit more care. "Acrylic is a glue and, if brushes aren't cleaned properly, it will harden on the bristles and fibres and bound them together," explains Symi Jackson of brush manufacturer Rosemary & Co.
The key is to remove acrylic before it dries, either with a rag or kitchen roll, then follow the steps outlined above. Symi recommends using synthetic brushes when painting with acrylic, as they are more forgiving than brushes with natural hairs.
ARE BRUSHES USED WITH OILS HARDER TO CLEAN?
Yes, but only because a solvent is needed. After wiping off excess paint, swirl the brushes around in a jar of solvent to loosen any pigments, resins and mediums. Then wash with soap until the suds are totally white before rinsing all the bubbles out so no soap residue is left on the brush.
WHAT SOLVENT SHOULD I USE?
Traditionally, solvents like turpentine or white spirit (also known as mineral spirits) are used to remove oil paint from brushes but, as many of you know, these emit potent fumes.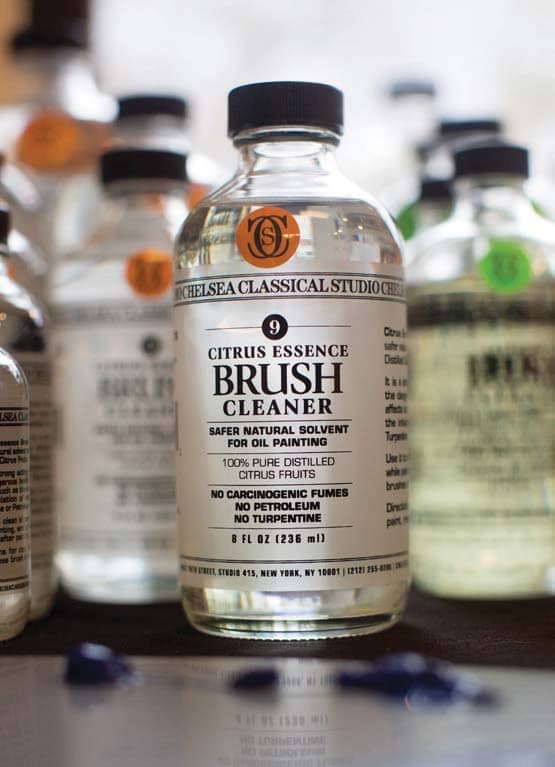 Luckily there are some less-heady alternatives. Linseed oil is a popular option, while the Zest-It range has a more pleasant smell. The Chelsea Classical Studio (CCS) has produced two recommended non-carcinogenic brush cleaners, one with lavender and the other made from 100% pure distilled citrus fruits.
WHAT IS THE BEST WAY TO STORE BRUSHES?
You can read up to 3 premium stories before you subscribe to Magzter GOLD
Log in, if you are already a subscriber
Get unlimited access to thousands of curated premium stories, newspapers and 5,000+ magazines
READ THE ENTIRE ISSUE
November 2020