A SENSE OF DEPTH
Artists & Illustrators|May 2020
When this charming scene presented itself to MATT JEANES, it came with a challenge: how to paint the foreground and background without overpowering one another
Sometimes a scene strikes you as one that you would just like to paint. Quite why that is, isn't always clear. Some photographs appear perfect the way they are, others seem to say: "paint me!" Learning how to respond to this impulse is an important part of being an artist.
When I happened across the scene above, I loved this photograph of it as it felt warm and bright, relaxed and sweet. The gentle walk, the conversation between the guy and the dog as they strolled along, it told a lovely story that made you feel as if you are right there with them.
So, how to go about painting a scene such as this? It presents certain challenges, not least the fields, the figures and the background. The biggest challenge for me, however, was the foreground, and the flowers in particular. They looked simple enough, but it was important to decide whether to paint them or the background around them first.
In this demo, I chose to work in reverse from white to the darker tints. I tried not to over-complicate the flowers by drawing too much in order to keep these complicated little blooms as simple as possible.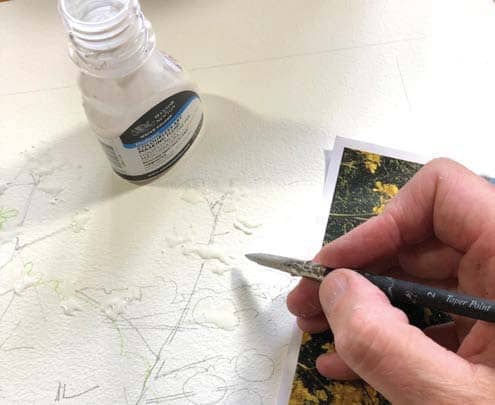 1 I normally begin by drawing my chosen image onto a separate piece of paper to get the scale right before transferring it to the delicate surface of the watercolor paper. However, in this instance, I drew the general shapes straight onto the watercolor paper, judging the positions by eye. The flowers were so intricate and delicate, so I wanted to avoid overpowering them with complex drawing.
You can read upto 3 premium stories before you subscribe to Magzter GOLD
Log-in, if you are already a subscriber
Get unlimited access to thousands of curated premium stories and 5,000+ magazines
READ THE ENTIRE ISSUE
May 2020