Endless Passion
Artists Drawing and Inspiration|Issue 37
Born with a love of art, this lady has developed her skill into a passion that will never end. Art is something that she 'just has to do'.
Jane Greenland lived in the Queensland country town of Boonah as a child. She recalls walking past the local kindergarten and gazing at the easels, the beautiful bright colours, and paintings that were hanging to dry. She spent hours as a youngster drawing in the dirt, making and decorating mud cakes, and collecting the craft section from the old-style Women's Weekly magazine to make whatever she could.
"I still remember the smell of the oily Craypas that we used in primary school, and the odd occasions when we played with Plasticine," she relates. "Childhood memories still return whenever I smell Craypas!"
Jane's father, on his return from service in World War Two, spent some time dabbling in art. He has a pastel book with some of his works and some amazing fretwork depicting his war experiences.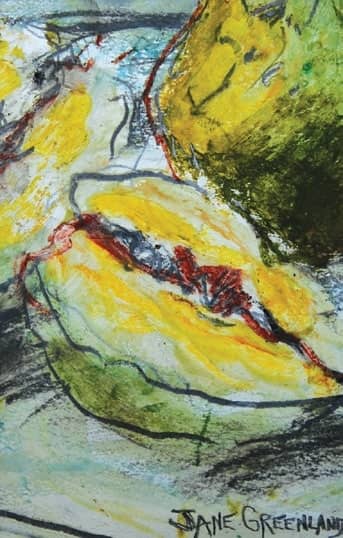 Jane's own art career developed when she continued art as a subject in high school; then attended Kelvin Grove Teachers College studying to become an art teacher.
"Naturally, my passion for art was put aside when I married and moved to Goondiwindi," she says. "My life became focused on helping my husband with his business, raising our four children, working as a relief teacher, and (later) opening and working in my swim school. I was eventually forced to close the swim school after years of fighting problems with a skin condition and subsequent ill health. That was when I went back to art. I began to teach children's art after school, and some adult classes – and was then asked to teach art at a local Catholic primary school. Teaching others provided some artistic satisfaction, but left me with no time to practice my own work."
You can read up to 3 premium stories before you subscribe to Magzter GOLD
Log in, if you are already a subscriber
Get unlimited access to thousands of curated premium stories and 5,000+ magazines
READ THE ENTIRE ISSUE
Issue 37