An Exclusive Interview With Antony Micallef – 'Distorted Self Portrait'
Antony Micallef is a British artist. He was taught by the great landscape painter John Virtue, a student of the last of the post-war painters, the renowned Frank Auerbach himself. Micallef is Widely recognised as one of the finest painters in contemporary art today. His art is exhibited in numerous collections all over the world, and was part of group shows held in institutions such as the National Portrait Gallery, The Royal Academy, Tate Britain and the ICA London.
Known for his visually charged figure paintings, Antony Micallef (b. 1975) has enjoyed international success ever-since he was granted the second-place award of the BP Portrait Awards of 2000, hosted at the National Portrait Gallery in London. Other key exhibitions of his art include a solo exhibition at the Pearl Lam Galleries, Hong Kong Pedder Building space; an exhibition at the National Academy of Fine Arts, Sofia, Bulgaria; the National Museum in Warsaw, Poland; the Royal Academy, London, UK; the ICA, London, UK; Tate Britain, London, UK; and Dallas Contemporary, Texas, USA.
Micallef's series of works are a complete departure from his earlier artworks. He builds up a relief-like surface with heavy paint to depict a figurative mass in front of a muted background. By using an impasto technique, the material is pushed to its extreme and blurs our reading of painting and sculpture. Confronted with the sheer physicality of the painting as an object, the depicted subject takes on its own life and existence. Furthermore, the use of gestural abstraction resonates with the traditions of action painting from the 1940s and the School of London from the 1970s.
We are most delighted to have this special interview with Antony Micallef, about his artwork, 'DISTORTED SELF PORTRAIT'.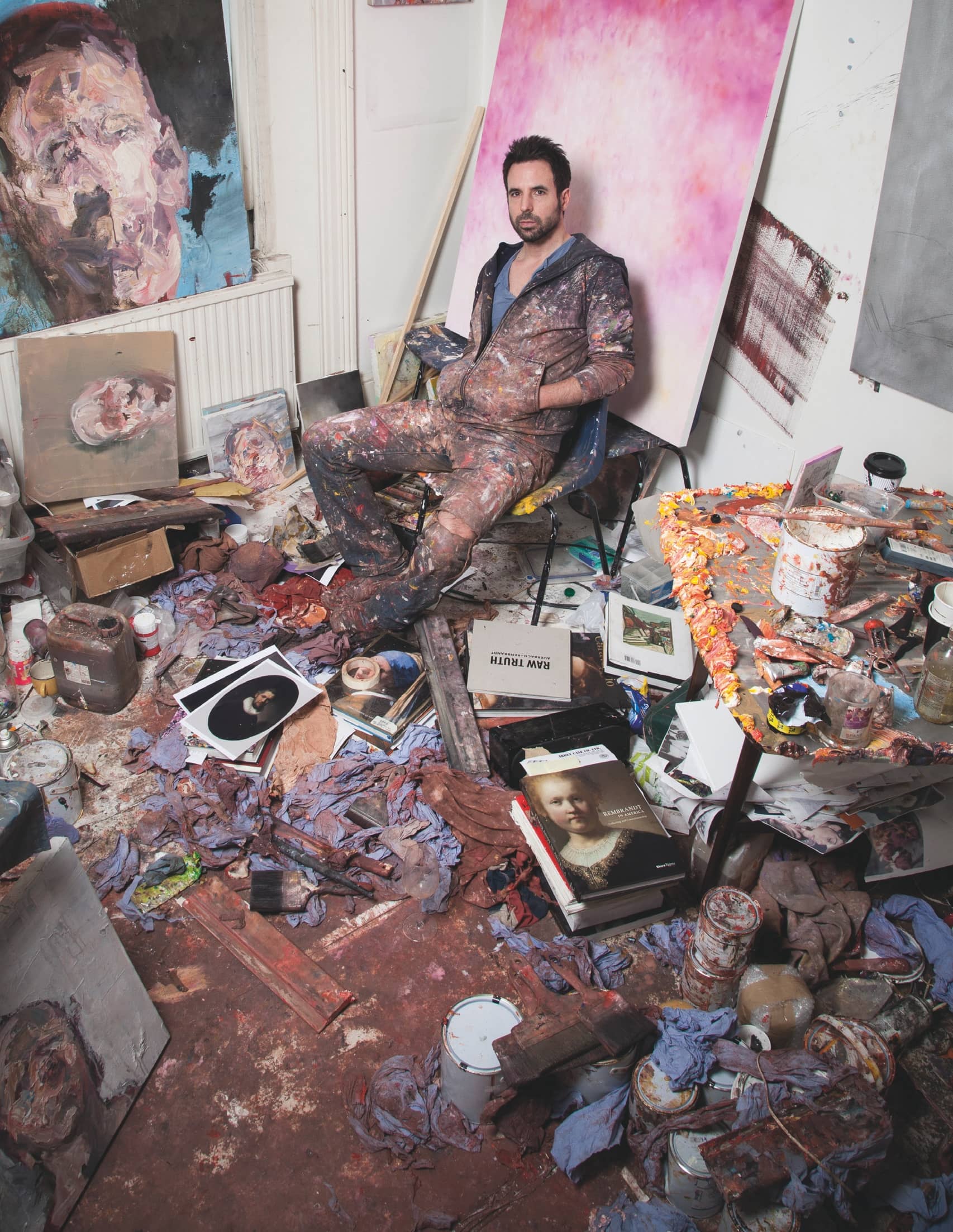 Art Market: Hello, Antony. Thank you for the interview. You have made a long way from your previous style of creation, that some had referred to as 'bubblegum pop' paintings, to your current style, which is very deep. Tell us about this development.
Antony Micallef: Evolving as an artist is a constant process. The more you work, the more ideas grow and develop. You have to be committed, and one's art is something that has to be nurtured, like any relationship with a person. The more you put into it, the more it offers you. Through this process, you have many conversations with yourself - that is translated into your work. It's like learning a language and you are trying to refine it all the time and make it more efficient and economical. The Japanese-inspired pop work from my early days was me discovering colour. I used to travel to Japan frequently and would use it as a source of gathering, collecting information that I would bring back to the studio at home. I wanted to include social messages, and I loved the idea of something being beautiful but with a darker underbelly once it has your attention. I made work inspired by this essence for a while, but I guess my latest work was me wanting to get back to my roots as a painter.

Antony Micallef . Raw intent no. 2 2016, Oil with beeswax on French linen, 155 x 132 cm (61 x 52 in.) 2016
Art Market: Your art is very complex. The special techniques you use and your style may invoke difficult emotions in the viewer. Tell us, what is the philosophical idea behind your art?
Antony Micallef: I think my main concern with the new body of work was wanting the paint to do all the communication with the viewer through the medium itself. What I mean by that is that I want the paint to physically emote the feeling rather than to illustrate it. The paint has to be the primary vehicle in conveying emotion. It's a very physical way of painting. You are literally throwing, scraping, swiping the paint on to the canvas at a very fast speed with lots of power until it begins to form something that has a presence. The figure is used as a conduit to convey emotion. You are trying to arrange marks, structure and colour at a very fast pace, and it's a bit like trying to arrange a very complex puzzle at a fast pace. I am interested in stretching human emotion and to create distorts of the face to its limit before it disintegrates. For me, it's like testing emotions in a laboratory and seeing how much of it, it can take before it's destroyed. The essence of the work is to make the painting 'breathe' on its own. Essentially, painting is moving around coloured bits of earth onto a canvas, but if one can inject life into this process and give it its own energy, then I consider that successful.
Antony Micallef . Raw intent no. 1 Oil with beeswax on French linen, 135 x 112 cm (53 1/8 x 44 1/8 in.) 2016
Art Market: What is your ideal workflow? The process behind the art?
You can read upto 3 premium stories before you subscribe to Magzter GOLD
Log-in, if you are already a subscriber
Get unlimited access to thousands of curated premium stories and 5,000+ magazines
READ THE ENTIRE ISSUE
The Gold List Special Edition #5