WILD & FREE
American Art Collector|May 2020
Many will disagree with Izaak Walton's statement, "As no man is born an artist, so no man is born an angler."
He published his book, The Compleat Angler; or, The Contemplative Man's Recreation, in 1653, and it remains a pleasurable read for angler and armchair reader alike. The novelist Thomas McGuane commented, "The Compleat Angler is not about how to fish but about how to be." There is an innate awareness in the soul of the artist and that of the angler.

I had thought about hunter and prey as a theme for this introduction and found the perfect representation of the idea in Jeremy Welsh's bas-relief Cutthroat Rise, Whet or Dry. A trout rises to consider consuming a tasty insect, which is an imitation, contains a hook and is connected to the end of the angler's line. When I ask him about "whet or dry" he replies, "This wording is a play on both the phrase to 'whet one's appetite' as well as a reference to the two major types of flies used in flyfishing—wet and dry. The fishing fly visible in the bronze is a dry fly, which is called a humpy fly. And so, in simple—the trout's appetite has been whetted on a dry fly… I chose an interplay between four uniquely adapted entities—three of which act as both potential predator and prey within the interlaced relationships of their life cycles. And then there is humankind—a fascinating player, indeed!"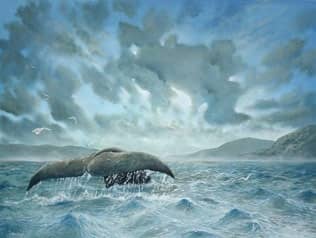 The fisherman's analysis of the conditions dictates the type of fly and his approach. The trout does his own analysis whether to go for the fly or not.
Steve Kestrel takes consciousness to another dimension in Dream of Little Dipper/Big Fish. The bear cub dreams of making a big catch, almost too big to hold. Kestrel and his wife live on a 62-acre "wildlife preserve" in Colorado. He was brought up in southern New Mexico. He later raised and trained quarter horses and worked on cattle ranches, through it all, becoming aware of something more than the physical characteristics of the animals. The Kestrels live on their land trying to have as little impact on it and their "animal brethren" as they can.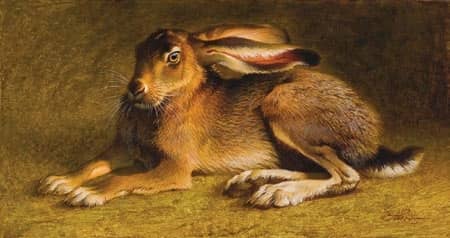 You can read up to 3 premium stories before you subscribe to Magzter GOLD
Log in, if you are already a subscriber
Get unlimited access to thousands of curated premium stories and 5,000+ magazines
READ THE ENTIRE ISSUE
May 2020