Other Life
American Art Collector|May 2020
Eric Wert's first solo exhibition at Gallery Henoch in New York City shows his evolution as a contemporary still life artist.
Portland, Oregon-based artist Eric Wert turns the traditional genre of still life on its axis with his colorful and dynamic compositions. Yet, there is still a hint of the past in his pieces, as he borrows concepts and aesthetics from throughout art history in subtle ways. His paintings depict time-honored subjects— flowers, fruits, birds and vases—but with items such as avocados and irises they are clearly of this modern world. His backdrops are also referential, with them being his own designs that come from hours studying archives of vintage textiles or those at a fabric store.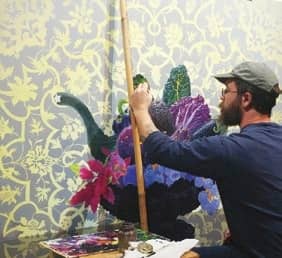 "I think that's one of the things that's so beautiful about still life painting," Wert says. "It really is one of the oldest art forms. Still life paintings were on the walls of Pompeii that are of what I'm doing now—flowers in vases and fruits on the table. I love the fact that we can look at something we can relate to in our contemporary life and it connects us to something people have been experiencing throughout history." Wert adds that he often borrows ideas and concepts from the past, for instance, "[When I was] very concerned with the light in the painting, I looked at historical egg tempera paintings and traditional paintings and thought about how color was layered to create a luminous effect." And today, when he thinks more about composition and construction, Wert's looking at the Renaissance and Dutch works because those artists' pieces kept the eyes moving through the scene.
You can read up to 3 premium stories before you subscribe to Magzter GOLD
Log in, if you are already a subscriber
Get unlimited access to thousands of curated premium stories and 5,000+ magazines
READ THE ENTIRE ISSUE
May 2020