MIGHTY STEEDS
American Art Collector|May 2020
Among the great horses of history is Bucephalus, the wild stallion tamed by Alexander the Great.
The horse had been given to King Philip II of Thessalonia, Alexander's father. It was thought to be too wild to tame and was led away. Alexander had noticed that it seemed to be afraid of its shadow and turned him into the sun so his shadow was behind him. He mounted the calmed horse, attached a bridle and the rest, as they say, is history. Alexander rode Bucephalus into battle, naming a city for him in what is now Pakistan after he was killed in battle in 326 BCE.
An 18 th-century graphite and ink drawing by Felice Giani depicts Alexander taming Bucephalus while his father and other warriors look on in amazement.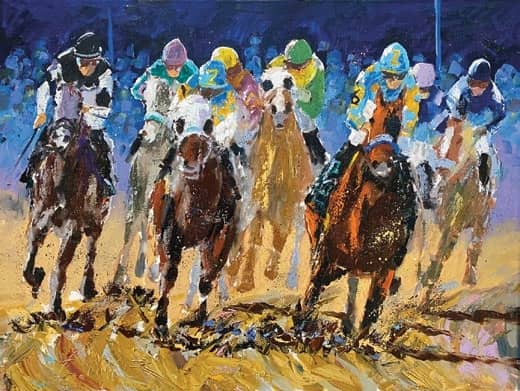 Frank Califano's admiration for primitive art as well as for horses is evident in his bronze sculpture Let's Talk. The proud horse resembles stylized horse sculptures from ancient Greece and reflects his admiration for Diego Giacometti and Henry Moore. A bit taken aback by the girl standing in front of him hiding a rope behind her back, the horse may be on the cusp of a lifelong relationship with his about-to-be trainer.
Califano says, "Before starting a sculpture, I already have a name for the piece and a good idea of what it will look like. I do not make preliminary modeling or sketches. My sculpture remains in the thought process until it has been clearly defined. At the proper time, and no sooner, I very quickly begin modeling the design elements that I've been processing for weeks. Because I've done no preliminary artwork related to this sculpture, the results are fresh and spontaneous. To keep me focused on my objective, I write the name of the piece on my work surface."
You can read up to 3 premium stories before you subscribe to Magzter GOLD
Log in, if you are already a subscriber
Get unlimited access to thousands of curated premium stories and 5,000+ magazines
READ THE ENTIRE ISSUE
May 2020