TOP OF THE WORLD
TREVOR HOGG LEARNS HOW PRODUCTION DESIGNER CHRISTIAN HUBAND AND FRAMESTORE WERE ABLE TO MAKE VISUAL EFFECTS THAT SOAR TO GREAT HEIGHTS IN THE AERONAUTS…
Inspired by meteorologist and astronomer James Glaisher and aeronaut Henry Coxwell breaking the world flight altitude record in 1862 by soaring to 36,000 feet in a coal gas filled balloon, screenwriter Jack Thorne (His Dark Materials) collaborated with filmmaker Tom Harper (Wild Rose) and Amazon Studios to make The Aeronauts, starring Eddie Redmayne and Felicity Jones. With over 80 per cent of the action taking place above England under various weather conditions, visual effects had a pivotal role to play in making the biographical adventure film a cinematic reality. Overseeing the CG contributions of Framestore, Rodeo FX and Alchemy 24 was production visual effects supervisor Louis Morin (Arrival), while the physical builds were the responsibility of co-production designers Christian Huband (Justice League) and David Hindle (Bohemian Rhapsody).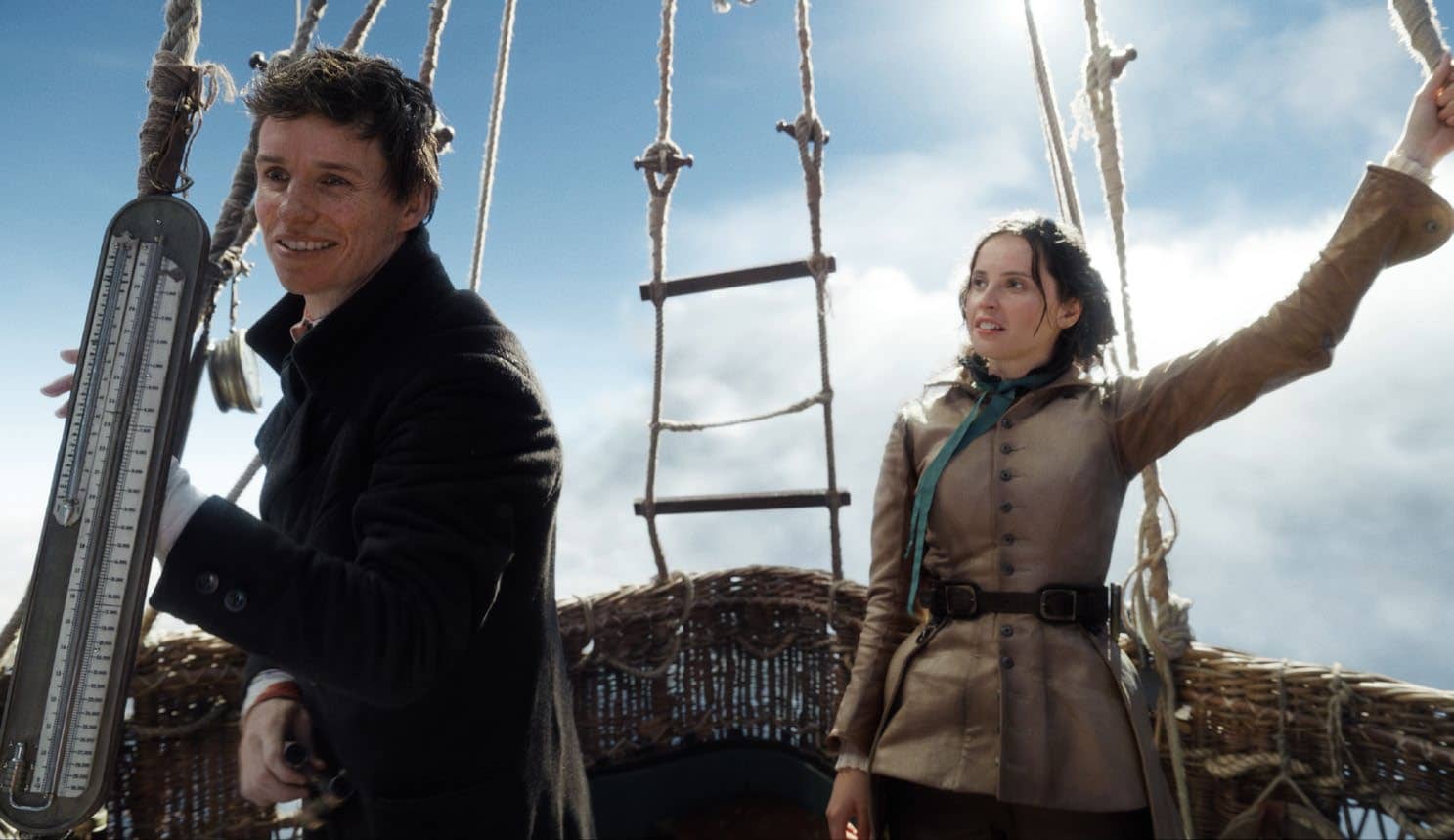 "The one image that sticks in my mind when it comes to the sky was a print that was used in the book about the balloon journey that was done by Glaisher, and it was a stylised print that had The Mammoth above the clouds along with shooting stars," recalls Huband. "This was a provocative, beautiful thing, slightly fanciful because I don't think at 37,000 feet you can generally see the stars unless it's at the end of the day or night. The decision to show the stars was something that has a certain theatricality which feeds into the story and performances. We did a sky chart, which was a graphic representation of what altitude they're at and the time from the butterfly scene to the snow and ice scene. In the end, you send a helicopter up, which they did over South Africa, Louisiana and in different parts of the world, to film plates and you have to work with what you get."
"Originally when we took on the project it was supposed to be bluescreen live-action, sixcamera array backgrounds, and 2D compositing work," reveals Framestore VFX supervisor Christian Kaestner (Captain Marvel). "Obviously, as you do the movie, the director will say, 'I want it to actually look like this.' Then all of a sudden, you're in art-directed skies and clouds. Since we were using our own renderer, Freak, we were able to implement the latest render technologies and algorithms and optimise them where we could. The render algorithms are written in a way where they react specifically well to all possible lighting scenarios. But above the clouds we were exposed to bright sunlight, so we could cut corners in our shader algorithms.
"On top of that scenes were being intercut between six RED Monstro camera array stitches and CG shots. We ended up rendering high-resolution cube maps which we were able to tile to our desire. The big cloudscapes above the clouds were over 100 rendered tiles, so if a 50mm lens was needed we would not be above the resolution. Volumetrics were then dressed in-between the camera and basket, and between the basket and the distance for parallax and sense of travel."
You can read up to 3 premium stories before you subscribe to Magzter GOLD
Log in, if you are already a subscriber
Get unlimited access to thousands of curated premium stories, newspapers and 5,000+ magazines
READ THE ENTIRE ISSUE
April 2020