SIMULATE SMALL-SCALE LIQUIDS IN BIFROST
3D World UK
|
September 2020
Utilise Bifrost's powerful tools to create realistic small-scale liquid simulations in Maya
This tutorial will guide you step-by-step through the workflow of utilising Bifrost's powerful tools to create a small-scale simulated liquid. Bifrost is well known for its use in creating large-scale simulations and it can often be overlooked when it comes to smaller, more detailed simulations.
The tutorial is aimed at complete beginners to Bifrost as well as those who have previously used it before for large-scale simulations. Bifrost is heavily dependent on the scene, so there is a focus on scale throughout the tutorial beginning with how to set up your scene to scale ready to add Bifrost emitters, colliders and killplanes. The next steps cover how to alter settings needed to convert Bifrost from using a metre scale to a cm scale. You will then go on to learn how to create a viscous honey liquid simulation, how to cache your simulation and finally mesh it to turn it from particles to geometry. The final steps cover adding your shaders and lighting to create a simple but striking final image.
Once you've completed this tutorial you will have created a detailed, realistic simulation of honey and will have a thorough understanding of the Bifrost workflow, able to apply your new knowledge to create other smallscale liquid simulations.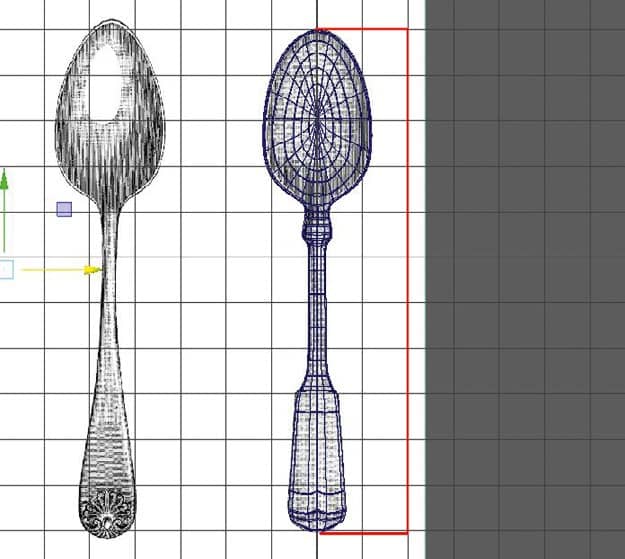 01 MODEL YOUR SCENE TO SCALE
Bifrost relies on accurate scale to create realistic simulations, so you need to make sure the scale of your geometry that the liquid interacts with is correct. Research the dimensions of your objects in real life; product listings on online stores is a good place to find accurate dimensions. A teaspoon is approximately 11cm in length, so working with a scale of 1 Maya unit equals 1cm, scale your image planes to 11 units for the length before you begin modelling. If you choose to download a free 3D model be sure to scale it to 11 units in length.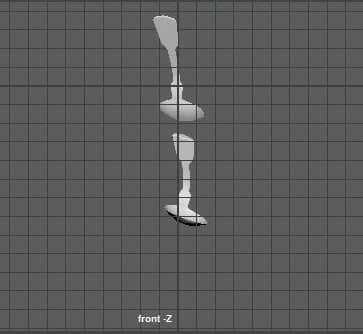 02 LAYOUT THE SCENE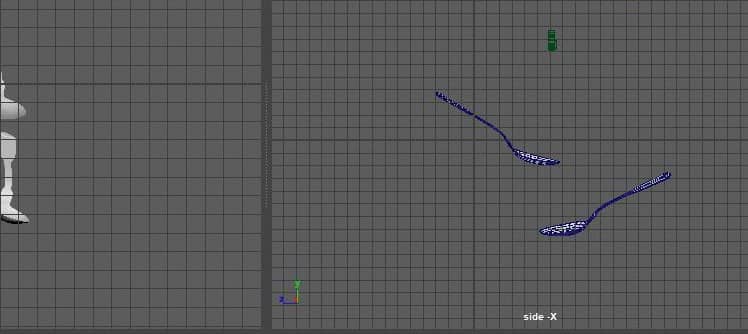 Now that you have your spoon geometry modelled to the correct scale, you can layout your scene. Duplicate your spoon so that you have at least two and position them one above the other. The liquid will drip from above the camera view onto the top spoon and fill it before dripping to the next. Add some variation to the rotations of each spoon to allow the liquid to have some interesting movement when it is time to simulate; you can always tweak the positioning later.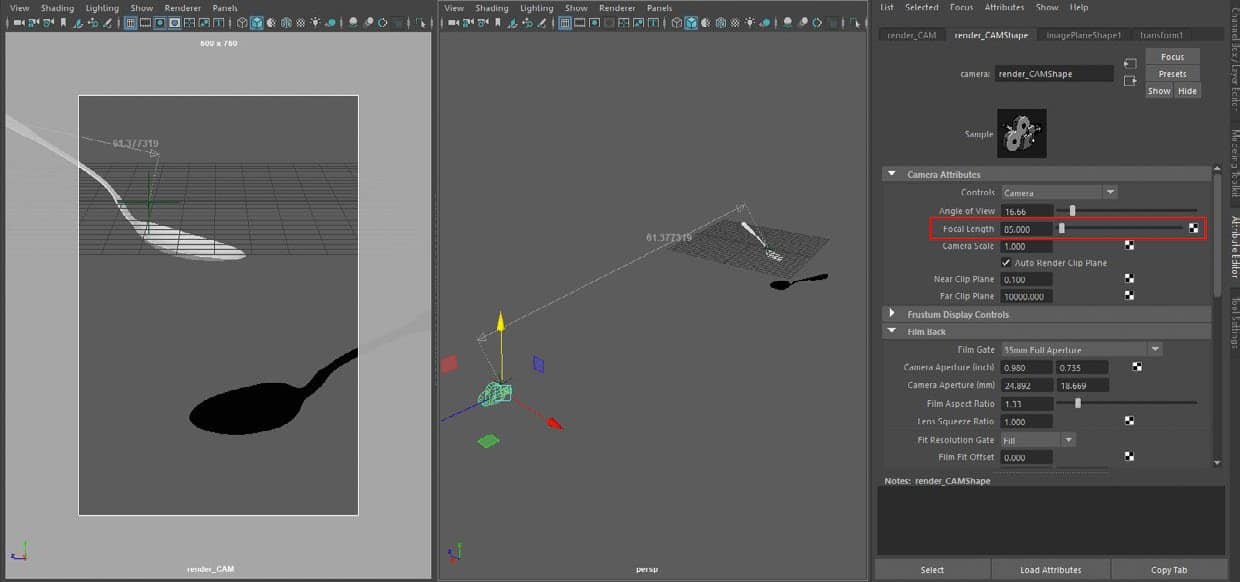 03 CREATE A RENDER CAMERA
Create a camera that you will render from and position it so you can see both spoons in the view. It's important to choose a lens that would work well in real life, so aim for something between 80-135mm for a close-up shot. At this point it is a good idea to set your image size in the render settings too; for test renders the settings were set to width 500 and height 750 (the final image size was increased but kept the same aspect ratio).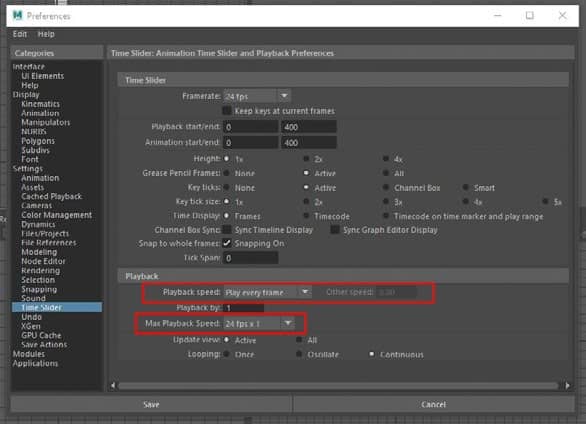 04 PLAYBACK SETTINGS
Before you begin to simulate there are a few preferences that need to be set so Maya can simulate correctly. In Maya Preferences go to the Time Slider settings and set your Playback Speed to 'Play every frame' and the Max Playback Speed to 24 or 25 fps x 1. This ensures that Maya doesn't skip over any evaluations on frames (if this is left at the default of 24 fps x 1 then Maya will playback at this speed and won't be able to calculate your simulation). Set your time slider to a length of around 300 frames.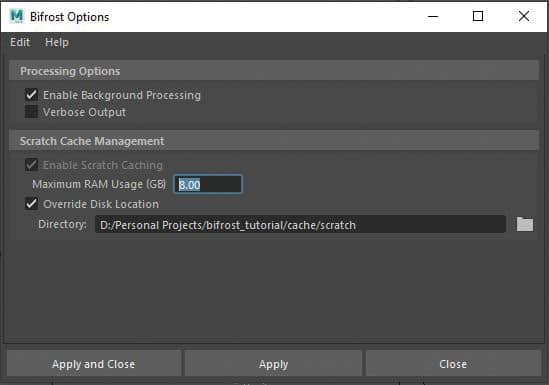 05 ENABLE BACKGROUND PROCESSING
Before you create your Bifrost liquid it is useful to enable Bifrost to use background processing. Go to Bifrost Fluids in the Menu Bar and select Bifrost Options. Tick Enable Background Processing. Choose a Maximum RAM Usage about half of your computer's RAM, and select a Disk Location with plenty of space. When you hit play Bifrost will cache your simulation in the background, allowing you to preview frames that have already been completed. The scratch cache will be deleted if you tweak a setting or close the scene.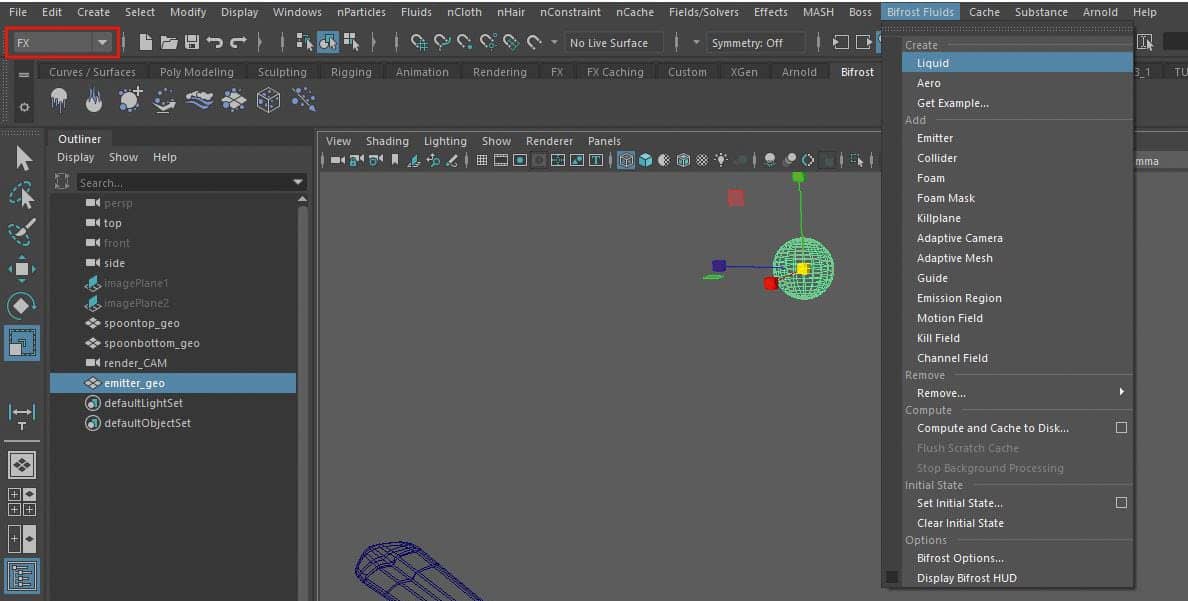 06 CREATE THE BIFROST LIQUID
First you need to create a polygon sphere that will be used as the emitter for our Bifrost particles; rename this emitter_geo. Scale this to the thickness you want the liquid to start as and position it above your spoon; 0.4 is the scale used here. With the sphere selected go to the FX context menu and select Bifrost Fluids and then Create Liquid. Maya will create a number of Bifrost objects in the Outliner. Hit play to check you can see the particles fall from the sphere. You may notice there are only a few particles.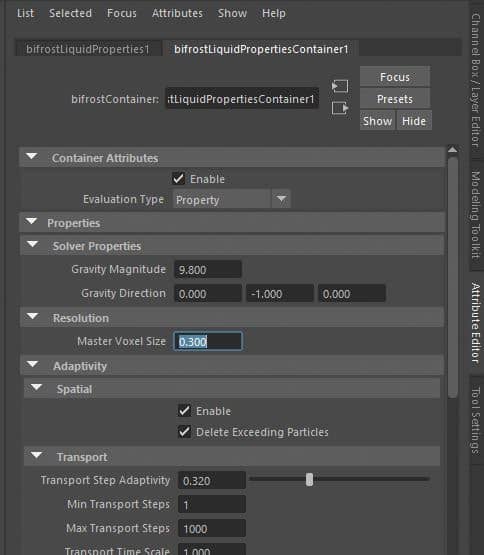 07 EDIT THE MASTER VOXEL SIZE
Bifrost uses Master Voxel Size to determine the resolution of the simulation; a higher master voxel value means lower resolution but quicker simulations, and a lower master voxel value means a higher resolution (more particles) but a slower simulation. Ideally you want to keep the Master Voxel Size high for as long as possible, but for a small-scale scene you need to lower it early on to see more particles. Select your 'bifrostliquidProperties1' in the Attribute Editor and set the Master Voxel Size to 0.3 for now.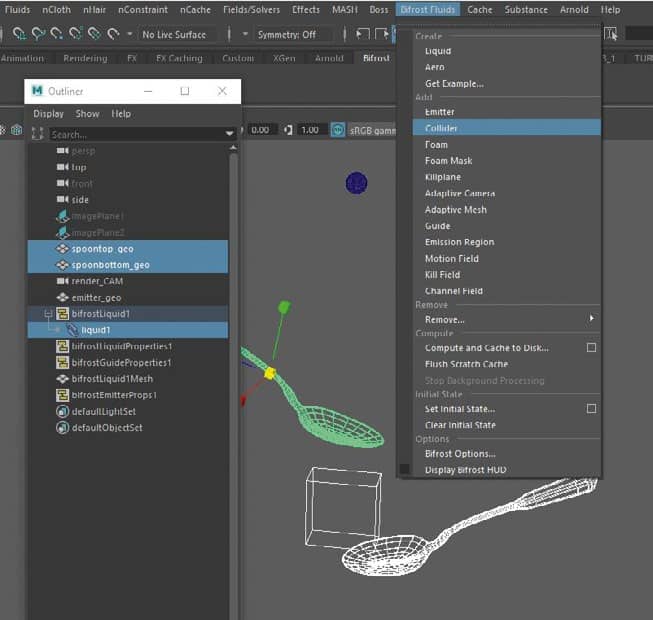 You can read up to 3 premium stories before you subscribe to Magzter GOLD
Log in, if you are already a subscriber
Get unlimited access to thousands of curated premium stories, newspapers and 5,000+ magazines
READ THE ENTIRE ISSUE
September 2020