RENDER A STYLIZED CARTOON CHARACTER
3D World UK
|
December 2020
Luis Yrisarry Labadia details his complete cartoon character workflow from start to finish
In this tutorial you will learn my step-by-step workflow for creating a cartoon character, starting from a 2D concept illustration to a fully rendered 3D character. After working on some characters for the Tom and Jerry movie I wanted to do a cartoon character, and this cool alien hunter kid concept by the amazing Cory Loftis got my attention. It has lots of personality and is full of attitude! I really want to thank him for allowing me to share this project based on his concept art.
For cartoon characters the main rules are stay simple, less is more! Proportions are key, try to avoid straight and parallel lines, and exaggerate features as much as you need! Try to revisit your progress often and add notes to it, I found paint overs really useful for this. Also listening to people is important, in this case Leo Rezende helped me a lot with really good insights about cartoony style to take this project to the next level.
01 ANALYSE THE CONCEPT AND PLAN AHEAD
The first step is always the preparation and planning stage for the project. So start studying the concept and try to understand the most important aspects. Then you should decide how to approach the 3D execution, like how stylized you wanted to go and what are the biggest challenges to overcome. On this project I spent some time playing around with the idea of sculpted hair or proper grooming, and I ended up with the grooming because I felt inspired by the movie Onward that was released recently.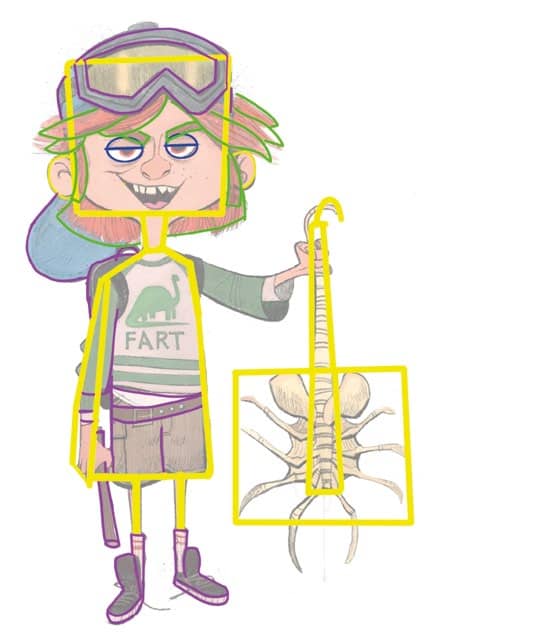 02 DISSECT THE CHARACTER
Split up all the different areas to have a general idea of what is needed. Clothing, hair, body, hard-surface accessories… This guide will be useful to keep the project organised and to set a plan to meet deadlines. This is key in every production and helps you to focus on what is more important. Also thanks to this guide you will be able to know when you need to cut corners when a specific stage is taking up too much time.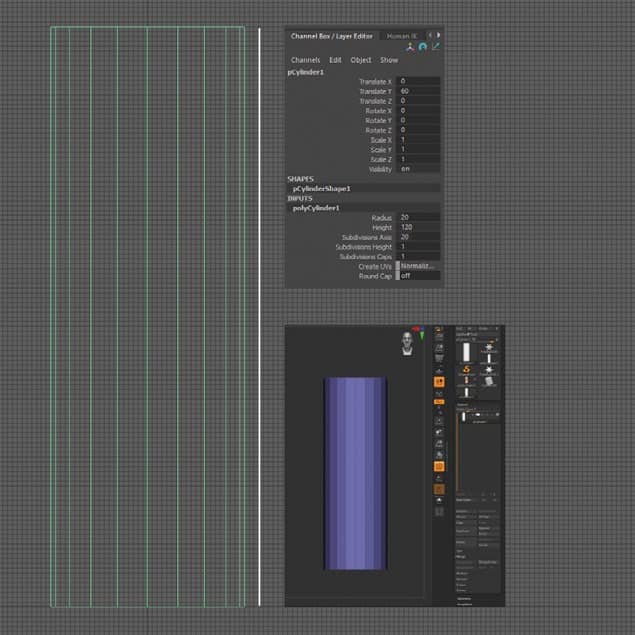 03 SET YOUR PROJECT IN MAYA
Start setting your Maya project and work in real size, as this will avoid unnecessary headaches later on. Just bring a cylinder in your scene with the desired size of the character, in this case 120cm. Export this cylinder as OBJ and import it in ZBrush, so now you have your ZBrush tool in real scale to export and import to Maya regularly. I use a plugin called Styx that speeds up the import-export workflow between Maya and ZBrush.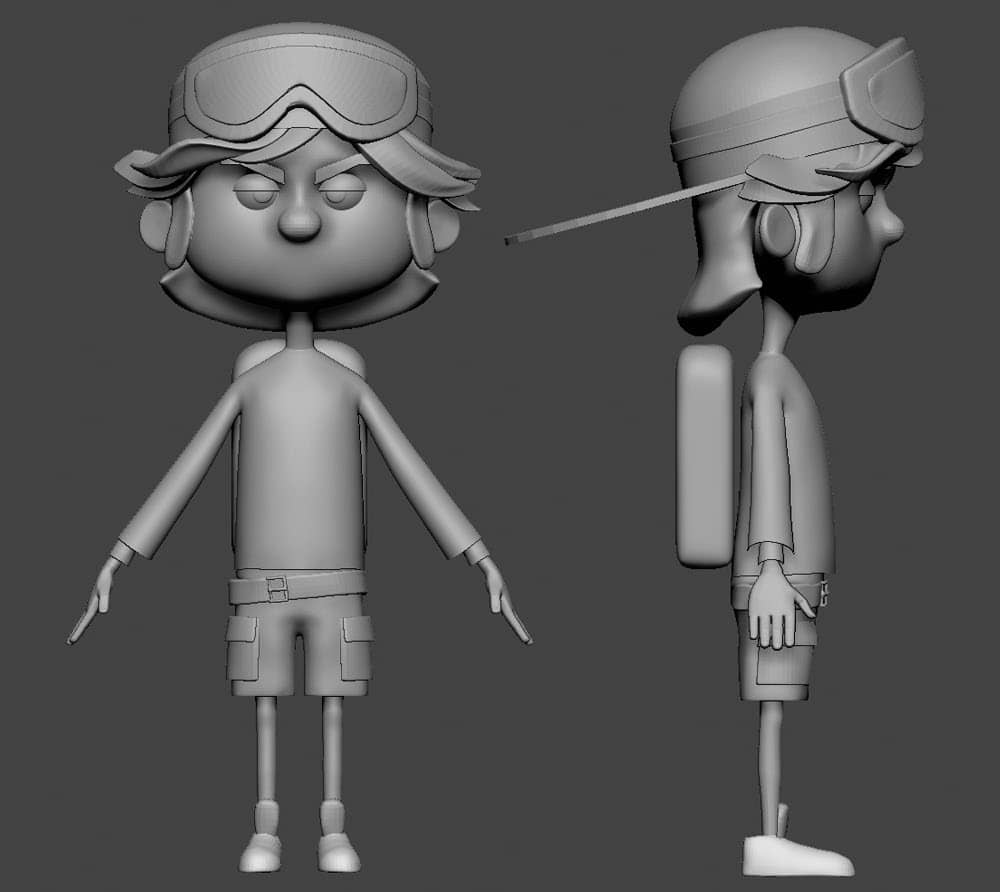 04 BLOCKOUT BASICS
Represent the volumes of your character with the most simple shapes. I like to start with a sphere for the head and then go all over the body with the most appropriate primitives, like cylinders for the arms and legs and spheres or boxes for the hips and torso. Whenever I feel the proportions are good enough I go for the accessories and tweak the whole thing until I am happy with the result. Although you will always tweak things, the better you nail the volumes the easier and faster this project will go.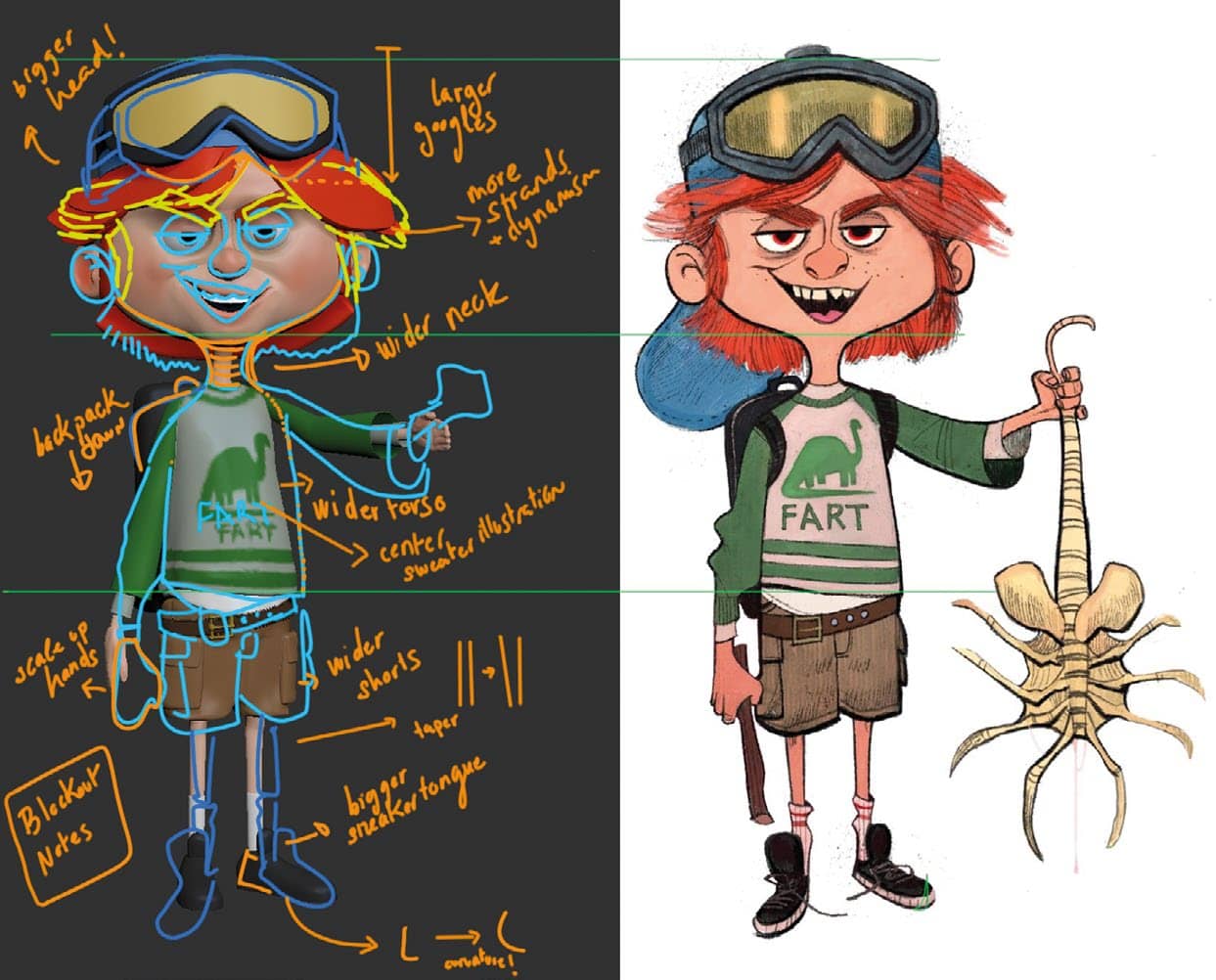 05 SECOND PASS
I recommend drawing the concept art by yourself for better understanding of the shapes. Now it's time to refine the volumes in 3D. During this stage just use the basic brushes, Move, Clay and Smooth. To preserve the volume of a mesh but smooth all the unnecessary imperfections, press Shift and release, it kind of works the same way as the Relax tool in Maya. It can be challenging to figure out the profile of a character when you don't have it in your concept, so do some research and apply your anatomy knowledge to get a natural and dynamic profile.
Import a screenshot of your blockout in Photoshop and compare with the concept to double-check the proportions are correct.
06 SCULPT THE HEAD
You can read up to 3 premium stories before you subscribe to Magzter GOLD
Log in, if you are already a subscriber
Get unlimited access to thousands of curated premium stories, newspapers and 5,000+ magazines
READ THE ENTIRE ISSUE
December 2020