ON LOCATION WITH RENDERMAN
Behind the scenes on a new RenderMan for Houdini Short
Having 20 years' experience of directing music videos and films, I've spent many hours on a film set and I wanted to use this real-world experience and convey it across into my other passion… creating imagery in Pixar's amazing RenderMan.
I am currently creating a RenderMan Houdini short for Pixar, so I thought it would be fun to create an image that played on the theme of being on set for that animation; giving a glimpse behind the scenes by using my real-world experience of film sets, lights, camera lenses and so on, I wanted to convey this knowledge into a 3D image.
01 TURBOSQUID KITBASH
Whilst creating each individual model from scratch would be ideal, time is not always on your side. TurboSquid has a great collection of quality models to use, most already UV'd and ready to texture. As this scene is based on a real-world film set, all the models were easily available, so taking the kitbashing approach to scene creation was ideal on this particular image and allowed for the majority of time to be spent on the creative process of texturing and lighting.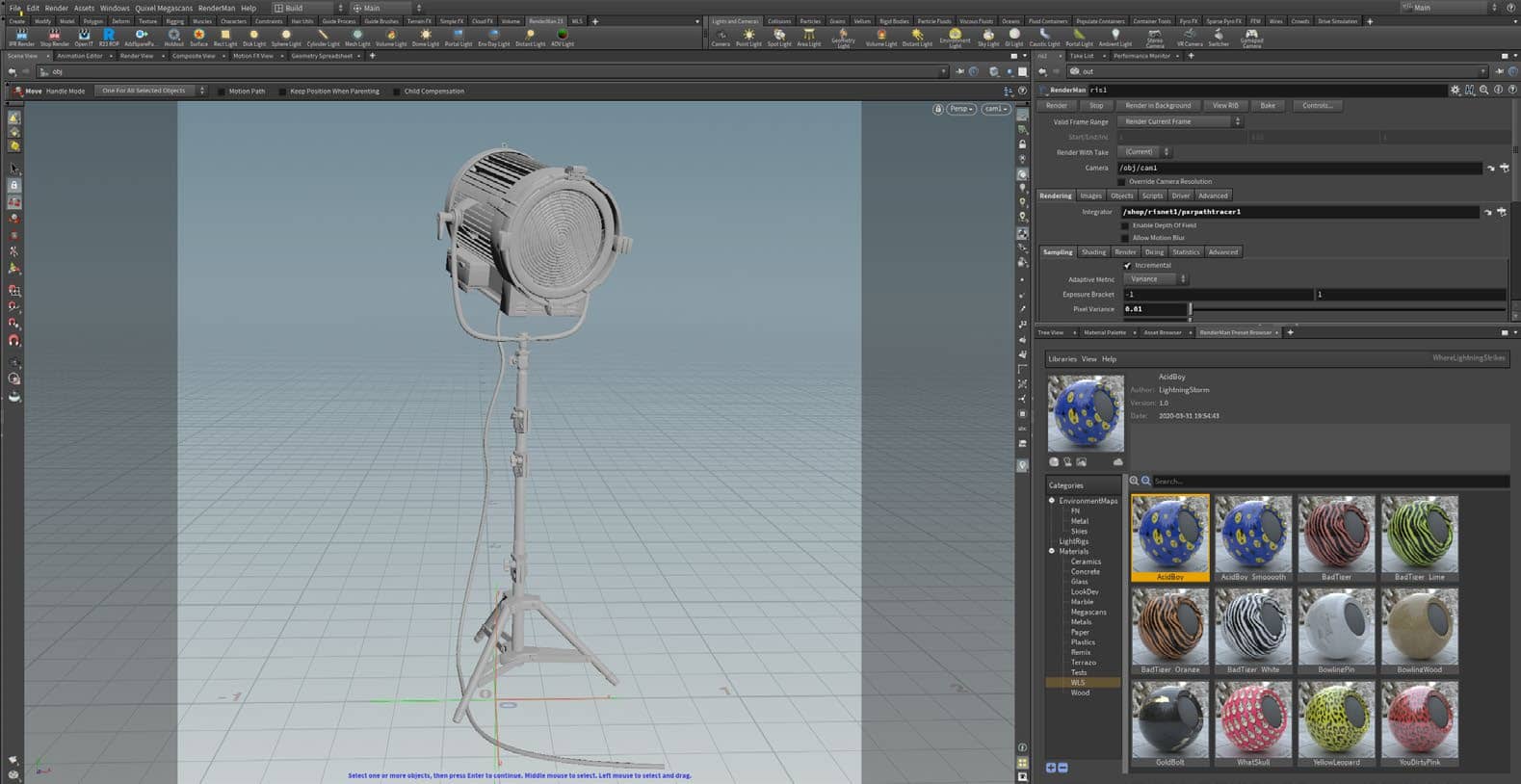 02 ASSET SCALE
By knowing that in Houdini a grid unit is 1 meter, and using a base model of a character where the height was 6ft as a guide, it helps as a scale and measuring guide for all assets. It is important to ensure that each asset is scaled to its real-world size so that there are no problems further down the line. Working in a real scale helps with all aspects of the scene, from blocking out the studio dimensions through to how high the props should be (tables, lights, camera tripod, and chairs).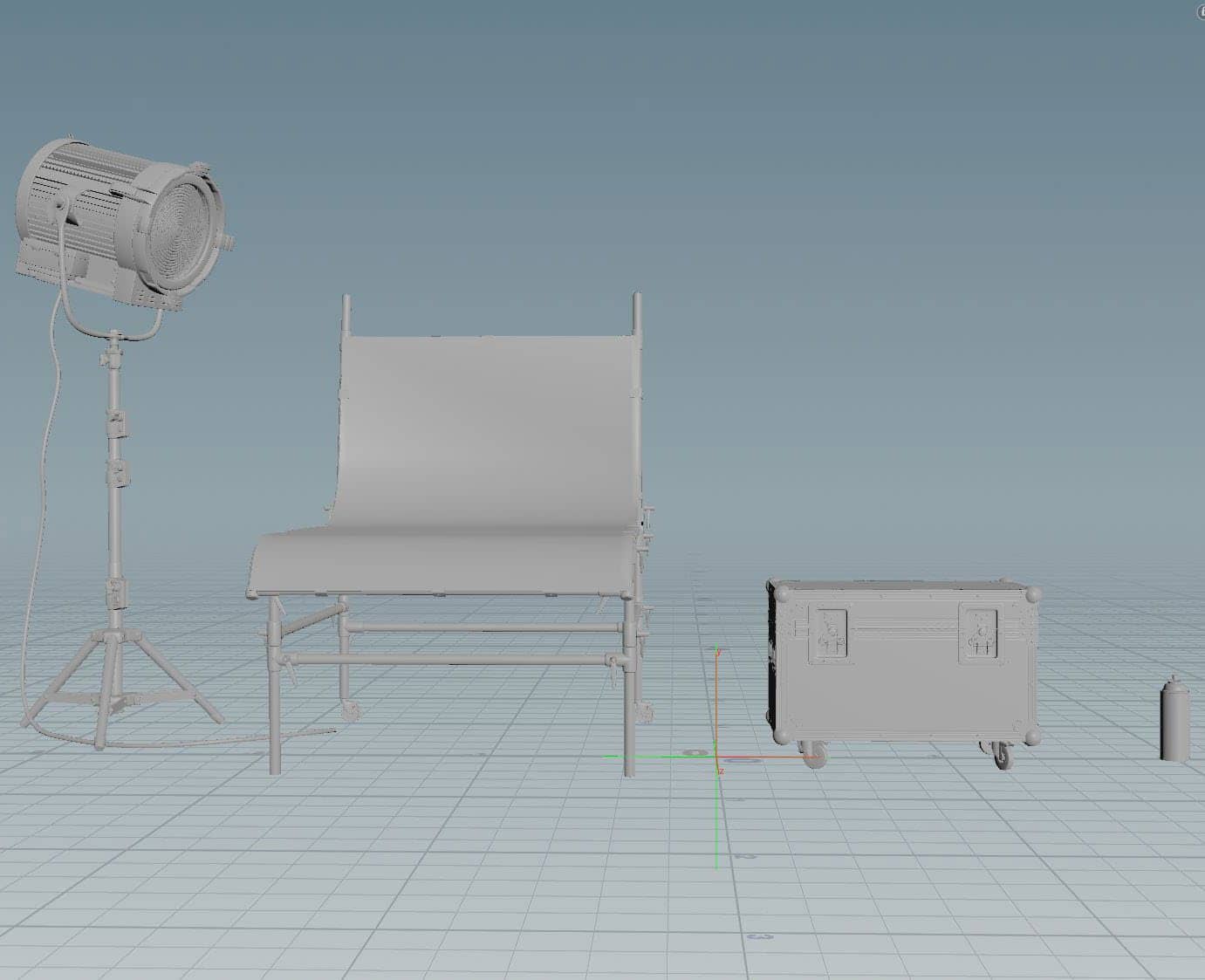 03 ASSET MASTER FILE
Starting with a new Houdini file, each model from TurboSquid was imported and any model clean-up work was done. The pivots were fixed using a combination of Move Pivot to Centre and the Move Centroid to Origin feature in the Transform node. Each object was then centred in the 0x0 grid position. All scaled, cleaned up and pivots correct, it is now time to UV each one.
04 TEXTURING PREPARATION
Luckily, Houdini has a very good Auto UV node (which needs to be downloaded from the SideFX Labs website). Plug the Auto UV node into each part of the assets and adjust the resulting UVs as needed. By plugging in a UV Visualize node, the UVs can be seen and checked for errors.
Add a PxrSurface to each object that you want to be in the same texture set before you export the FBX, to ensure better texture organization inside of Substance Painter. Make sure to name each PxrSurface appropriately. Each asset is then exported as FBX, ready to be textured.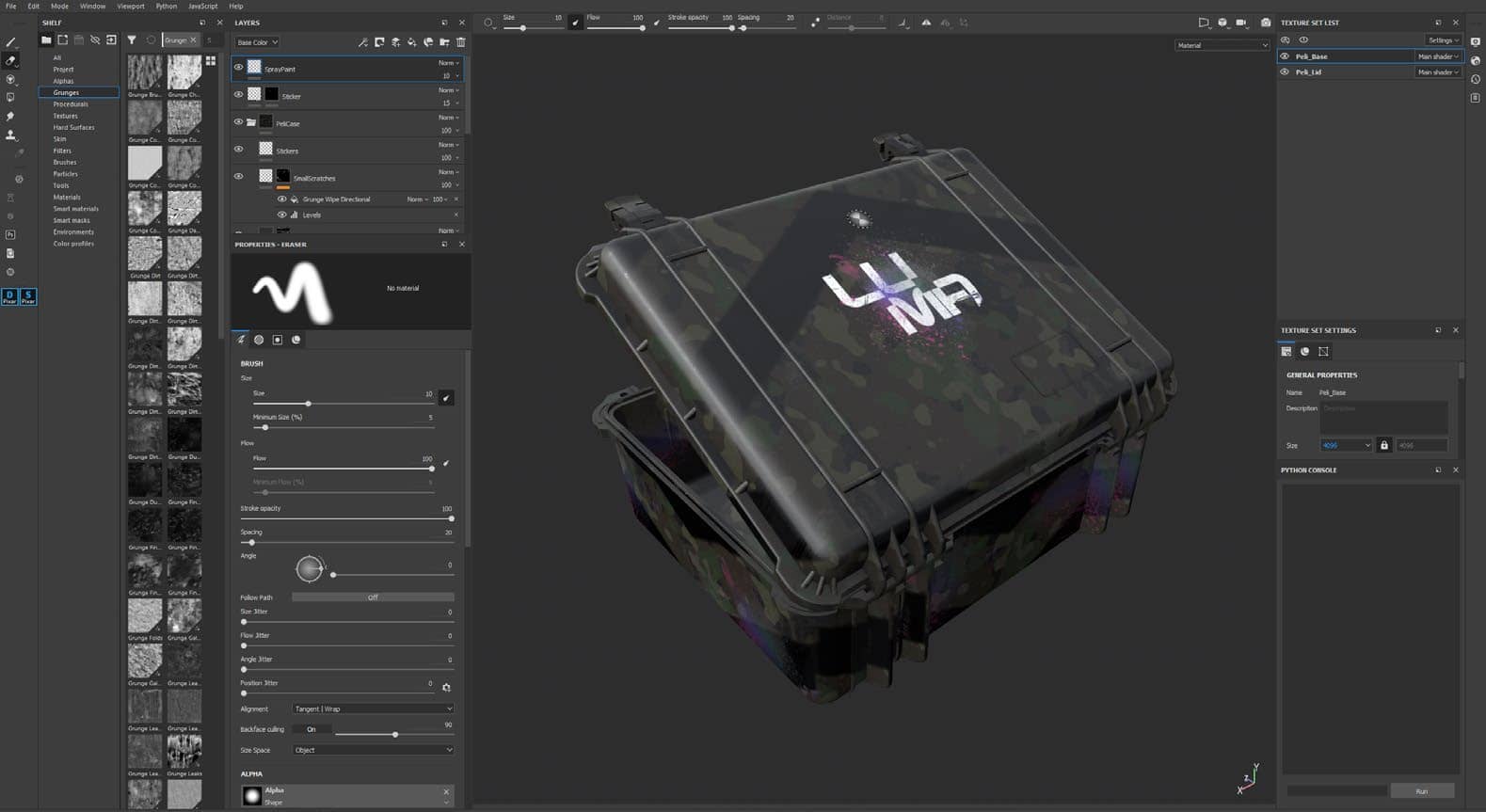 05 TEXTURE IN SUBSTANCE PAINTER
You can read up to 3 premium stories before you subscribe to Magzter GOLD
Log in, if you are already a subscriber
Get unlimited access to thousands of curated premium stories, newspapers and 5,000+ magazines
READ THE ENTIRE ISSUE
August 2020