34 Pro Tips For Fusion
3D World UK
|
September 2020
Whether you use the free version of Resolve's Fusion or standalone Fusion Studio, these expert tips reveal what this compositing platform can do for you
Compositing is essential to any professional VFX pipeline: used extensively even on features and television shows where effects are invisible to the naked eye.
Formerly developed by eyeon Software, Blackmagic Design's Fusion is a node-based VFX and compositing tool that the industry has relied upon for decades. There was even a version of the software produced in partnership with Alias Wavefront in the late 90s. The latest iteration from Blackmagic Design is available as a free download as part of their NLE and colour correction software DaVinci Resolve, or as a standalone package – and it's much more than just a professional compositor. From creating god rays to working with ACES and even generating rain particle FX, over the next few pages you'll discover the best tools and techniques that have made their way into top Fusion experts' workflows.
01 INSTALL THE REACTOR PLUGIN
Reactor is a free, open-source package manager that I would recommend for both Fusion and DaVinci Resolve users. It streamlines the installation, distribution and management of third-party content like scripts, fuses, macros, templates and titles. With Reactor, you can install these with a click of a button, rather than having to download, copy and edit individual files manually.
Download it at We Suck Less (www. steakunderwater.com/wesuckless/ index.php). Tom Hankins, Colorbleed Animation Studios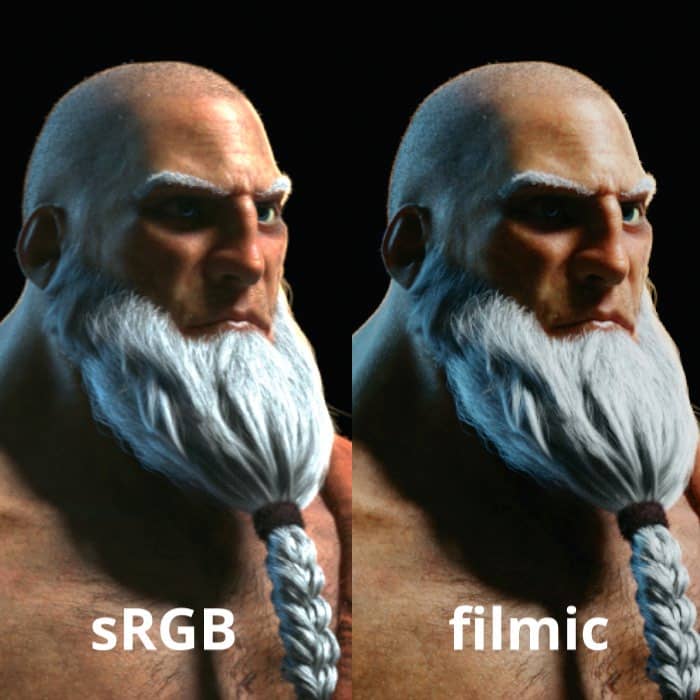 02 USE TONEMAPPER FOR A FILM LOOK
One of the more interesting tools available in Fusion is called the 'Tonemapper'. It's something that we've used on virtually all our projects since its introduction.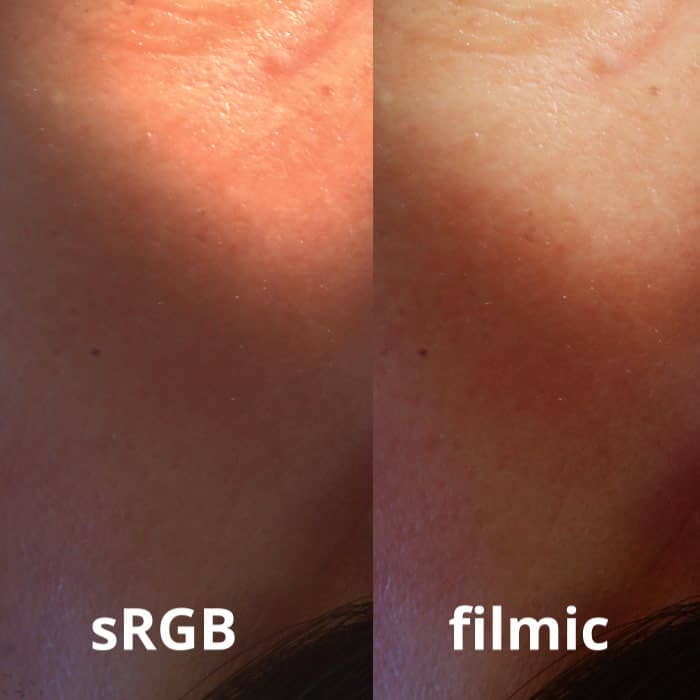 By tone mapping using 'filmic' curve interpolations, you can create a far more realistic final look for your film. What basically happens under the hood is a Reinhard filter is combined with an S-Curve, giving an image contrast without blowing it out. The process gets rid of any unwanted oversaturated highlights, making final frames more pleasing to the human eye. I especially enjoy the way it handles skin tones, as seen below. Tom Hankins, Colorbleed Animation Studios

03 CREATE BETTER SLOW MOTION
A great workflow to slow down footage from either a camera or CGI render is the 'optical flow' node, in combination with a 'time speed' node.
When slowing down footage, you usually either get stuttering or a horrific blending of frames. With optical flow, intermediate frames are created. When plugged into a time speed node, these additionally generated frames give slow motion much smoother results.
What some people might not know, is that by using a 'Copy Aux' node you can convert the generated vectors from the 'optical flow' node to colour values for all sorts of crazy results. Tom Hankins, Colorbleed Animation Studios
04 TAKE ADVANTAGE OF ACES
One of the great features of Fusion inside DaVinci Resolve is its integrated support for ACES colour management: a VFX industry standard. ACES is incredibly powerful. Having all your assets converted and rendered into a standardised ACES workflow ensures that the colours remain consistent across all software packages in your pipeline. Allar Kaasik, Escape Studios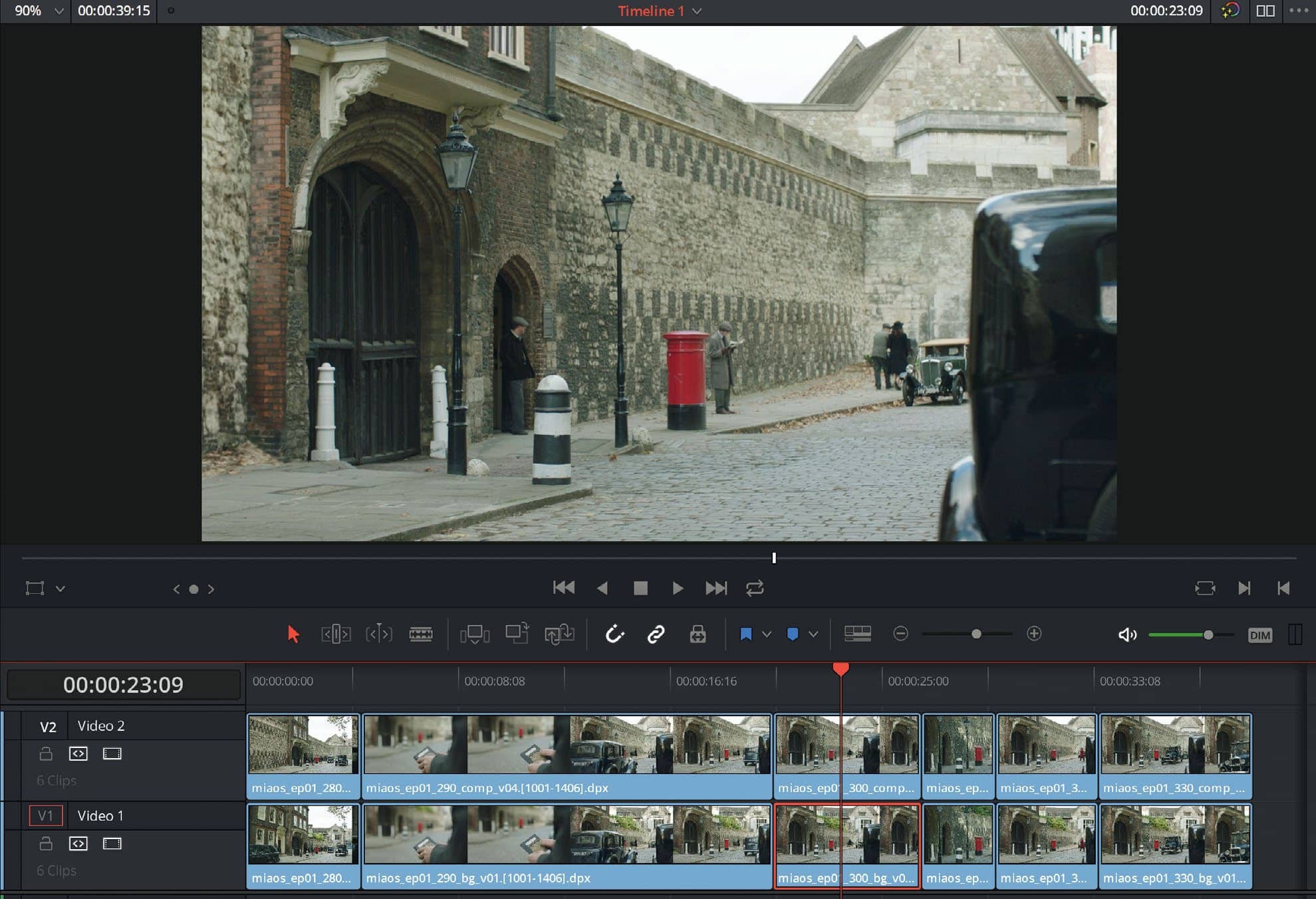 05 USE RESOLVE AS A REVIEW TOOL
If you use Fusion in DaVinci Resolve, switch to the editing timeline for a quick way to view all the shots in a sequence together and check for inconsistencies. Kenneth Turner, Lexhag VFX
06 REMEMBER, FUSION COMPS ARE PLAIN TEXT FILES
It's pretty easy to generate Fusion comps directly from other software like 3ds Max or Maya. If you haven't done this, just drag a Fusion comp file into a text editor: you'll see that all Fusion comps are plain text files.
You can also speed up your workflow with almost no knowledge of what the Fusion code means. When pulling shots from the archive, for example, you might notice some Fusion loaders have broken paths. This is inevitable with old shots, where source files have been moved for long-term storage. While we can go through all the loaders and relink them by hand in Fusion, it's much easier to do this in a text editor.
The script for a Fusion loader looks like this: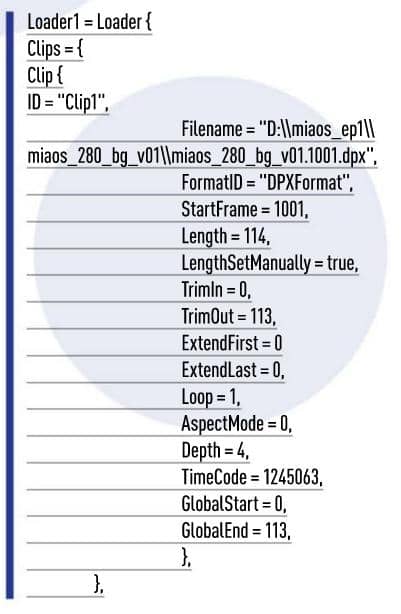 If you want to fix the broken file paths and point them to a new location, you can simply search and replace the filename text. So for me, I can change D:miaos_ep1 to z:lexhagmiaos_ ep1, save the .comp file and when I reopen it in Fusion, all the loaders are good to go. Kenneth Turner, Lexhag VFX
07 CUT AND PASTE TOOLS FOR EASY SHARING
This is definitely a top tip for our times. When you copy and paste tools in Fusion, the script is transferred as plain text to the operating system clipboard. This means you can copy tools in Fusion and paste the text into any document. If you paste the text into a chat window or a forum post, then anyone can copy and paste it back into Fusion to recreate the tools. This is great for remote working and shot reviews. In video calls, we can share screens and copy tools directly from Fusion to the chat window as text. Kenneth Turner, Lexhag VFX
08 USE THE MERGE TOOL'S ADDITIVE BLEND MODE
Additive blending is great for all kinds of FX tricks. The Fusion merge tool doesn't have Additive as an apply mode option, but it does do additive blending. To get this working simply set 'Apply Mode' to 'Normal' and 'Alpha Gain' to zero. By setting the alpha gain to zero, we change a normal blend mode into an additive blend. If you want to know more, then check my personal website: www.designimage.co.uk/merge-toolmaths. Kenneth Turner, Lexhag VFX
09 SIMPLIFY YOUR FLOW FOR SPEED AND LEGIBILITY
Fusion comps are computer programs. The less calculation the program has to do, the faster Fusion will update frames. While we're being creative, our tool flow can become a bit of a sprawl. But it's always worth going back and cleaning up. A lot of my matte paintings are split across two composites. The first is to design the look and get approvals for a single frame. Once the frame is approved, I render it as an EXR and track into place in a second comp. This means I can be messy and creative in the first comp, then clean and optimised in the second where I need faster render times. Kenneth Turner, Lexhag VFX

10 CACHE FOR SPEED IN FUSION 16: REMEMBER RAM
You can read up to 3 premium stories before you subscribe to Magzter GOLD
Log in, if you are already a subscriber
Get unlimited access to thousands of curated premium stories, newspapers and 5,000+ magazines
READ THE ENTIRE ISSUE
September 2020