Contemporising The Traditional
d+a|Issue 116
Once an abandoned siheyuan in Beijing, Qishe courtyard is now restored into a contemporary living space with curved walls and sleek rooms while retaining its unique, time-honoured features.
Restoring an old building is not an easy task, much less an iconic siheyuan.
Located in the old city of Beijing, this project is named Qishe (literally meaning "seven houses" in Chinese), because it originally consisted of seven pitched-roof houses and is also the seventh unit in the hutong (the narrow lane between siheyuan).
Han Wenqiang, founder and chief architect of Beijing-based design studio ARCHSTUDIO, was tasked with the responsibility and he started by deciding what to retain and remove.
Parts of the roof and walls that were severely damaged had to be demolished. Wooden structural beams that were well-preserved were left in situ.
Iconic elements such as the carvings on arched door openings and traditional gateway at the entrance were kept.
Leftover old bricks, found inside the courtyard, were used to repair the damaged exterior wall.
"After all the reinforcement work was done, we assessed and tested the bearing capacity of the structure," Han says.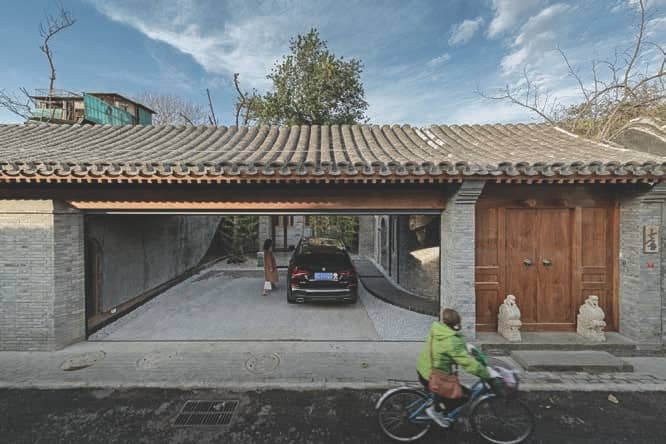 COMPLETE CONNECTIVITY
The original siheyuan consisted of three courtyards.
The front courtyard is small, featuring a row of daozuo fang (rooms that are located in the south of the siheyuan and face the north direction) and the gateway.
Traditionally, daozuo fang served as a form of accommodation for male servants and gatekeepers as they are the least desirable spot in the entire siheyuan.
However, as these were no longer relevant in our modern times, the team decided to utilise that space for a more immediate need — a garage.
The entrance gateway was shifted to the east and the walls of the daozuo fang were removed.
The original pillars were also replaced with steel structural beams to support the pitched roof, and a spacious car park was born.
In addition, the wall between the front and middle courtyards was dismantled and replaced by a transparent veranda.
Han explains that the original siheyuan had too many partition walls, resulting in many small, cramped spaces and limited natural lighting in the rooms.
You can read up to 3 premium stories before you subscribe to Magzter GOLD
Log in, if you are already a subscriber
Get unlimited access to thousands of curated premium stories and 5,000+ magazines
READ THE ENTIRE ISSUE
Issue 116