FOR THE LATEST NEWS IN-ARCHITECTURE, INTERIOR DESIGN & BUILDING MATERIALS
Surfaces Reporter
|
July - August 2020
BROWSE WWW.SURFACES REPORTER.COM Since 10 years, SurfaceS reporter (Sr) has been publishing information about architecture, design, technology, products, materials, business and industry news. Here are the 10 latest happenings.For elaborate news & reports, visit www.surfacesreporter.com / sign-in for Sr newsletter or Download android app of Surfaces reporter from Google ply
JSW Won't Import Materials from China. SR Asks, Who Else Will Follow?
The conflicts between India and China at LAC and the death of several Indian soldiers has emboldened the chairman of JSW group -Sajjan Singh Jindal to cut economic links with China. The main focus of the company is that no material should be imported from a country that is not friendly to India.
SURFACES REPORTER (SR) notes that with India's various industries heavily dependent on China, it is a difficult choice. Mr Jindal while speaking with a mainstream media reiterated the same.
"It is not an easy route. The auto industry is dependent on China for 40% of components. The steel industry's 100% refractories come from China. One approach is to say that war will be fought by our soldiers, and my job is to make steel at a cheaper price by buying from China. But another view is — look at the $100 billion opportunities that Indian companies should tap. There will be some pain in the short run. But see, I respect my country and my army. If they (China) have killed 20 of my soldiers, I'm not going to buy products from them and strengthen their armies more."
He said that there might be over a billion dollars of imports that come from China at JSW directly and indirectly. But the group has recently put a restriction in all their purchases from the country. According to him, when we import equipment from countries other than China, it definitely costs them around 1015% more. But the company is negotiating or even sacrificing some cost for the short term. They believe that once there will be an increase in the countries capacities, the cost will naturally come down. He finds it a narrow-minded approach of those who think that there is no alternative.
Earlier, his son Parth Jindal, Managing Director, JSW Cement also assured that the group will completely cut imports from China in the next 2 years. Currently, the group imports USD 400 million worth of goods from China. This action was taken due to the recent conflicts between Indian and Chinese soldiers in the Galwan Valley.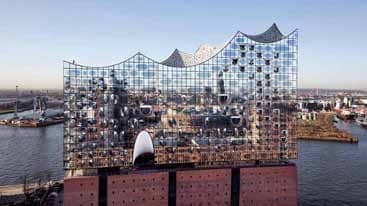 IS ALGORITHM THE FUTURE OF ARCHITECTURE?
Earlier, in the late 1980s and 1990s, CAD- computer-aided design gave the architects a new way to design. Architects were able to experiment with new organic forms, free from the restraints of slide rules and protractors. The result was some famous curvy buildings, which looks futuristic and astonishing. Today, computers are taking the help of algorithms that can inform, refine, and even create new designs; even weirder shapes are just the start.
Algorithms can now work out the best ways to layout rooms, construct the buildings, and even change them over time to meet users' needs. In this way, algorithms are giving architects a whole new toolbox with which to realize and improve their ideas.
At a basic level, algorithms can be a powerful tool for providing exhaustive information for the design, construction, and use of a building. Building information modeling uses comprehensive software to standardize and share data from across the architecture, engineering, and construction that used to be held separately. This means everyone involved in a building's genesis, from clients to contractors, can work together on the same 3D model seamlessly.
Recently, new tools have begun to combine this kind of information with algorithms to automate and optimize aspects of the building process. This ranges from interpreting regulations and providing calculations for structural evaluations to making procurement more precise.
Also, utilizing the various aspects of the algorithm, even office arrangements are being produced for the COVID-19 pandemic. Algorithms can also create a self-organizing floorplan for a care home, and rest, sky is the limit.
As advancements in computer science and technology are growing exponentially, can we anticipate that the use of algorithms will soon be a standard way of designing the buildings?
Detailed report at www.surfacesreporter.com
You can read up to 3 premium stories before you subscribe to Magzter GOLD
Log in, if you are already a subscriber
Get unlimited access to thousands of curated premium stories, newspapers and 5,000+ magazines
READ THE ENTIRE ISSUE
July - August 2020