Notes on nature and art Wandering Violin Mantis
Domus IndiaMarch 2020
In a recently concluded exhibition, artist Nibha Sikander creates stunningly lifelike creatures — birds, insects and moths — all handmade from paper. It is her preternatural rendering of the natural in all its gorgeous detail that summons forth, in the viewer, a wave of rapture.
'The violinist's shadow vanishes. The husk of a grasshopper Sucks a remote cyclone and rises.' - Ted Hughes, 'Cadenza' [1]
Nibha Sikander brings a miniaturist's eye to bear on the extraordinarily intriguing sculptures that she creates with the simplest and most minimal means, shaping them from layers upon layers of card paper with an X-Acto cutter. Wrought with unerring accuracy, and with a heightened attentiveness to delicate and often elusive detail, Sikander's moths and birds testify to the dazzling enchantment of the natural world as well as to the magic of taxonomical science. Presented in segments, as a row of disjecta membra laid out from wing to beak and head, her birds make a graphic transition from field guide to portrait gallery. They come across, not primarily as representatives of a species, but as sharply individual denizens of a world menaced by predators, surly winds, changing weather patterns. Her moths, speckled, streaked and richly coloured, bring the shimmering warmth of their nocturnal ethos into the sobriety of the specimen case or vitrine.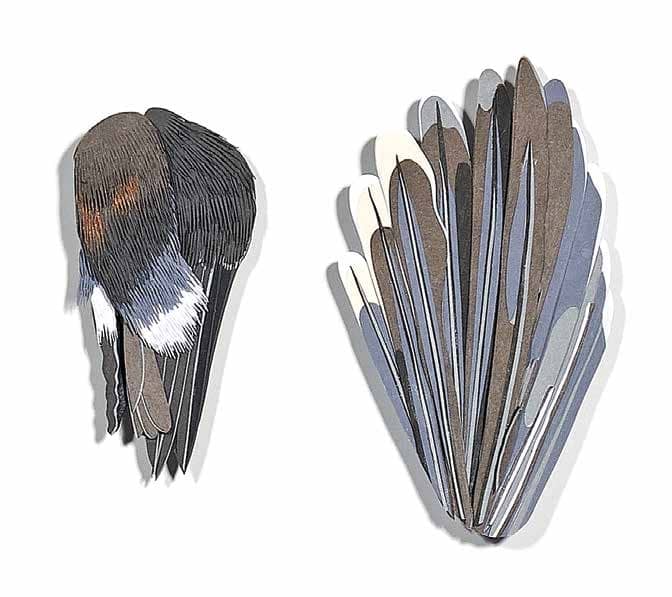 The works brought together to form Sikander's first solo exhibition are a testament to the curiosity of the naturalist, the patience of the observer, and the devotion of the artist to species that we too often treat as incidental or decorative. Ephemeral as insects may seem, they guarantee the robust longevity of the processes of ecological regeneration, and provide early warnings of impending environmental catastrophe. At a fateful moment of global 'insect apocalypse', when thousands of insect species are approaching extinction or have already been wiped out, Sikander's jewelled moths remind us of the crucial importance of the overlooked.
* Walking from one insect, moth, or bird — and some of Sikander's moths and insects are species of her own invention — we find ourselves drawn into the sensuous delight of pattern and colour. We are captivated by the umber streaks and sienna pools that mark the wings of the Large Eyed Owl Moth, the rich green spread of the Crimson Spotted Emerald, the cerulean splash on the wings of the Little Yam Hawkmoth, the grey spots and luminous green markings of the Pomegranate Fruit Piercer. We dwell on the long digger beak of the Hoopoe, the wise guide of Attar's grand Sufi poem, Mantiq at-Tair ('The Conference of the Birds'), sequenced as an exploded diagram of wing, beak, eye, and crest. The burst of sacrificial red in the otherwise restrained costume of the Red Whiskered Bulbul leaps out at us. The artist translates the Flower Mantis — that beautiful, cunning predator, which camouflages itself to look like flora — as a segmented portrait, a choreography of head, abdomen, legs in yogic posture, antennae, and exoskeleton.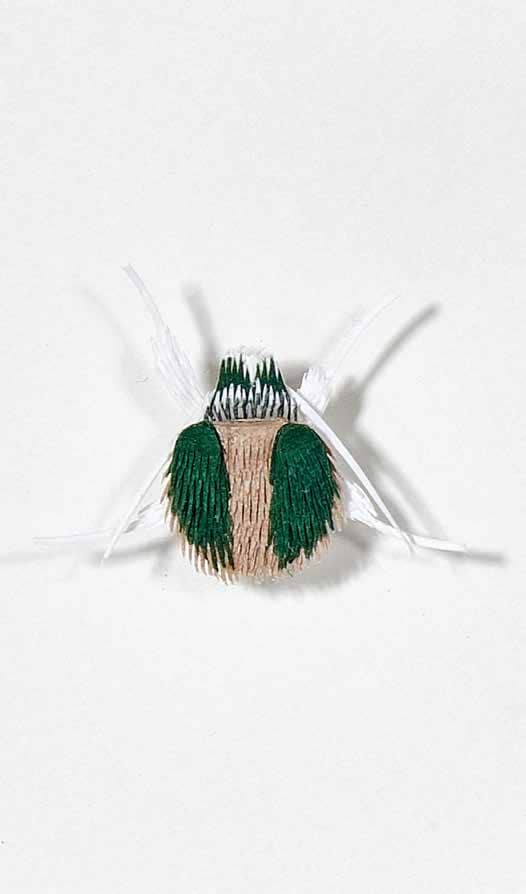 You can read up to 3 premium stories before you subscribe to Magzter GOLD
Log in, if you are already a subscriber
Get unlimited access to thousands of curated premium stories, newspapers and 5,000+ magazines
READ THE ENTIRE ISSUE
March 2020