People Obssessed With Design
BluPrint|Special Issue 2
Park + Associates: Crafting architecture with good bones and spaces that resonate with individuals
"Passion for architecture and sense of duty are important to us," says Lim Koon Park, principal architect of Park + Associates.
"Architecture is not just another job. You can't insist on work-life balance, because you can't look at the clock and say, 'Time to stop architecture, it's time for play.' We don't encourage that. We want people obsessed with design."
The firm's driving concern is to push the envelope in aesthetics and construction. "We make sure that when the project allows for it, we put in additional resources so as not to recycle old ideas. Say you need 100 man-hours on design for a project. Instead, we spend 150 man-hours to hopefully produce a high level of design. We don't have to do that. We still get the same fee. We could take the client's brief and render it prettily, and sure, that could get the job done. Instead, we try to re-interpret the brief to come out with something to surprise and delight the client. Of course, it is not different for difference's sake. It still has to fulfill the brief—all the required functions will be there—but we want to offer a new perspective on what a house or a mall could be. If not, I'd rather not do the project because it doesn't enrich my portfolio, it doesn't motivate my guys, and it doesn't bring us satisfaction. It has to give us more than money. And it has worked."
The shortlisted entry
Park says Huangshan House is one of their most conceptually exciting projects—an exploration of architecture that coexists with, rather than unwisely attempts to ignore or dominate, the natural world. Huangshan House is sited in Anhui in China, a place known for its beautiful mountainous landscape capped by granite peaks—a recurring subject of traditional Chinese paintings. The 2000-square-meter lot sits at the tip of an artificial island overlooking Hengjiang River. Taking cues from nature and its geometries, the massing is organic while the form resembles the shape of a prow, recalling the boats that ply the river. However, instead of dominating the scene, the house hugs the ground "almost apologetically," excavating downwards to create a sunken courtyard.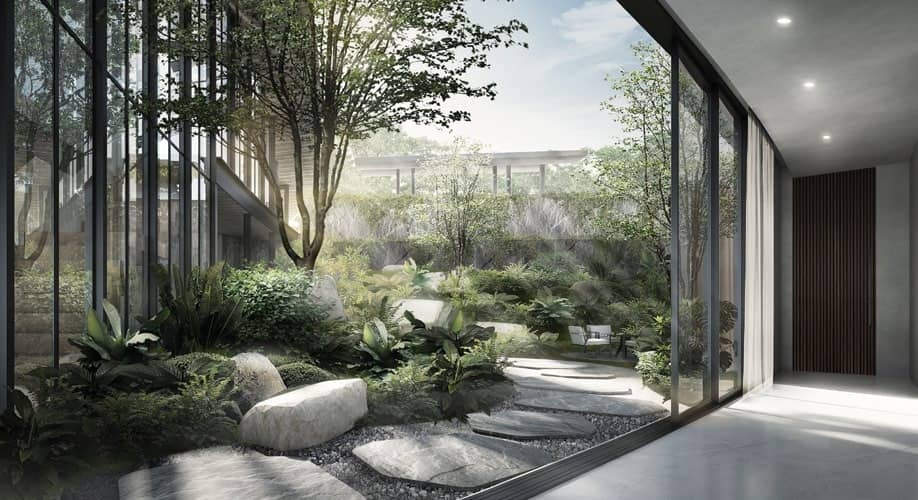 You can read upto 3 premium stories before you subscribe to Magzter GOLD
Log-in, if you are already a subscriber
Get unlimited access to thousands of curated premium stories and 5,000+ magazines
READ THE ENTIRE ISSUE
Special Issue 2