Two Peas in a PAD
Architect and Interiors India|June 2020
WITH THEIR UNIQUE DESIGN AESTHETIC, DISHA BHAVSAR & SHIVANI AJMERA OF QUIRK STUDIO HAVE AMASSED QUITE THE FAN FOLLOWING TO BECOME THE GO-TO DESIGNERS FOR CELEBRITY PROJECTS
Young, vivacious and ambitious. While these words aptly personify Disha Bhavsar & Shivani Ajmera, principal designers & co-founders of Quirk Studio, they could also well define their work thus far. The pair set up their practice in 2013, and although it's been a short journey since then, their talent has won them numerous projects, many of which are homes and offices for celebrities. This is what has compelled us to anoint the pair (who also happen to be on this year's iGen list) with the well-deserved moniker 'celebrity designers'. In the following pages, we feature four such celebrity projects, which bear testimony to the aforementioned fact. From music director & composer Pritam Chakraborty's vibrant studio; to stand-up comedian & writer Rohan Joshi's monochromatic home design; and from the muted, yet earthy vibe of celebrity stylist Anisha Jain's residence; to film actor & producer Jackky Bhagnani and his sister, film producer Deepshika Deshmukh's luxurious office, each space follows a design language representative of its owners, albeit true to the identity of Quirk Studio as a brand.
In fact, the Mumbai-based boutique design atelier actively aims to "depart from conventional ideas of luxury to cater to modern, novel notions of comfort, functionality, aesthetics, and self-expression." As far as its principals themselves are concerned, each has a rather distinctive back story, finding harmony in their love of design. For Ajmera, it was "a chance and an opportunity in disguise" when she morphed from a media student into an interior designer, having being given the opportunity to do up a space, back in 2004. There was no looking back after that, as Ajmera went on to work with leading names such as Talati and Panthanky and Red Architects, thus strengthening her foundation in the field. She also went on to study design in Florence, Italy, which shaped her perspective, just as Philippe Starck's free-spirited, unconventional style as witnessed in his fluid, organic forms, influenced her. In contrast, growing up, Bhavsar was "always inclined to spaces and design". Both her father and her aunt – who is also an interior designer, inspired her choice of career, as did Geoffrey Bawa's work, along with the simplicity and ease with which he would combine local context with the principles of modernism. She spent three years learning interior design at Nirmala Niketan, and later earned a Master's degree in Design Management from the Winchester School of Arts, University of Southampton.
Then came their first project – the Saregama office, which was obviously a memorable experience, but also a huge learning. "We collaborated with a large team of contractors and also the Saregama team, who had a clear set of requirements about their space. For such a commercial space, it was pertinent to incorporate their branding and persona within the area, which became an exciting challenge for us. It opened our eyes to the big-scale projects and how to approach them," the two confess.
DYNAMIC DUO
It's been a string of firsts since then, and Quirk Studio has indeed come a long way. However, Ajmera and Bhavsar maintain that regardless of scale or space, each project is of high significance to them, and therefore crafted with the same passion and attitude. As a matter of fact, in the long-standing debate of form versus function, the pair has this to say: "To achieve good design, one must integrate a sense of utility and purpose within the design. Form and function are undoubtedly two sides of the same coin, and there must be a balance between both. Form without function is improper design. Creating functional layouts with the absence of aesthetics is also futile, as aesthetics are crucial to the user's liking and their impression of it."
This delicate harmony is amply resonated across Quirk Studio's projects. Speaking of harmony, just as one starts to feel that the duo is as in sync as two peas in a pod, they throw up a surprise when asked to describe their dream project. For once, the two have differing opinions. While Ajmera dreams of executing "an amazing hospitality project", Bhavsar wishes to fashion "a holiday home nestled amidst nature in the middle of nowhere, to create a bespoke design statement of luxury and minimalism, while experimenting with sustainable materials and modern design sensibilities". And given how fast their practice is evolving, there is no doubt that these dream projects could be realised in the very near future.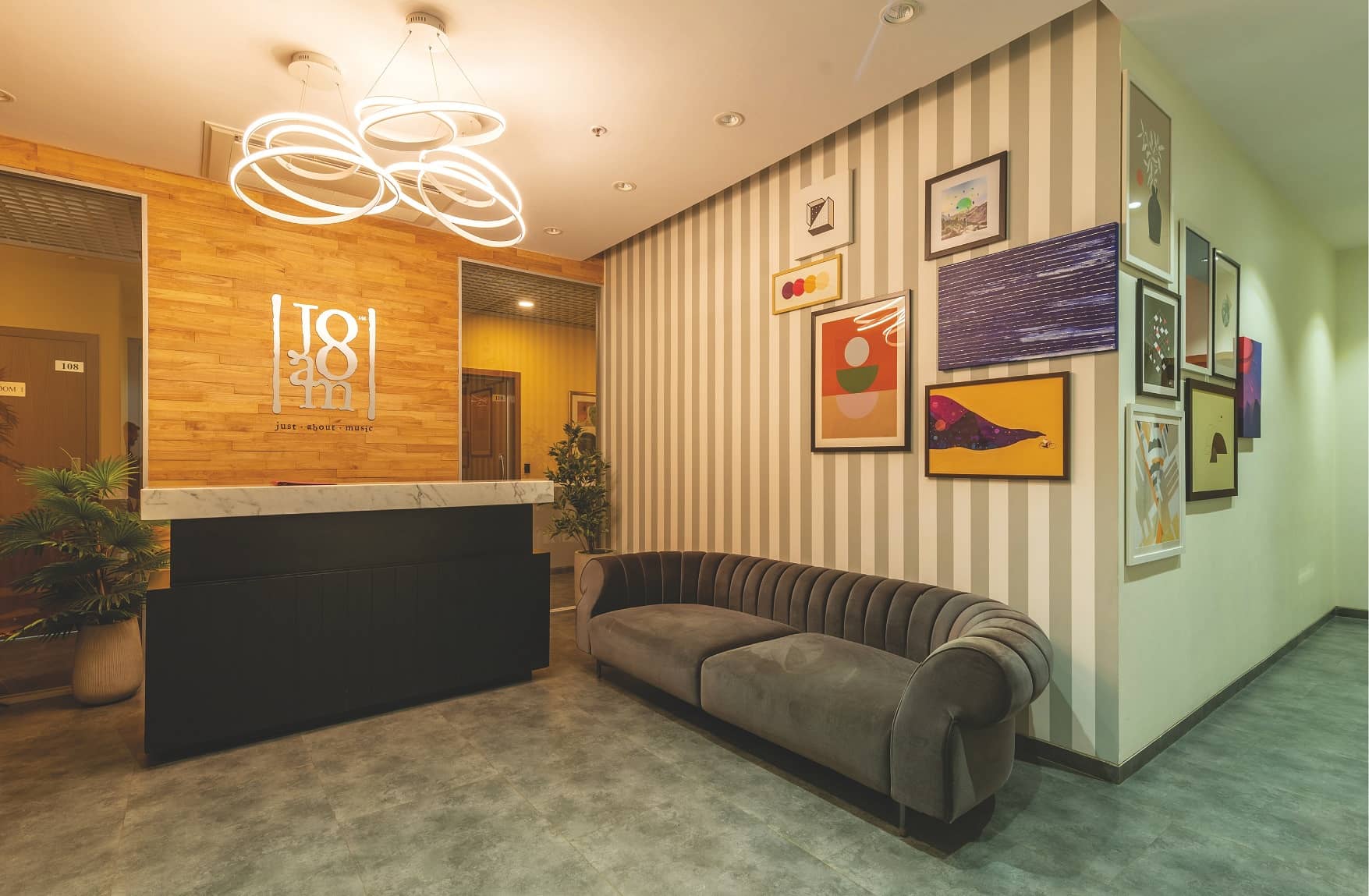 JAM-8 STUDIO
Walk into this cheerful and colourful space, and there is no doubt that you've stepped into a music studio. Whether it is the art depicting musicians or the musical instrument inspired ornamentation, Ajmera and Bhavsar have left no stone unturned in crafting a lively, fluid space that perfectly represents the brand Jam-8, which was created by music director & composer Pritam Chakraborty and his associates. The studio is meant to serve as a platform to nourish musical talent, and its interiors were thus imagined and brought to life by Quirk Studio. "Jam-8 was curated to accommodate varied musical sensibilities with common values, and the music pioneer behind it wanted to work in a space that would be functional and could effectively incorporate recording studios, conference rooms, meeting room, lounges, cafeterias and basic boarding facilities," says Ajmera.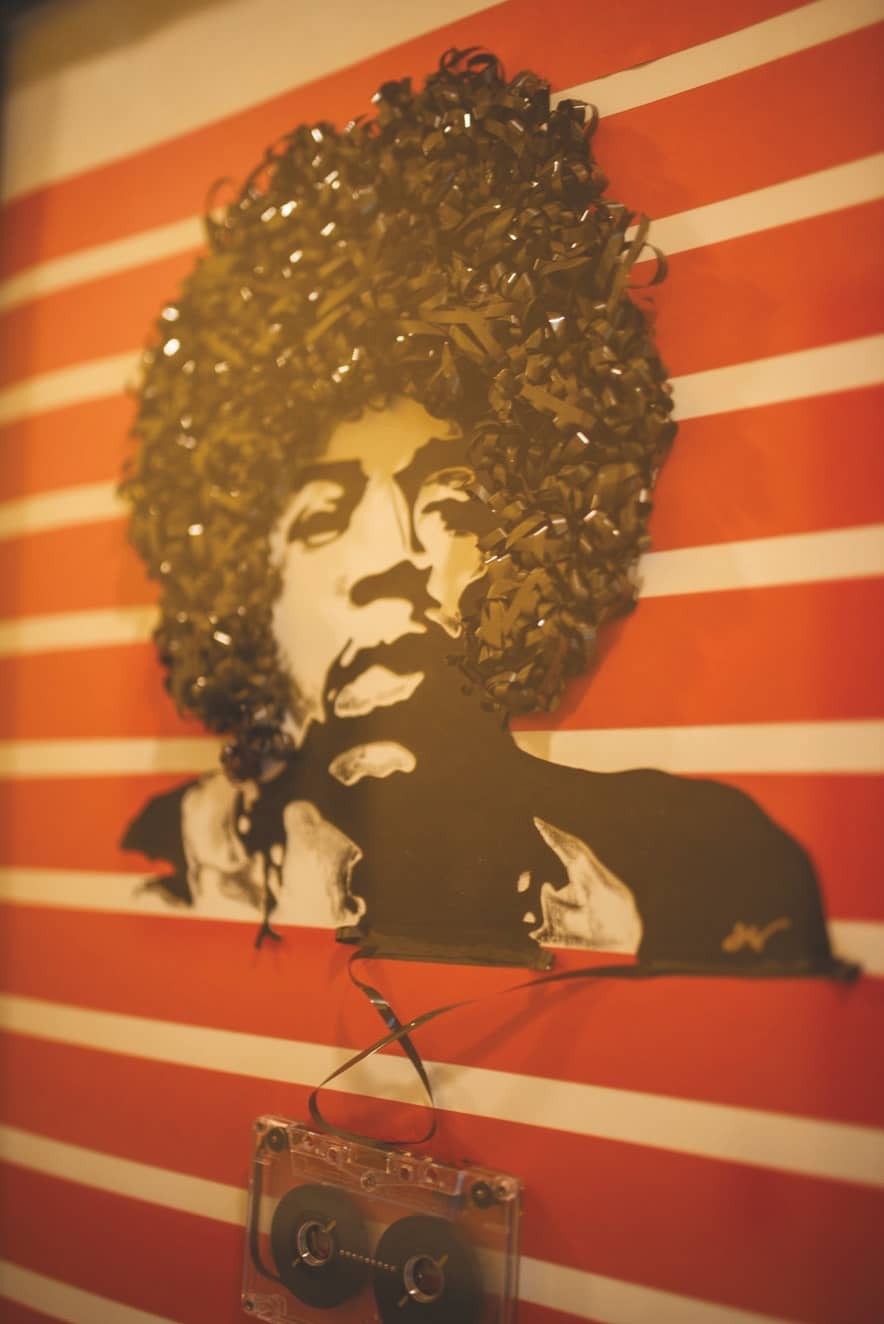 You can read up to 3 premium stories before you subscribe to Magzter GOLD
Log in, if you are already a subscriber
Get unlimited access to thousands of curated premium stories and 5,000+ magazines
READ THE ENTIRE ISSUE
June 2020