The Unsung Hero Of Chandigarh
Shiv Datt Sharma's Life Story Is The Stuff Movies Are Made Of – From Experiencing The Partition Of India To Building A New City, The Modernist Architect 'hero' Has Done It All
Even a fleeting encounter with Shiv Datt Sharma, better known as SD Sharma, will leave you inspired. A survivor of Partition, he began life anew in the city of Chandigarh as a young refugee. After acquiring his National Diploma in Architecture in 1959, with virtually no resources at his command, he enrolled himself in the team of architects working on the Capital Project…and his hard work and persistence paid off when he got the opportunity to assist Le Corbusier and Pierre Jeanneret in building the city. It's a testament to his exemplary architecture, that Sharma was given the task of completing Le Corbusier's museum after the untimely death of the legendary French architect.
If that's not enough of a 'fairytale' success story, there's even more. The six decades of his practice of architecture has spanned varied experiences that colour the fabric of the 1931-born architect's professional life with a brilliance that can only be marvelled at and learnt from. No wonder, then, that most of his contemporaries have been generous in their praise of his contribution (see boxes). While introducing him for his higher studies in Milan, where he did his post-graduation on an Italian scholarship, Jeanneret described him as an "architect of rare qualities who understands deeply the meaning of built environment."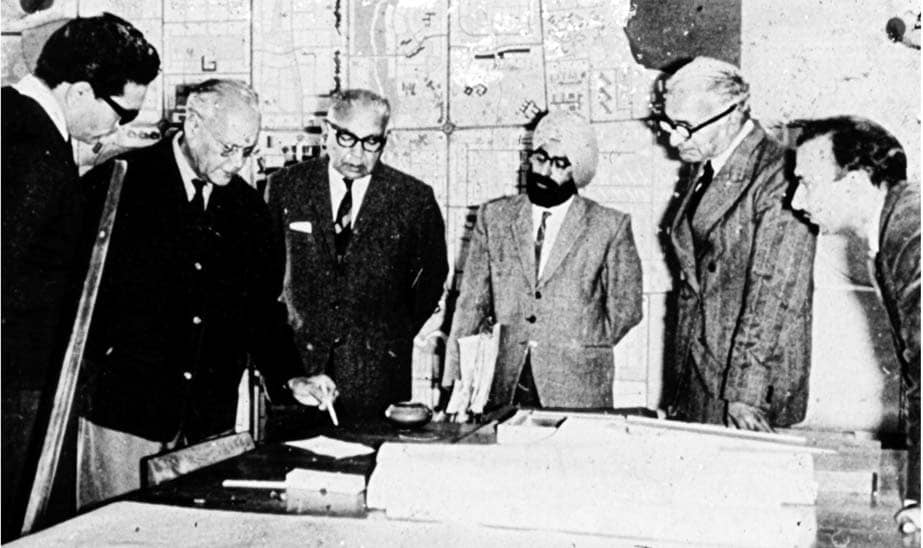 As an architect working on the Chandigarh Project from 1963-73, Sharma adopted and extended the philosophy of Modernism espoused and practised by Le Corbusier and Jeanneret – an idiom of hybrid thinking. The pure architecture and rational thoughts were geared to building for the purpose, with no superficialities. It was honest expression, glorifying the versatile materials of brick and cement chosen for noble aesthetic reasons – new materials to build a new India.
During this formative period of Sharma's career, he was fortunate to learn the art and craft of Indian Modernism in the very crucible where it was being developed. He learnt how to design for the climate, using local, readily available materials, with absolute honesty and directness – lessons that have stayed with him throughout his long and fruitful career. In this sense, the Chandigarh Capital Project office in Sector 19, which he later worked on conserving and preserving, is what he considers his "true school" of architecture.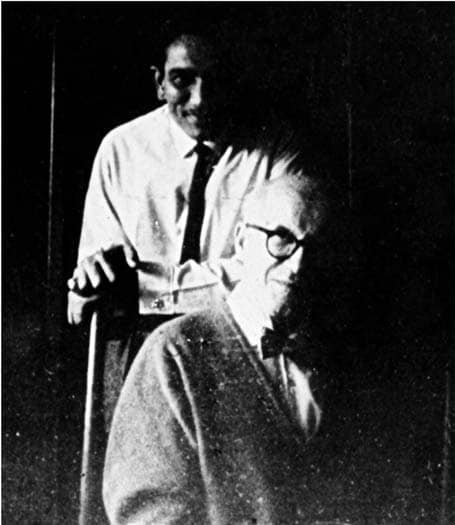 From 1973-79, Sharma worked as chief architect for ISRO (Indian Space Research Organisation) – in the Department of Space, Government of India – a very satisfying chapter of his career which provided the exciting opportunity to explore and design major campuses in different parts of the country. Thanks to the diverse locations of projects, he had to find appropriate local ways of working – which ranged from using completely indigenous material and skills to deploying totally prefabricated components in isolated, island locations such as Car-Nicobar. Professional expertise included exposure to sophisticated services catering to the complex needs of space technology, use of different kinds of power and energy, magnetic shielding, creation of clean areas, precision control of humidity, temperature, noise, vibrations, etc.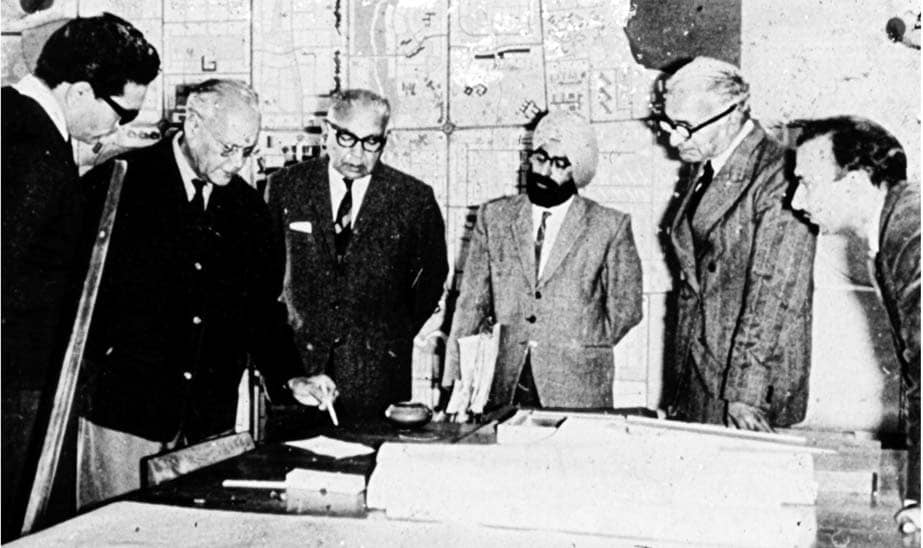 After opting for voluntary early retirement from ISRO to work in Abuja, the new capital of Nigeria, the coup that occurred there caused him to return to Chandigarh to set up his own practice in 1980. Over the past four decades of his private practice, Sharma has had the opportunity to design a diverse range of projects from a small bamboo museum to massive science and health institutes. He has done both public and private projects for clients with very limited budgets as well as those with more lavish ones. Through it all, he has stayed true to the dictates of Indian Modernism, while exploring a fuller range of possibilities in dialogue with the desires and expectations of his clients – as you will see and read about in the selection of projects showcased here.
A monograph on the living legend's work, titled 'The Architecture of Shiv Datt Sharma' by Mapin Publishing was published in 2012. Just last month, a second monograph, 'Shiv Datt Sharma: Life and Work' was launched at Punjab Raj Bhawan Chandigarh by VP Singh Badnore, Governor of Punjab and UT Administrator. Intended and written as a reference book, it highlights how Sharma had learnt about Le Corbusier from his books and cultivated a work-culture of yogic self-denial. "Students, teachers, researchers, and administrators in the field of Architectural Education will also find it a rich resource for learning the whys and wherefores of architectural creativity – its complexity, its joy, and its contribution to the making of a healthy, happy and inspiring built environment," its author Dr. SS Bhatti (former principal, Chandigarh College of Architecture) said on the occasion.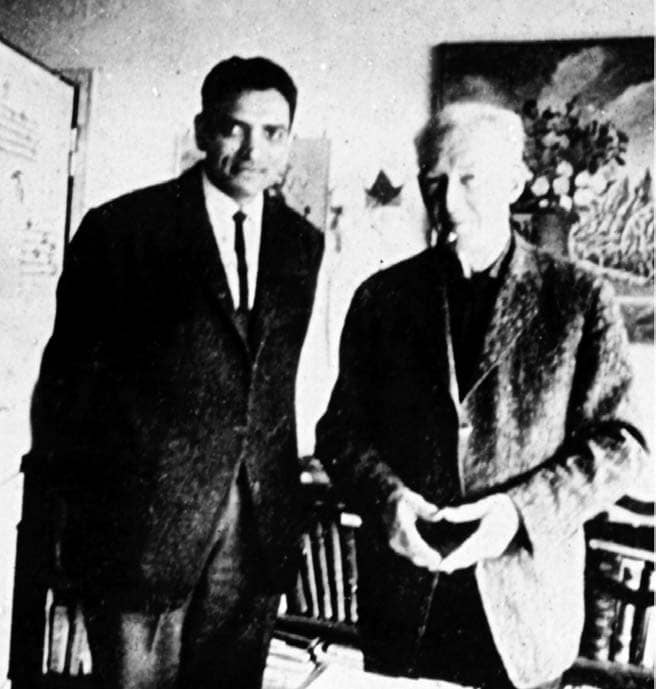 Dr. Bhatti is best qualified to describe the unsung hero of Chandigarh, and he does it with aplomb. "Shiv Datt Sharma (87) is tall, well-built, handsome, always irradiating an aura of infectious charm. He was born in district Sialkot [now in Pakistan]. A man of few words, he says more – and eloquently so – through his amiable lifestyle than his speech. The quiet nobility of his spirit is best expressed through his many and varied architectural creations. However, you cannot know the man, fully, unless you know his family background. And I say so on personal evidence.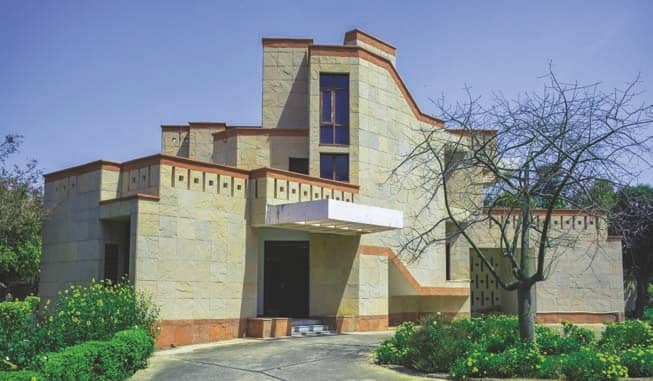 "Although I have known him since 1961, when I joined Chandigarh College of Architecture as lecturer, it is only now that I know him as the real Man behind the celebrity professional after a few long sittings with him to find out what makes him, genetically, what he is.
"Shiv Datt joined the Chandigarh Capital Project office on a low rung of the hierarchical ladder when chief engineer PL Varma, engineer RN Dogra and architect MN Sharma were on the staff. Le Corbusier and three senior architects: E Maxwell Fry, Jane B Drew and Pierre Jeanneret (Le Corbusier's cousin) constituted the foreign team of architects and planners.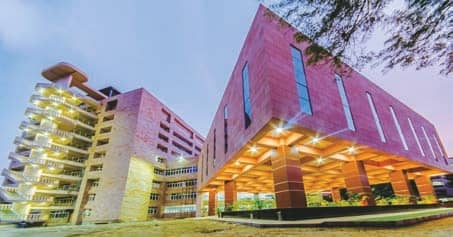 "While designing and drafting were done by the European masters, the Indian team of architects worked on detailing. It was Le Corbusier's exhortation that lent respectability to the mundane craft of drafting. The Master Architect called himself a draughtsman. He even proclaimed that nobody could become an architect of any consequence if he/she were not a good draughtsman, in the first place!
"Shiv Datt Sharma's learning began when he, along with others, had to deal with the Master Architect's drawings which were dispatched from his Paris studio to the Chandigarh Capital Project site-office. These were drawn in metric scale, which was converted to foot-inch units to make them usable for construction and supervision here because the British system was still prevalent in India.
You can read upto 3 premium stories before you subscribe to Magzter GOLD
Log-in, if you are already a subscriber
Get unlimited access to thousands of curated premium stories and 5,000+ magazines
READ THE ENTIRE ISSUE
October 2019