How To Sun Proof Your Abode
Architect and Interiors India
|
August 2020
A variety of sun shades are helping homes escape the harsh rays of the sun while adding an aesthetic element to building exteriors
Sun shades are basically used for protection from sun rays while ensuring the natural energy from the sun is used in the interiors. Shading devices can typically have a dramatic impact on building appearance and need to balance energy considerations with aesthetics.
DO IT RIGHT
Well-designed sun control and shading devices can balance light and heat requirements in a building. Projection angle, depth, and placement of sun shades according to the orientation of the building affects the efficiency of the sun shades. Shading effects and daylighting should be considered simultaneously. The projection depth and considerable height have an impact on the continuous daylight typically received by the space.
Deekshali Anand, co-founder & principal architect, DIOC IN & CO, says, "Sunshade may also define a volume. Proportions play a huge role. A section of space studying the depth and height of shade is critical for human comfort. Blindly copying a sun shade design from anywhere and applying it will not bring the quality of space. Blindly putting a glass structure is thankfully now regarded as an insult to responsible designing. With technological and digital advancements, we can stimulate the building's response to conditions and use before synthesising the structure; thus, giving way to new design processes for architecture and design practice. Fractal architecture and parametric architecture are making sun shades a part of building envelop design."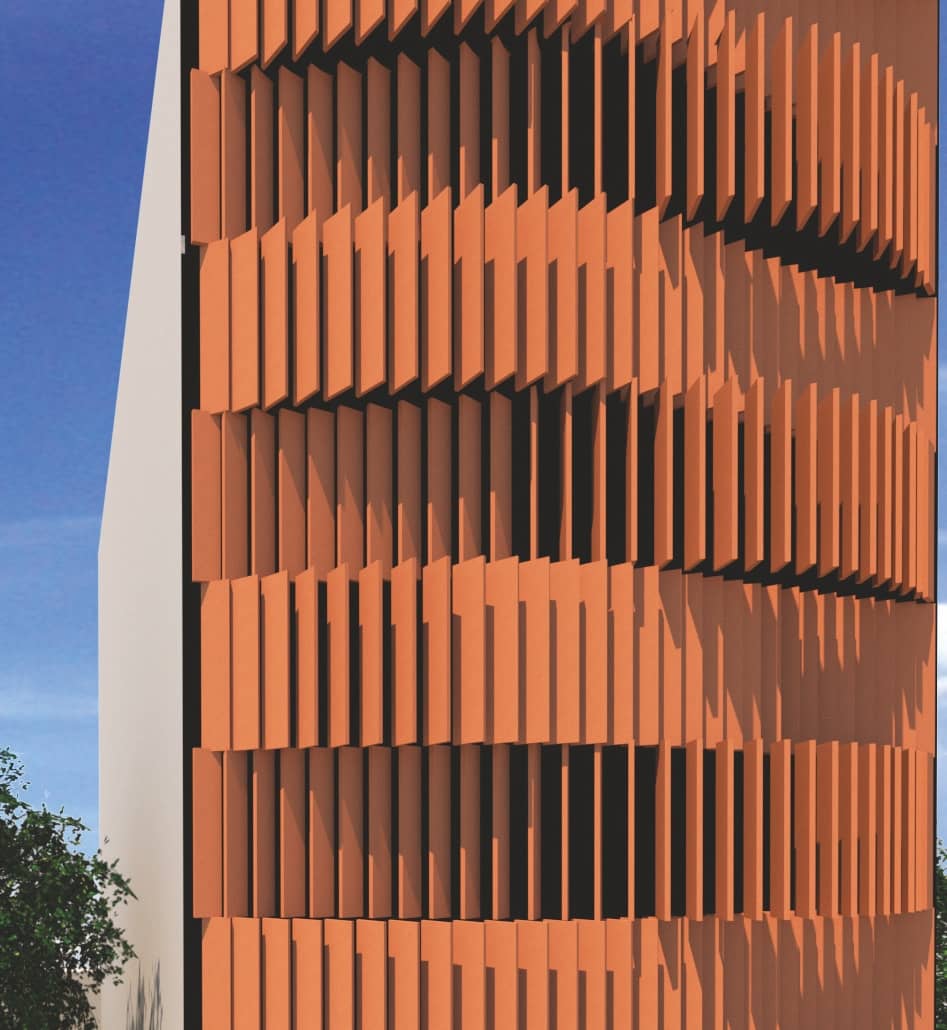 PRODUCT MIX
Sun shading has always been a part of contemporary architecture. Due to the increasing awareness of climate change and carbon footprint of buildings, most clients today prefer green-rated buildings with innovative design, be it an office or a residence.
"Technically, it is a double-skin façade system that consists of two skins placed in such a way that air flows in the intermediate cavity. The ventilation of the cavity can be natural or mechanical depending on the HVAC strategy. FunderMax sun shading systems are sustainable and specifically aimed at improving daylighting, glare mitigation and energy-efficiency, without compromising on occupant comfort. Some of the critical considerations are sun path analysis and wind loading patterns, which bring out the best in functionality and aesthetics in such a façade design," says Ashwani Khanna, AVP marketing, FunderMax India.
You can read up to 3 premium stories before you subscribe to Magzter GOLD
Log in, if you are already a subscriber
Get unlimited access to thousands of curated premium stories, newspapers and 5,000+ magazines
READ THE ENTIRE ISSUE
August 2020