IN THE LAP OF LUXURY
Architect and Interiors India|May 2020
LUXURY IS OFTEN SUBJECTIVE, YET THESE DIVERSE HOMES FROM DIFFERENT GEOGRAPHIES UNDOUBTEDLY PERSONIFY THE WORD IN ITS TRUEST FORM.
Recent happenings have forced people to spend time indoors, and that has only accentuated the value of our homes to us. It has also drawn our attention to what needs fixing, the comforts we would like to incorporate and the excesses we want to call our own. Hence, once things begin to normalise – hopefully sooner, rather than later, there will indeed be a large number of people who will rush to renovate or upgrade their abodes to ensure that these spaces cater to their every need, whim and fancy. After all, everybody aspires to own an uber-luxury residence. And if you need design inspiration, look no further than these gorgeous habitats that define luxury living.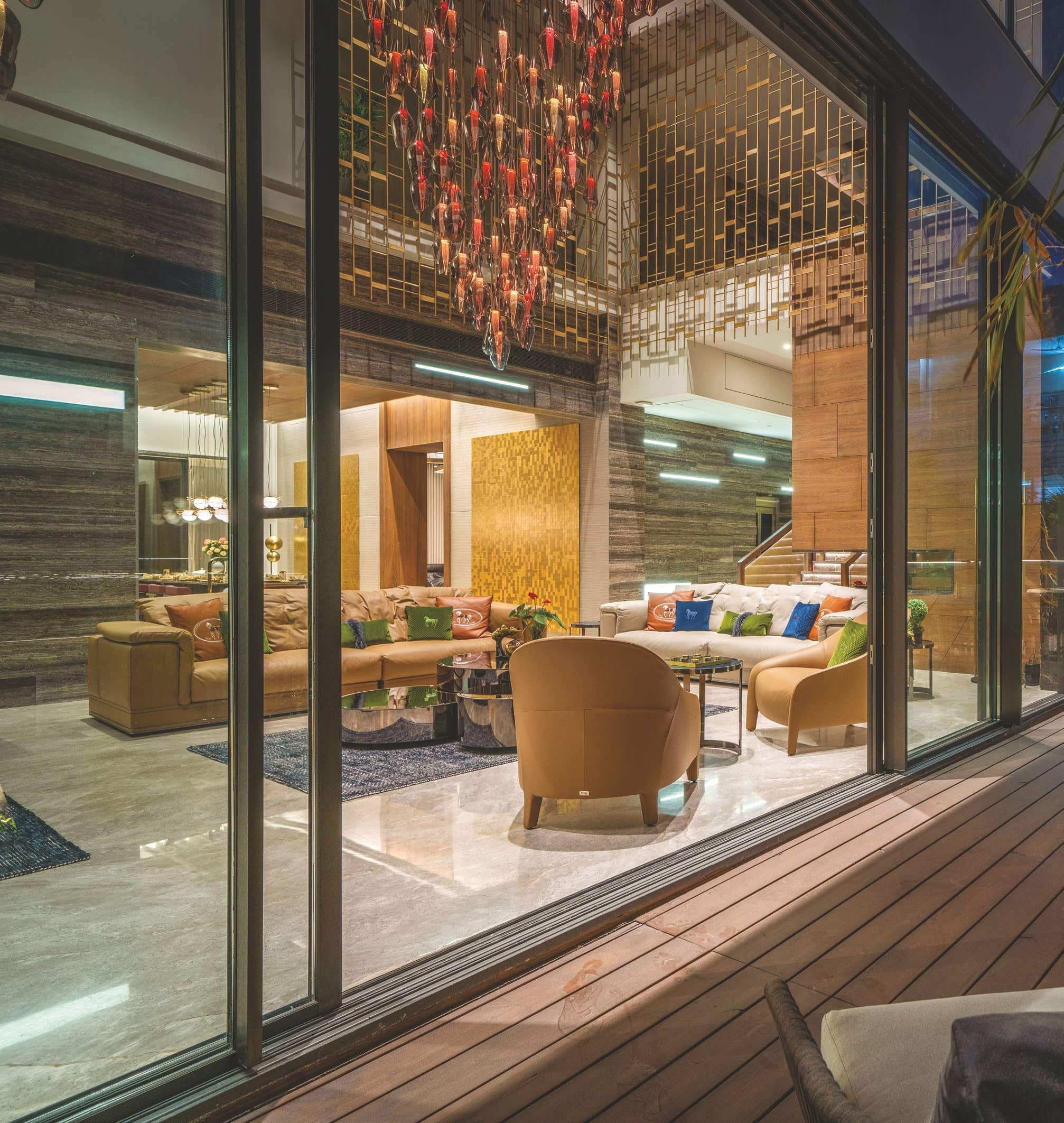 This assortment of HNI (high net-worth individual) addresses in India may be spread out in terms of location (Delhi, Mumbai and Hyderabad), and be poles apart with respect to their design treatment, yet they have one thing in common – their luxe quotient.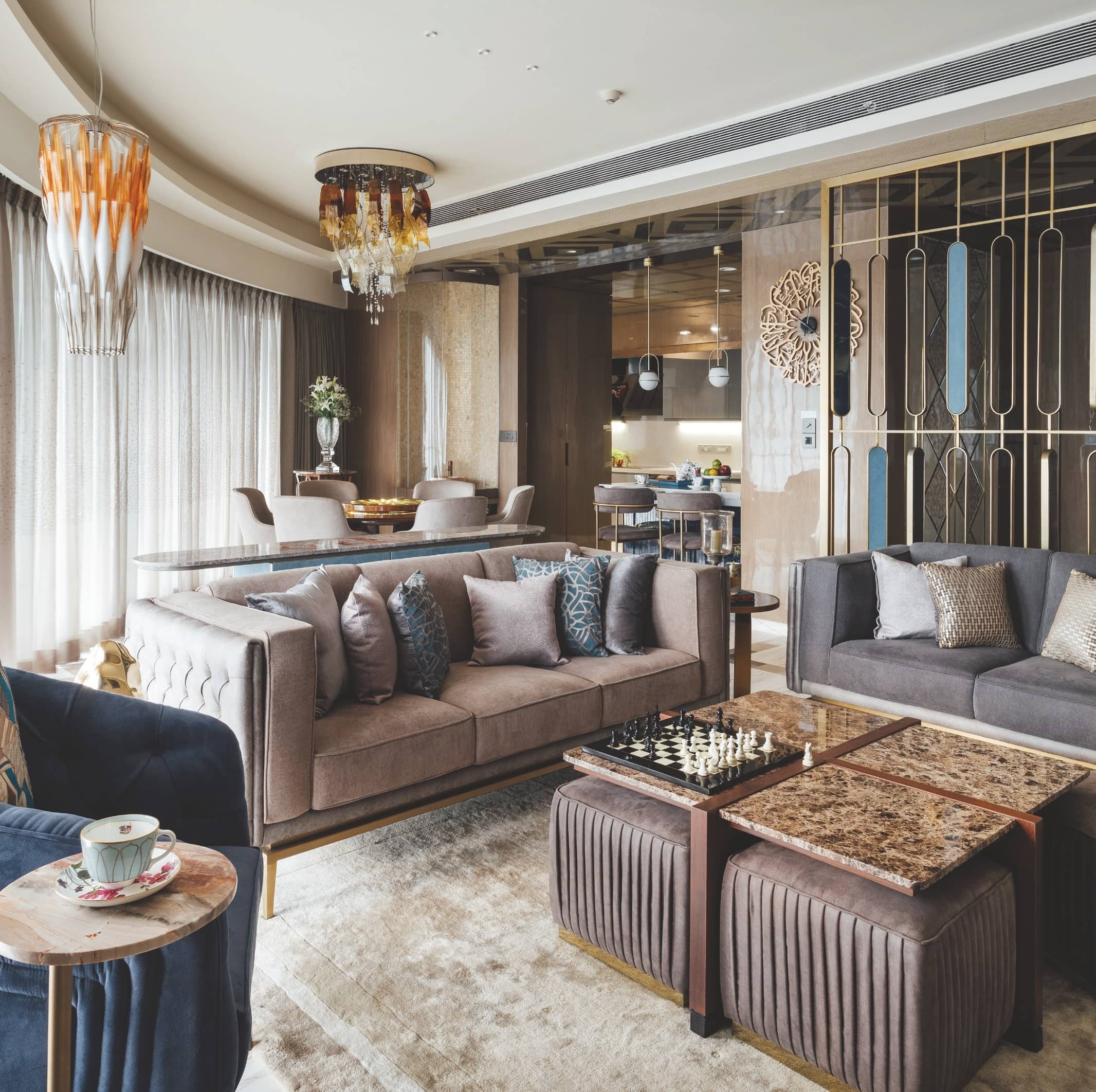 Whether it is the merging of exclusivity with extravagance, the inclusion of unparalleled functionality and immaculate aesthetics, or the choice of classy materials, the architects, designers and homeowners behind these meticulously curated projects have truly raised the bar regarding what constitutes luxury. We bring you the inside story behind these lavish HNI properties.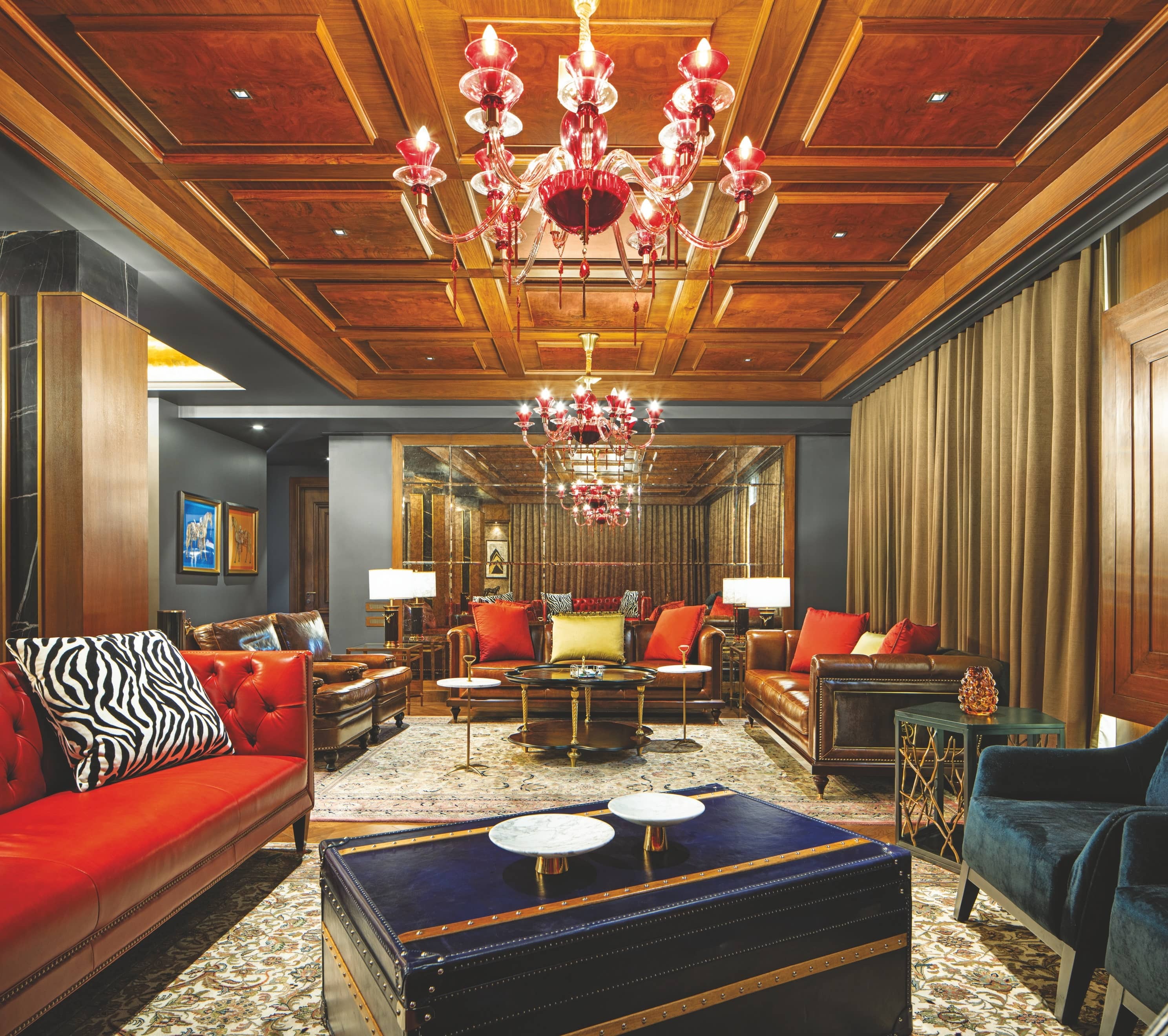 Exquisite Persian carpets, ornate chandeliers and a rich palette of materials feature in the living area.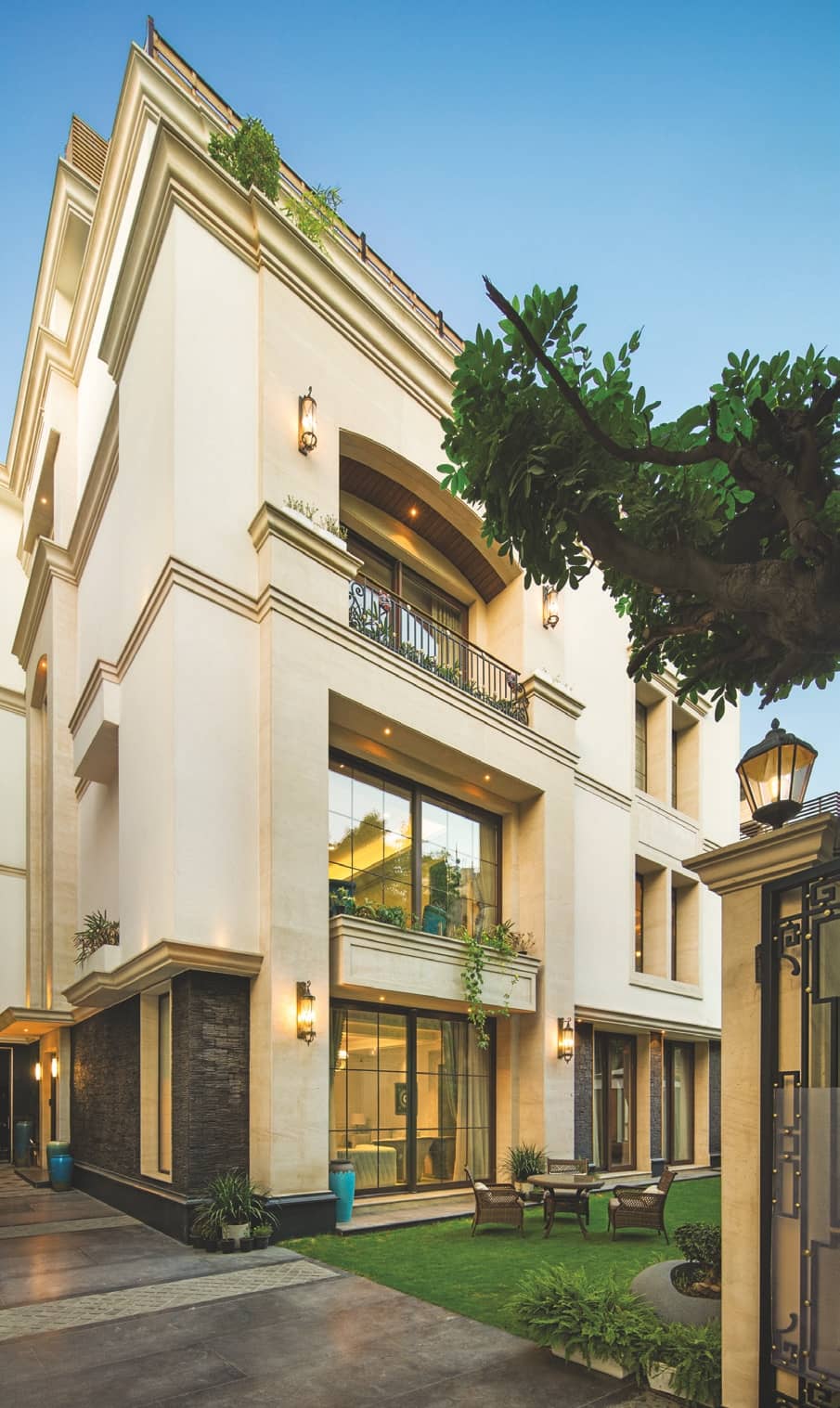 The sprawling villa is an ode to neoclassicism, yet also allows for other design themes to be introduced, in keeping with the inhabitants' diverse tastes.
NUOVO RESIDENCE BY GROUP DCA
Just as its name suggests, this opulent residence is a proponent of 'new'. Rather than follow a single design philosophy – although neoclassicism does reign supreme, this family home also sees the use of different themes throughout the over 10,000 sq-ft development, situated in a tony neighborhood of the capital city. Catering to the needs of multiple members of businessman Antarpal Singh Sawhney's joint family was no easy task, but Amit Aurora and Rahul Bansal, partners at group DCA, were able to fashion individualistic spaces, keeping in mind the disparate preferences of each of the occupants.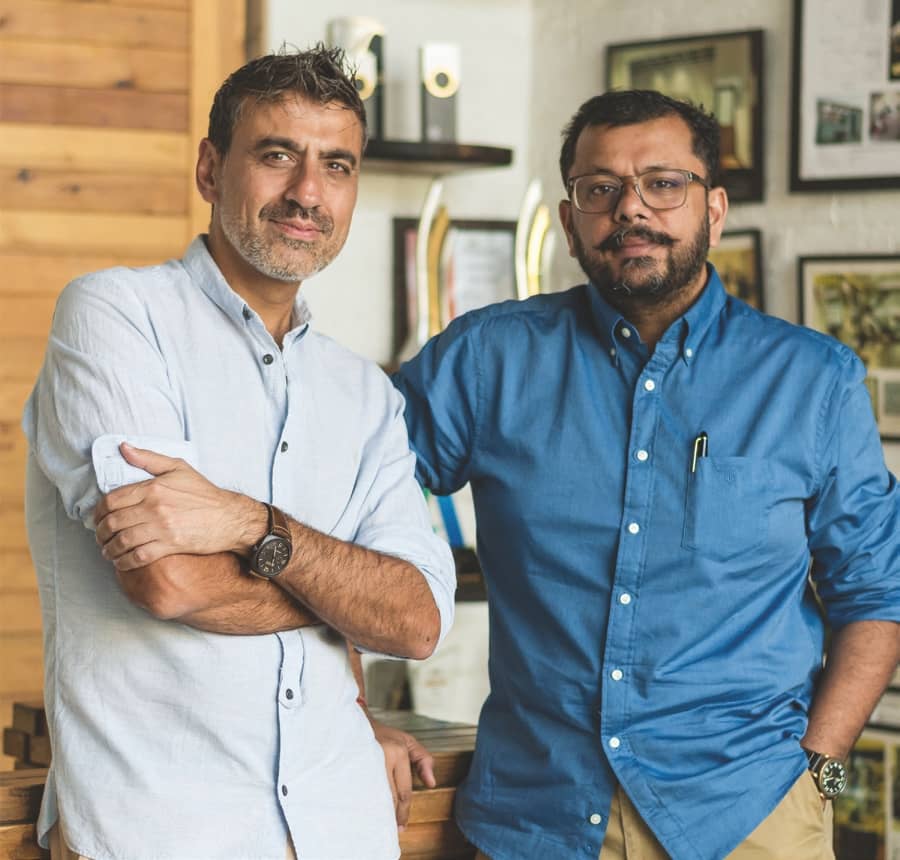 Amit Aurora and Rahul Bansal, partners, group DCA.
"Given that this is a multi-generation home, the spatial planning has been laid out in such a manner that while each brother can co-exist independently with his micro family on his respective floor, the overall family exists harmoniously in the whole house with various shared spaces that bring them together," states Aurora. Intriguingly, the villa in its entirety is a manifestation of the family's essence as a whole, yet there are personal spaces carved out for each individual. Spread across four floors, the home is a perfect amalgamation of neoclassical elements and details, and modern materials and techniques.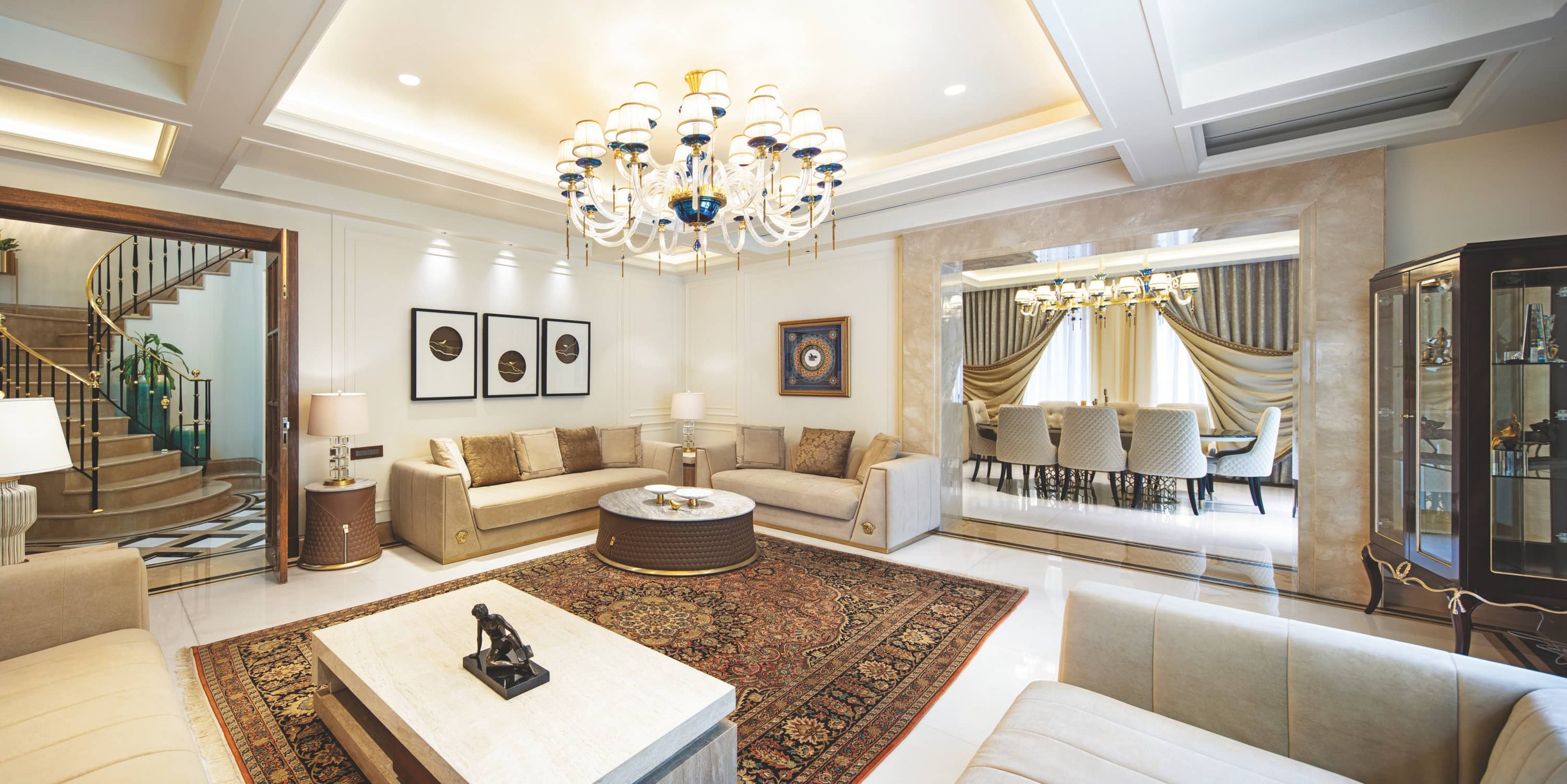 The staircase gracefully binds the home's interior elements such as those in the elegant and well-appointed living area.
Stepping inside, the common entrance foyer is magnificent in its scale and the style employed, a true testament to the family's identity. The ground floor offers a personalised, bespoke space for the older generation of inhabitants, comprising an elaborate bedroom and kitchen, along with a seating area in the lobby, a living room, a formal and an informal dining space for both hosting guests as well as entertaining, all featuring exquisite Persian carpets, ornate chandeliers and a rich palette of materials. Ancillary units, such as the washing area, storage space, and waiting area are also incorporated on the same floor.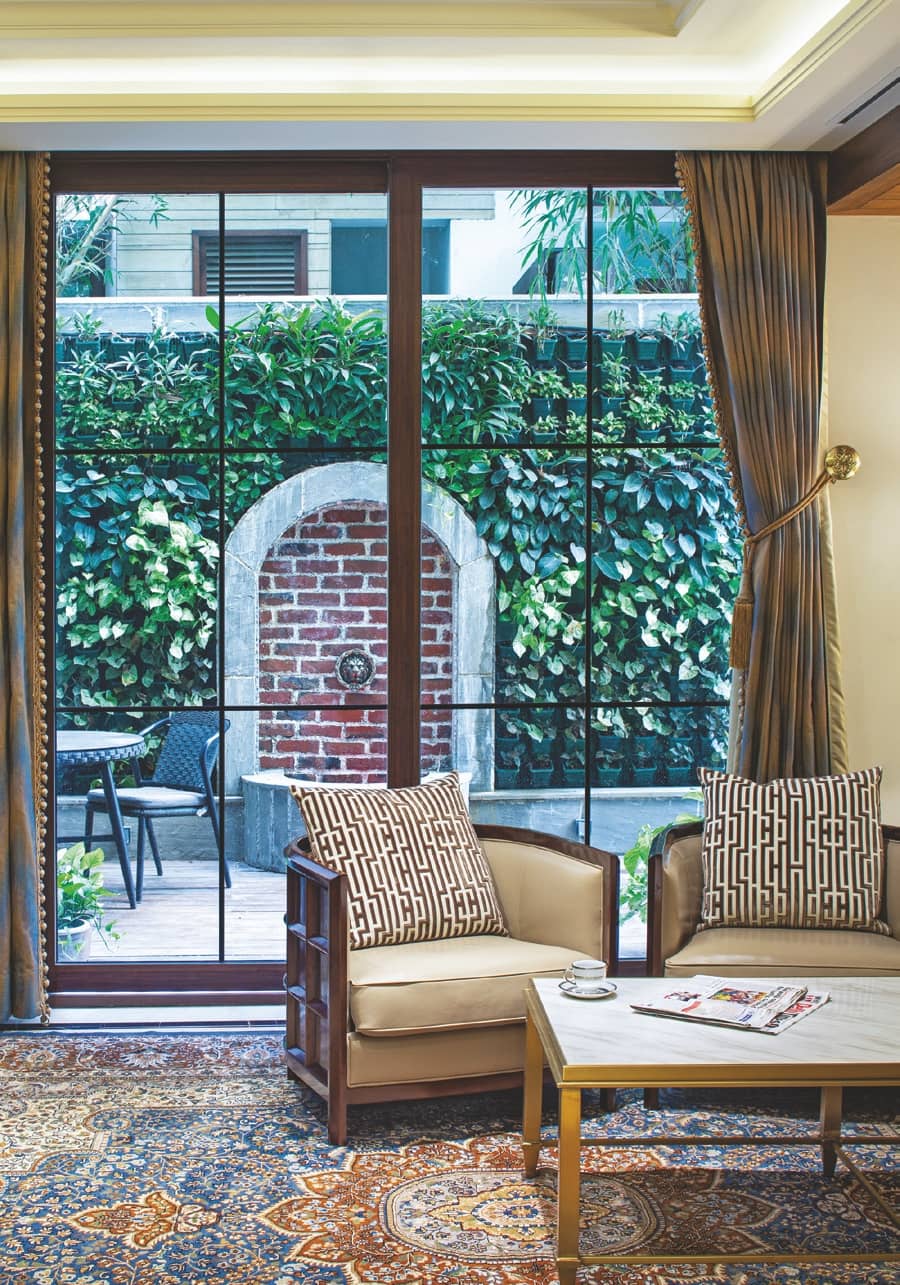 Equal focus has been laid on the outside, with the landscaping offering a refreshing vibe.
The focal point of the villa is indubitably a customised sacred space for prayer — 'Babaji's Durbaar' as referred to by members of the family. It forms the heart of the home, and lends a unique charm to the villa. Accentuated by an elaborate ceiling that has been intricately hand-painted by a group of artisans from the Golden Temple in Amritsar, the room draws its spirit from the art that is resonant of the culture of Punjab. The artwork contains elaborate floral patterns and concentric rectangular frames that have been articulated through the use of golden-hued inlay work. "We proportioned the pattern layout and laid emphasis on the selection of colours used. While embodying a craft and a skill that is passed on for generations, a soulful energy is generated by means of a subtle colour palette of beige and wood, rendering serenity and embodying an ethereal energy," professes Bansal.
PROJECT DETAILS
Name of the project: Nuovo Residence
Location: Delhi
The client: Antarpal Singh Sawhney
Design team: Amit Aurora, Rahul Bansal, Manish Makhija
Area: 4,798 sq-ft
Built-up Area: 10,394 sq-ft
Duration of project: 15 months
Date of completion: September 2018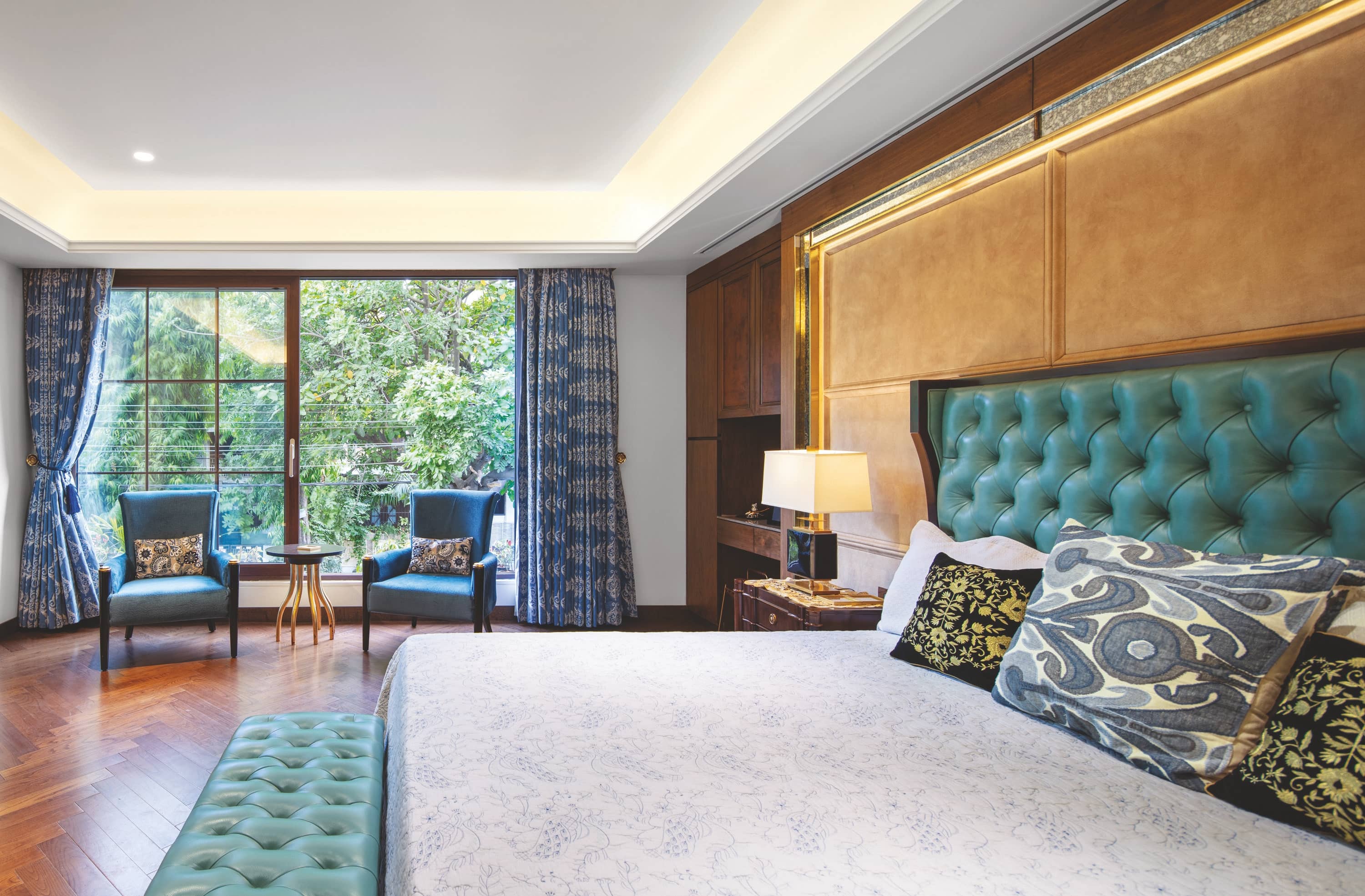 The plush bedrooms echo the opulence of the rest of the home.
As one moves along the home, a chic, albeit minimalistic curvilinear staircase takes visitors to the first floor that has been developed for the next generation – the son, his wife and two children. Comprising an impressive lounge seating to host guests, the layout also includes a luxurious master bedroom with a lavish, yet minimal bathroom. A study room is placed centrally across the bedrooms of the two children on either side. Similarly, the second floor is home to the elder son along with his wife and three children, each having their own private bedrooms. Both the floors house a pantry and storage space, enabling the ground floor to serve as an area for the entire family to converge in.
Further, the third floor is designed as the common entertainment zone for the purpose of hosting large gatherings, and boasts a 15-seater home theatre. Walking up to the top floor, the terrace level is crafted as an open entertainment area with a glass house, an open bar and a barbeque kitchen.
Overall, the villa has been visualised as a timeless structure, wherein components from classical and contemporary floor, the terrace level is crafted as an open entertainment area with a glass house, an open bar and a barbeque kitchen.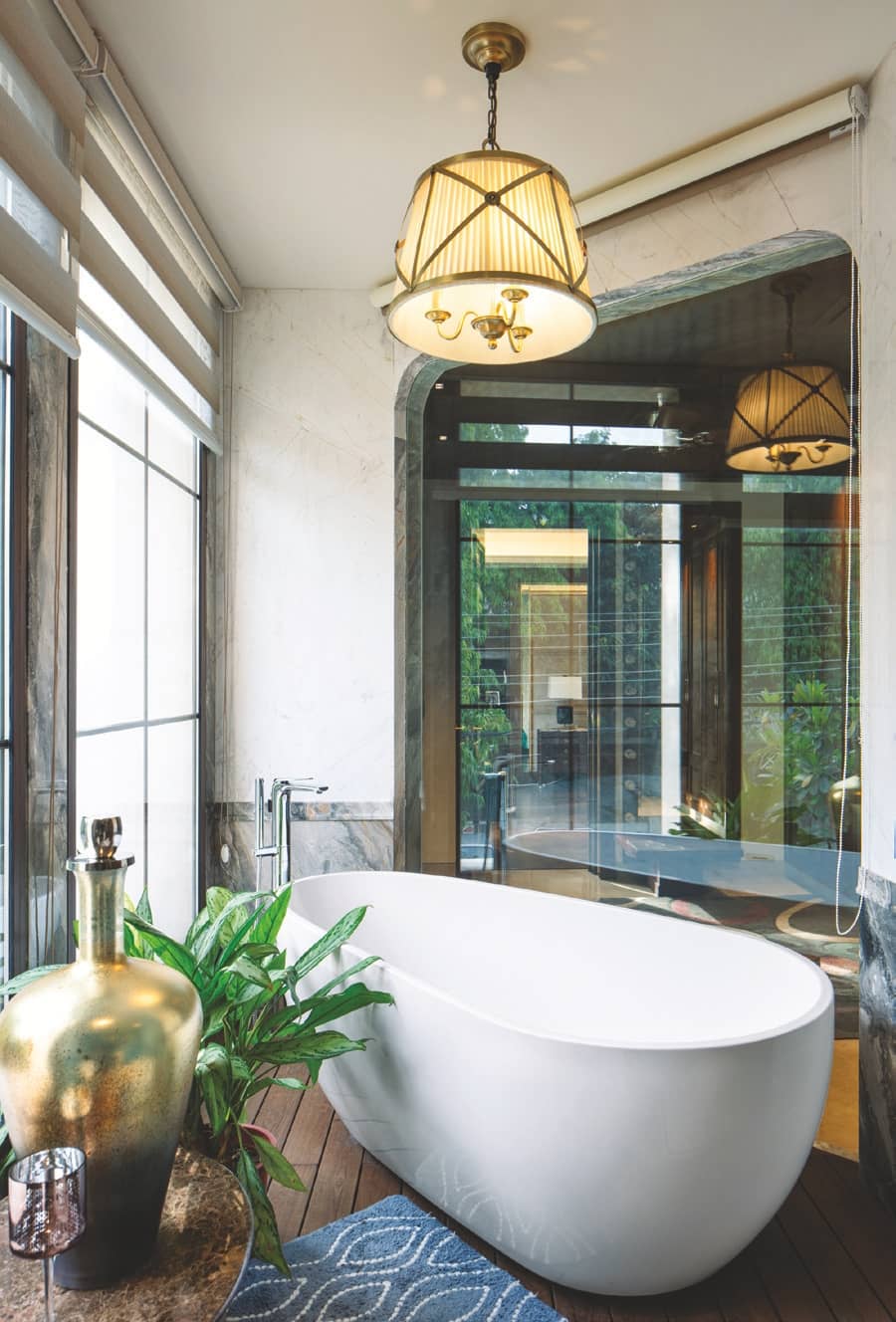 A bathtub that is meant as much for a relaxed soak as it is to make a style statement.
You can read up to 3 premium stories before you subscribe to Magzter GOLD
Log in, if you are already a subscriber
Get unlimited access to thousands of curated premium stories and 5,000+ magazines
READ THE ENTIRE ISSUE
May 2020