Wolves at bay!
The Lion-man and 40,000 years of wildlife management.
Let's take a journey back through the mists of time with Dr Geist, and the figurine of a lion-man, to try and piece together the mystery of the big cat's importance among the prehistoric humans.
An ivory, lion-headed human sculpture from the earliest Aurignacean period was discovered in the Hohlenstein Stadel Cave in southern
Germany, dating back some 35,000 to 40,000 years. The statue was portable and had a special meaning, distinct from other figurines, as its final resting place was in a separate chamber in the cave, well away from the living and working floors. This chamber apparently had ritual functions. The Venus of Hole Fels1 is not only of similar antiquity as the Lionheaded man, but was found with a very small figurine remarkably similar to the Lion-headed figure. A third tiny, indistinct, but apparently lion-headed figurine was found in the Geißenklösterle cave.
The lion-headed figurines indicate a widely accepted mythology, uniting humans and lions. And the seventy-three well executed, powerful lion images in the Chauvete Cave of the same age2 suggests the same. So, why were lions desirable? Why would one wish for them?
To answer this, we must consider the lifestyle of the Aurignaceans, the earliest modern people to enter Europe 45,000 to 40,000 years ago. They inserted themselves as apex predators into ecosystems already containing powerful apex predators such as cave lions, leopards, scimitar cats, wolves, cave hyenas, with cave bears as intermittent participants. Prey would have been scant.3 To survive, humans had to usurp a significant amount of prey away from other predators, as well as kill regularly when the demand arose. Food procurement had to be predictable. Therefore, what humans killed had to be at the expense of other apex predators, despite the severe competition.
Humans had to pay special heed to predators that caused prey to panic, leaving an empty landscape for days on end. That would make hunting by humans impossible. Professor Fritz Walther, the great African antelope expert, remarked on how prey species cleared out from horizon to horizon when a pack of wild dogs arrived; the response to lions, however, was much less dramatic.4 I saw such severe responses, repeatedly, two winters long, when a wolf pack entered my mountain sheep study area in northern British Columbia. With the first wolf howl echoing in the valleys, mountain goats scrambled into the cliffs and left, mountain sheep also cleared out, moose turned and fled in panic, the caribou cleared out. All big game vanished. When wolves appeared near my rural residence in Canada, deer fled in panic into the suburbs, while small game, waterfowl and ground-nesting birds vanished. In Yellowstone National Park, a resident elk population of some 19,500 dropped to about 4,000 and moose vanished. When pack-hunting coyotes, the small American wolf, crossed into my mule deer study area, the female groups disbanded and each deer fled high up the mountain, right to the timberline, hiding there in clusters of alpine fir. In Banff National Park the population of elk dropped from over 2,500 to less than 300, with the arrival of wolves, causing elk not only to hide and become invisible, but for the bulls to become silent during the rut. Wolves are not just efficient hunters, but surplus killers. Studies in Yellowstone National Park show that a wolf kills 16-22 elk per year. Their actions are costly to prey and people alike.5 Consequently, early humans had to deal with the realities of severe depletion of wildlife by predators, as well as the abandonment of landscapes by large herbivores when a particularly fear-inducing predator showed up. In the north, wolf-packs played that role. To be successful, human hunters had to prevent both. And they were more than successful, as evidenced, among others, by the eventual extinction of over-hunted mega-fauna such as the cave bear.6 Like it or not, to survive, humans had to find ways to severely reduce or eliminate predation. An overview of wolf predation indicates, that the removal of wolves, would increase the biomass of prey by at least ten-fold.7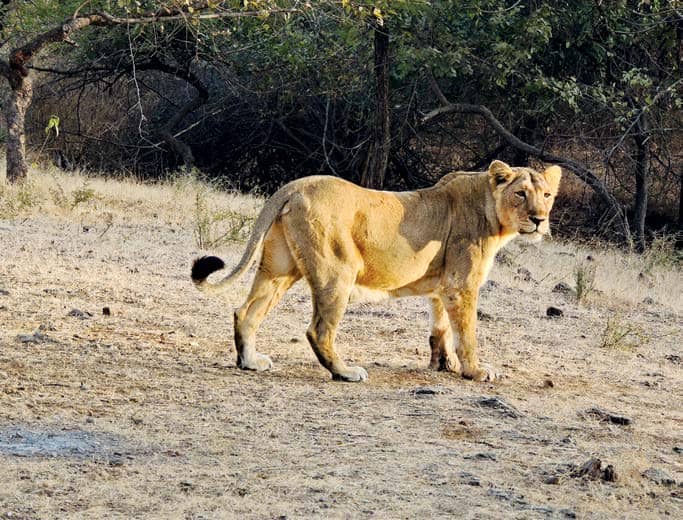 You can read up to 3 premium stories before you subscribe to Magzter GOLD
Log in, if you are already a subscriber
Get unlimited access to thousands of curated premium stories, newspapers and 5,000+ magazines
READ THE ENTIRE ISSUE
March - May 2020