Jungle Rhapsody
For a few magical days, the authors exchange their jaded urban lives for a forest camp in Assam and discover a hidden gem.
It was a trip meant to detangle the knots of our work-stressed brain and soothe our burdened souls. The invigorating aroma of wild flora of a secluded deep woodland and the solitude of an untouched wilderness was meant to do the trick. After a drive of a little more than an hour from Tejpur, we reached Nameri Eco Camp, Potasali, the base for our wild exploration.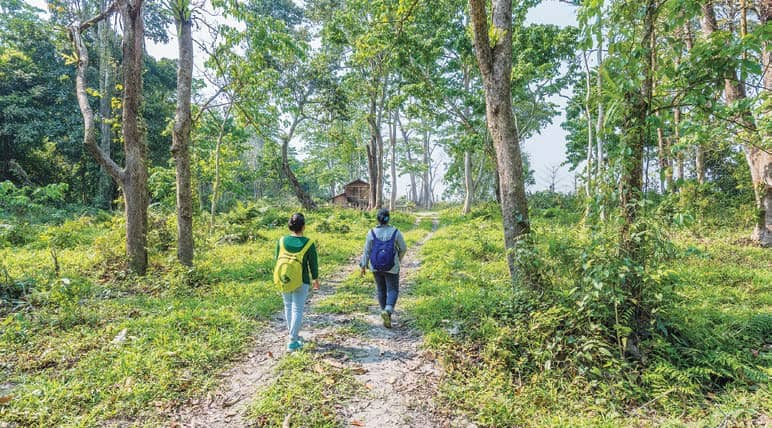 Close to our camp, the pygmy hog conservation centre gave us a chance to observe the rarest and smallest extant suid. A walk down the rustic dusty road to the majestic Jia Bhorali river was extremely rewarding in terms of birding -- from jubilant groups of scarlet minivets, the prettily painted crimson sunbird, the dollar bird showing off the striking turquoise splendour on its wings to the enormous great hornbill gliding noisily overhead. The opposite banks, with the dark deep emerald Nameri woods, also held promise for more birding. The deceptively calm, full-bodied Jia Bhorali river is playful and flirty at stretches as if showing off its glorious power.
On our way back from the river we traced the strikingly handsome great Indian Hornbill male to its nest. The caring male was feeding its female counterpart whose open beak was the only body part we could see. We understood that the female was caring for the eggs in the nest, as it was during this period or when the young ones are hatched that she wouldn't leave the nest.
You can read up to 3 premium stories before you subscribe to Magzter GOLD
Log in, if you are already a subscriber
Get unlimited access to thousands of curated premium stories, newspapers and 5,000+ magazines
READ THE ENTIRE ISSUE
March - May 2020