Wild Diets – captive options
Parrots magazine
|
August 2020
Wild parrots get their beaks into all sorts of foods and their tastes change from day-to-day, and season-to-season. During my graduate work in the early 1990's, I had the privilege of studying large parrot communities in southeastern Peru near the now-famous clay licks along the Manu and Tambopata Rivers. My work specifically focused on what sorts of foods the 17 parrot species we observed (from parrotlets to Macaws) consumed in both dry and wet seasons. Having published those findings with my former advisor, Catherine Toft (see www.psittascene.org) it seemed an opportune time to explore how wild diets can inform our approach to feeding captive parrots. To add depth to the discussion we've called upon EB Cravens as well who has graciously offered his thoughts on this topic from his decades of successful natural parrot care. Eb will feature in Part II of this article in the next (September) issue of Parrots magazine.
What did we learn from hours in the canopy watching wild parrots eat and hours in the lab testing the nutritional components of those foods? First, let's talk about specialists and genera lists. While there are really interesting parrots in the 'specialist' category – species like the Red-bellied, Lear's and Hyacinth Macaws (Orthopsittaca manilata, Anodorhynchus leari and A. hyacinthinus), which eat just one or two types of foods, they are generally the exception. The vast majority of parrots studied to date are the latter. They eat a highly diverse diet including all plant parts like seeds, fruits, and nectar, but also flowers themselves, buds, bark, wood, and leaves. Many species venture beyond the plant kingdom, consuming insects and their larvae, and in some cases aquatic snails. There is even a New Zealand parakeet that has been observed pulling seabird chicks from their underground burrows and eating them live!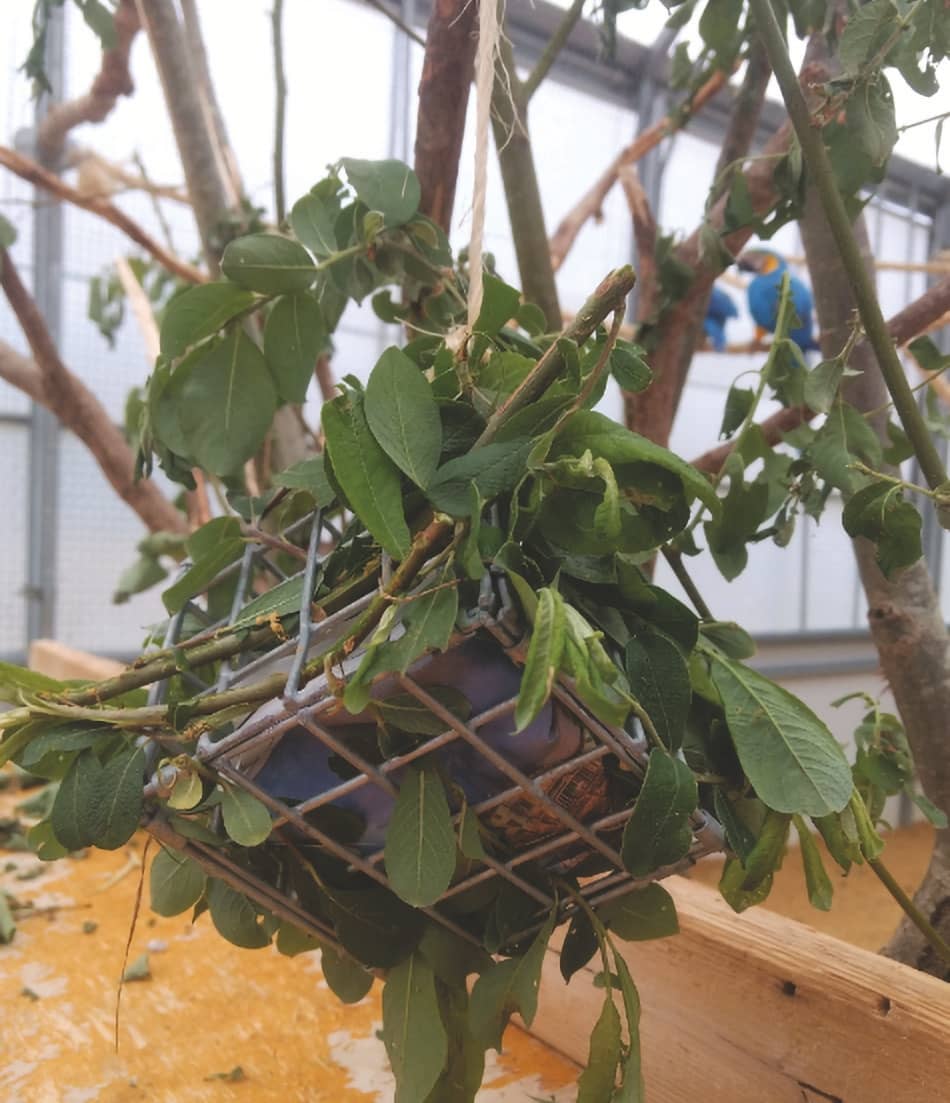 For Peruvian parrots of all sorts, we found that nearly all species eat a wide variety of foods, but mostly seeds in varying stages of ripeness. Not surprisingly, the parrots preferred plant parts that are high in protein and fat. What impressed us however, was just how rich some of these foods were when tested back in the lab, some nearing 50 per cent protein and some over 50 per cent fat, which is getting into pine nut territory!
The other piece of this puzzle we found intriguing was just how impervious these birds were to chemicals in their food items, which are generally quite toxic to other birds and mammals. We tested various aspects of toxicity and found that parrots eat high quality foods whether they tested high in these toxicity measures or not. It turns out this diverse group of parrots comprises a marauding bunch of seed predators, flying miles around the rainforest and eating pretty much every nutritious seed or fruit they can sink their powerful beaks into. But aside from their role as consummate seed predators, how does this knowledge help us better provide for our parrots back home?
You can read up to 3 premium stories before you subscribe to Magzter GOLD
Log in, if you are already a subscriber
Get unlimited access to thousands of curated premium stories, newspapers and 5,000+ magazines
READ THE ENTIRE ISSUE
August 2020