The practically perfect parrot
Parrots magazine
|
July 2020
I'm sure we all remember that famous part in Mary Poppins when the world's favourite nanny suddenly pulls out (from a seemingly bottomless bag) a magical measuring tape and measures her two charges.
First, holding it up against young Michael and getting the reading, 'extremely stubborn and suspicious,' and then putting it against the constantly giggling Jane and accurately predicting, 'inclined to giggle and doesn't put things away.'
The children then ask Mary to measure herself. She reluctantly agrees to do so and, then, rather smugly announces after reading once again from the magical measuring tape, that it quite clearly states she is indeed, 'practically perfect in every way!'
Now, if birdkeepers could get hold of this magical measuring tape and were to hold it up against the Bourke's Parakeet, I am sure we would get exactly the same reading, for the Bourke really is the practically perfect parakeet!
It was discovered by early Australian explorer Major Mitchell (after whom the Leadbeater's Cockatoo takes its alternative name) in 1838 and was named after Sir Richard Bourke, who was governor of the state of New South Wales at that time.
The species has a relatively long history in aviculture with peaks and troughs, first being exhibited at London Zoo in 1867 when it would appear they were initially quite commonly imported. However, despite successful breedings being reported on the continent, the earliest being a Belgian breeder in 1877, and by 1884, W. T. Greene described them as being, "As rare as a Phoenix".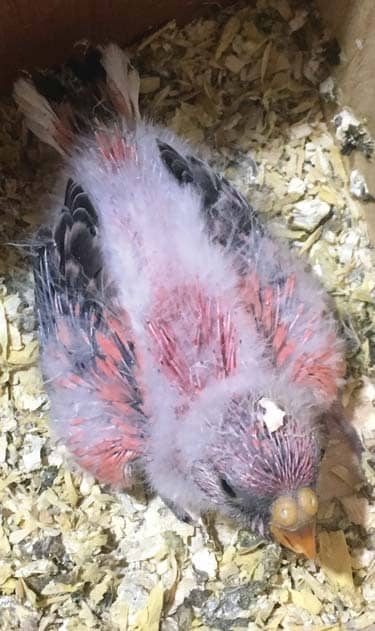 The first British breeding of the Bourke's Parakeet was reported quite late in 1906 and, again, they seemed to vanish from sight, only appearing once after the First World War when a few pairs came into the possession of the Duke of Bedford.
This little bird is undoubtedly one of the most delightful of all cage birds and is quite devoid of any vices. It is a free-breeder, hardy, gentle and confiding. They are completely undemanding when it comes to feeding. I feed mine on a seed mix specifically for Neophemas with small amounts of egg food and chickweed added during the breeding season. They don't destroy woodwork or plants and, unlike so many parrot species, the Bourke possesses the quietest of voices. Their crepuscular habits simply add to their charm and, long after dusk when most other birds have gone to roost, they can be heard flying around cheerfully uttering their 'song' of 'Quitook, Quitook, Quitook'.
I first encountered the lovely Bourke as a child back in the 1980's when I accompanied my father on a visit to a bird keeping friend of the family called Dave. After showing me around several aviaries, holding such delights as raucous Ring-necked Parakeets and various gaudily coloured lovebirds, I was ushered, with much solemnity, into a large sunroom. In the corner of this room, was a planted aviary inhabited by various finches, weavers and doves. "This is where my favourites are," announced Dave proudly. "My Bourke's Parakeets."
I remember struggling to see them, as my eyes searched the spacious aviary in vain. "They are right there," said Dave helpfully pointing over to a bare branch in the centre. Perched, close together on this branch were two little brown-coloured birds. Maybe they uneasily sensed our close attention as one suddenly edged away and fluttered over to the seed bowl.
You can read up to 3 premium stories before you subscribe to Magzter GOLD
Log in, if you are already a subscriber
Get unlimited access to thousands of curated premium stories, newspapers and 5,000+ magazines
READ THE ENTIRE ISSUE
July 2020