Reaching for the NEXT LEVEL
Horse and Rider|Summer 2020
He's a real-world trainer and competitive reiner whose training methodology has evolved dramatically in recent years. In our exclusive interview, learn the fascinating story behind Warwick Schiller's change of perspective.
Warwick Schiller is a traditional horse trainer who's discovered that nontraditional methods have extraordinary benefits.
Warwick Schiller has close to 200,000 followers on social media and 20 million views on YouTube. A lifelong horseman, he has traditional horse-training credentials, having represented his home country of Australia at the 2010 and 2018 World Equestrian Games plus earned a National Reining Horse Association reserve world championship, among other achievements.
He's also known for his ability to explain horse training in a way anyone can understand—a fact reflected by his growing fan base among riders interested in a kinder, more horse-centric method of training. His approach, which is ever-evolving, focuses on solving horse problems by changing the rider's perspective.
Schiller's Problem Solved column is a regular feature in the quarterly Horse&Rider and online at Horse andRider.com.
This interview reflects his most recent thinking.
HR: How would you say your perspective on horse training is different now from what it's been in the past?
Schiller: In a word, relationship. I now value relaxation and connection over specific training goals. But when I do, the training actually goes easier. It's a little difficult to explain, but I'll try.
I used to train horses for the public, for performance as well as for pleasure and trail riding. And when you train for the public, you have to get the horse ready to operate for anybody. That means you have to teach the horse to filter out some things, such as the rider's nervous energy or inadvertent physical movement.
In the reining, for example, you teach the horse to spin, then on purpose you ask him to spin while you lean off to the side, and you insist he keep going and not stop because of the leaning. So then when his owner leans, the horse will keep on spinning. So you wind up teaching the horse to ignore a lot of stuff.
And what I learned in doing that is that when you teach horses to ignore something like the rider's nervous personality, you have to actually shut them down to a certain extent in order for that to work. But I didn't fully realize this until I'd made a lot of changes that I hope we're going to talk about in a minute.
In any event, these days I'm more interested in developing relationships first, and training second. And I've found if you can work on that relationship first, the training is actually easier.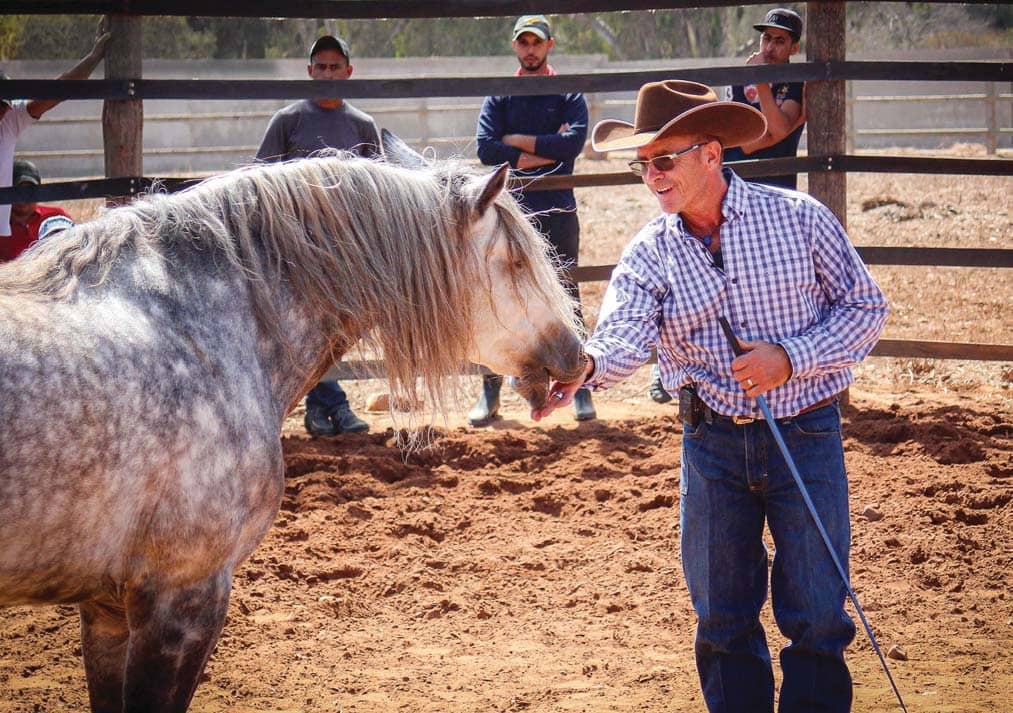 A key to Schiller's method is staying attuned to the horse in a way that convinces him you can read his mind.
HR: Does it work as well for any sort of training, including for competitive events?
Schiller: Yes. I actually think it works better.
That's because a lot of what you work on when you're training horses is actually fixing problems you inadvertently trained into them in the first place. When you develop the relationship, you work on the horse's thoughts first, so you avoid a lot of those errors.
For example, now I know that if a horse is dropping a shoulder or making other body-alignment errors, that means he's physically doing something you've asked but his mind is somewhere else. If you can get his mind there first, it works better and you wind up doing so much less correcting.
Another example: In groundwork, I've spent so much time in the past trying to get the correct bend as a horse is going around me, but now I know that if his mind is on me, his body will be in the perfect shape it needs to be in.
So I'm paying a lot more attention to the small things, such as a horse's eyes and ears, and timing my releases to when the horse's attention goes from off me to on me, no matter what his body is doing.
HR: Do you have under-saddle examples for us?
Schiller: Recently a friend who trains reined cow horses had an emergency appendectomy, so I was riding his 3-year-olds for him. They hadn't been ridden in a few days, and one stud was especially fresh, his ears pretty pricked. In the past, I'd have been wrestling, poking, and prodding him, and he's too fresh and fast for that.
You can read up to 3 premium stories before you subscribe to Magzter GOLD
Log in, if you are already a subscriber
Get unlimited access to thousands of curated premium stories and 5,000+ magazines
READ THE ENTIRE ISSUE
Summer 2020