RIDING ADVENTURES IN NORTH DAKOTA'S THEODORE ROOSEVELT NATIONAL PARK
Horse and RiderSummer 2020
TAKE IN THE ENCHANTING GEOLOGICAL BEAUTY OF THE BADLAND'S THEODORE ROOSEVELT NATIONAL PARK.
Charlene and Jake descend into the Painted Canyon on the eastern end of the park.
Theodore Roosevelt National Park has all the elements needed for a true-blue Western riding adventure. The scenery is breathtaking, as well as lonesome and foreboding. One can ride trails or cross-country and most likely encounter bison herds, deer, elk, prairie dogs, bighorn sheep, and a multitude of bird life. This has been one of our favorite riding destinations, and we would like to share it with you.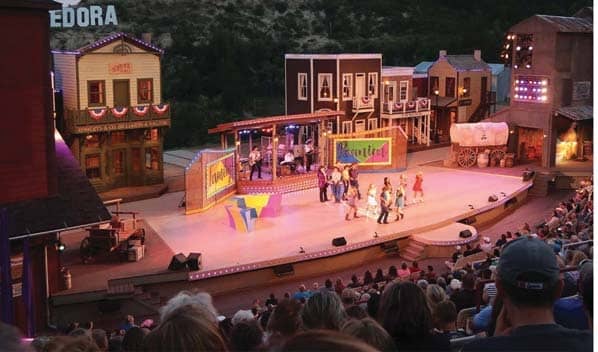 1. The Medora Musical is a Broadway quality show held in an outside amphitheater under the big Badlands sky.
THE BACKGROUND
Theodore Roosevelt spent some years in North Dakota's Badlands following the deaths of his wife and mother, both of whom died on the same day. He came here in 1883 to hunt, ranch, and have a "mental escape" from his personal problems. It worked. He fell in love with this singular landscape, calling it the "romance of my life." He said that if it were not for his experiences in the Badlands, he could never have become president.
The Badlands is a unique geological phenomenon. The horizontal layers that can be seen in the park are made up of sediments that were deposited between 55 and 60 million years ago in lakes, ponds, and swamps. The petrified trees we see today are from the sequoia and bald cypress trees that once grew in the swampy regions. Over time, decomposing plant life became coal beds, sediments turned into sandstone, and volcanic ash became bentonite clay.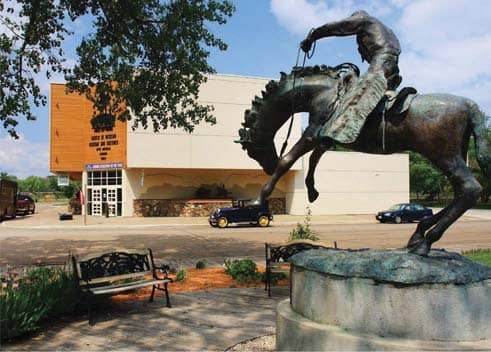 2. The North Dakota Hall of Fame is located in Medora. Explore the 15,000-square-foot museum dedicated to ranching, cowboy life, and early-day life on the northern plains.
Theodore Roosevelt National Park (TRNP) has three separate units: the north unit, located 52 miles north of Interstate 94 on US Highway 85; the south unit, located along Interstate 94; and the Elkhorn Ranch site, located approximately midway between the two along the Little Missouri River. These three sites comprise 110 square miles of visually stunning Badlands. The south unit has the visitor center and contains information on the history and geology of this region. All of our riding was done here in the south unit. Maps are available at the visitor center to help plan your riding. Inquire about trail conditions and trail closures. Camping information can be found here as well. There's an entrance fee to enter the park, and certified weed-free hay is required.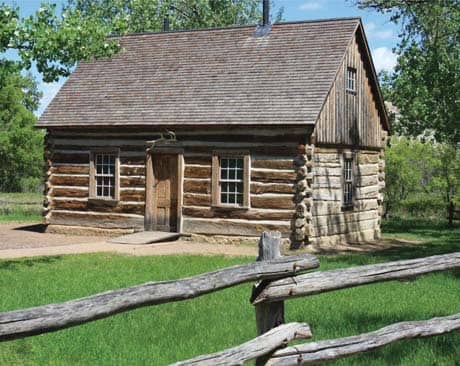 3. Charlene with a statue of Theodore Roosevelt. Roosevelt worked and lived in this area in the 1880s. The national park is named after him. He said he couldn't have been president if it hadn't been for his experiences in North Dakota.
4. Theodore Roosevelt's Maltese Cabin is located at the national park visitor center in Medora. Roosevelt actually lived, worked, and wrote in this cabin during his days in the Badlands.
An adventure, by definition, is hazardous. So before heading into the hills, take time to think and plan for you and your equine partners. Take plenty of water, food, sunscreen, a map, a multipurpose tool, and a cellphone—which may or may not work. Have an extra jacket in case you need it.
EYE OF THE NEEDLE RIDE
One of our favorite rides in TRNP is one we refer to as the "Eye of the Needle" because of an unusual rock formation that one can ride under. On this ride, Charlene was riding her 6-year-old Spotted Saddle Horse, Jake, and Kent was mounted on his trusty Missouri Fox Trotter, Cowboy.
You can read up to 3 premium stories before you subscribe to Magzter GOLD
Log in, if you are already a subscriber
Get unlimited access to thousands of curated premium stories, newspapers and 5,000+ magazines
READ THE ENTIRE ISSUE
Summer 2020