LONGEING: More Than Running in Circles
Horse and Rider
|
Fall 2020
This time-honored exercise can both train and condition your horse. Learn to make the most of it.
Have you seen them? Those never-ending "longeing lines" at some of the larger shows? Exhibitors will be queued up 10 horses deep waiting for a place to longe; some wait at all hours of the day and night for their turn.
And no wonder. Longeing can be an effective tool for exercising your horse and preparing him to show. Still, some of what I see during these longeing sessions makes me cringe. Blunders like an extra person chasing the horse around in a circle. Or a dog running and barking behind the horse. Or exhibitors talking or texting on their phones while longeing.
I want to share a more intelligent way to longe. Growing up on a ranch, I was taught that longeing was a necessary part of becoming a good horseman. It reveals any unsoundness you might not be able to feel from the saddle, plus lets you check your horse's overall body condition.
More important, it enables you to teach and reinforce respect and discipline in your horse, and it hones the connection you should have with him—at all times.
Time-Honored Tool
Longeing isn't a modern technique. It's been used by great horseman in many disciplines for centuries. Longeing is described in detail in the revered volume Riding Logic by Wilhelm Museler, an old-school master of the classical equestrian art—the full understanding of a horse, his mind, and his training.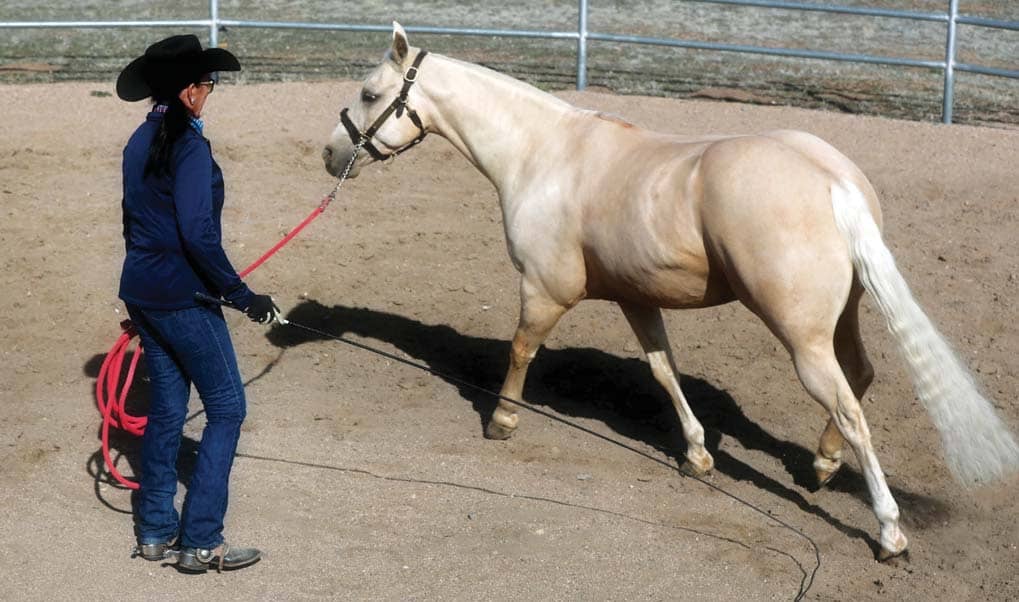 Longeing is irreplaceable for first rides, cold mornings, show prep, and rehabilitation. (One of the reasons it works so well during rehab is, once a horse has been properly trained to longe, he knows he's at work and won't play and push the limits, thus avoiding re-injuring himself.)
It's also great for conditioning. In 30 days, the spiraling in and out I'll describe builds a stronger loin and back— especially beneficial for older horses.
You can read up to 3 premium stories before you subscribe to Magzter GOLD
Log in, if you are already a subscriber
Get unlimited access to thousands of curated premium stories, newspapers and 5,000+ magazines
READ THE ENTIRE ISSUE
Fall 2020