BREATHTAKING BANFF
Horse and Rider
|
Fall 2020
RIDE the jewel of the Canadian Rockies with our insider guide to three top outfitters ready to take you into the vast Banff National Park.
Snowcapped mountains. Expansive green valleys. A sparkling, glacier-fed lake. This is Banff, Alberta. Banff National Park—part of the Canadian Rocky Mountain Parks, a UNESCO World Heritage Site—is a jewel in Canada's crown.
Avid trail riders wishing to experience the park's breathtaking beauty have a variety of options from which to choose. To help you plan your trip, we've gotten the inside scoop from three top area outfitters: Banff Trail Riders, Banff Adventures Unlimited, and Brewster Adventures.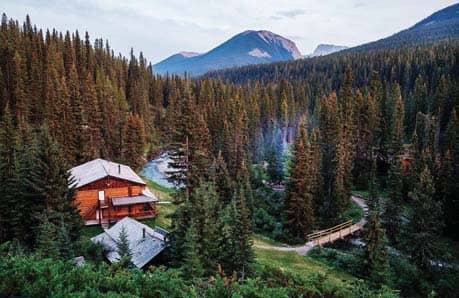 BANFF TRAIL RIDERS
About the outfitter: Banff Trail Riders melds history, exploring, and modern-day amenities, carrying on the long tradition of horseback riding in Banff National Park. Banff Trail Riders' guides will skillfully take you into a wilderness that has fascinated travelers since the 1800s, following trails blazed in the 1920s and stopping at historic log cabins along the way.
Horse details: Trail mounts are handpicked to suit each rider, says Amanda Markey, office manager for Banff Trail Riders. She also notes that each horse has years of experience negotiating the area's mountainous terrain and emphasizes the abundance of care each horse receives.
"What is truly special about our herd is the care and attention that we have for each one of our boys," Markey relates. "Our herd is all geldings, and each one has his own name, personality, tack, and breeding. Each member of our team has their favorites, and we always look forward to Christmas when previous riders send their equine friends presents from Santa. Truly, our horses are family."
Most popular attraction: Trail rides with Banff Trail Riders range in duration from one hour to six days, with a wide array of departure times, so you're sure to find a ride that suits you. "The shorter rides are perfect for those without a lot of time or who are keen to experience the amazing equine world for the first time," Markey says. "The longer rides fully immerse riders into the remote wilderness with cozy accommodations."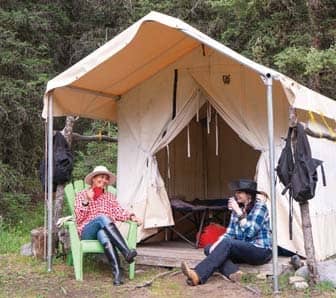 Can't-miss sight: Each ride has its own special feature. For example, the one-hour Spray River Ride includes a river crossing, the Wilderness Tent Trips stop at Rainbow Lake, and the Backcountry Lodge Trips take you over the spectacular Allenby Pass. You'll enjoy a view of Bow River from a Carriage Ride and savor a juicy steak on the Covered Wagon Cookout.
Extra perks: Don't worry about roughing on the overnight trips, which take you on historic pack trails through the Sundance Range. On a Backcountry Lodge Trip, you'll relax in rustic luxury, with a hot shower, cozy bed, and tantalizing meals. On a Wilderness Tent Trip, you'll be pampered with well-equipped campsites, heated tents, an on-site cook, and other amenities. "Our tented camps feature outdoor hot showers, authentic canvas tents, and rustic views that allow people to truly connect with their landscape," Markey says.
Despite comfortable accommodations, you'll still get a genuine feel for the Western life, she adds. "People are most surprised about the true, authentic Western experience," Markey says. "We aren't dressed up—this is what we do, and we love it, and it shows."
You can read up to 3 premium stories before you subscribe to Magzter GOLD
Log in, if you are already a subscriber
Get unlimited access to thousands of curated premium stories, newspapers and 5,000+ magazines
READ THE ENTIRE ISSUE
Fall 2020