5 INESCAPABLE ELEMENTS OF A WELL-TRAINED HORSE
Horse and Rider|Summer 2020
(and why the term "broke" just doesn't work in the 21st century)
AL DUNNING, WITH CHELSEA SHAFFER
Dunning says a well-trained horse has willing forward motion, smooth turns, a responsive stop, a solid back up, and moves with collection.
When trainers started using the word broke hundreds of years ago, they meant that they'd broken a horse's spirit. As horsemanship has evolved, we've learned that "breaking" a horse's spirit isn't the goal. No—I want a horse that's still got his spirit, enthusiasm, and mojo.
Instead of a broke horse, I'll used the phrase "well trained." It doesn't roll off the tongue or make for as catchy a headline, but it more accurately reflects how well we've done our jobs as horsemen and -women. And whether we're professional trainers or weekend warriors, we should be able to train our horses to possess these five critical elements of a well-trained horse in order to maximize our success and safety in the saddle. Plus, a horse that can manage these five skills is better prepared for life with a future owner, insuring longevity in his career. And while these skills might seem obvious at first, they provide the blueprint for every maneuver we ask of our horses— be it on a trail through rugged terrain, in the arena navigating a complex pattern, or down the fence chasing a cow.
These basic elements can start as simple fundamentals but are definitely the foundation for greater maneuvers and components to a well-trained horse for any purpose.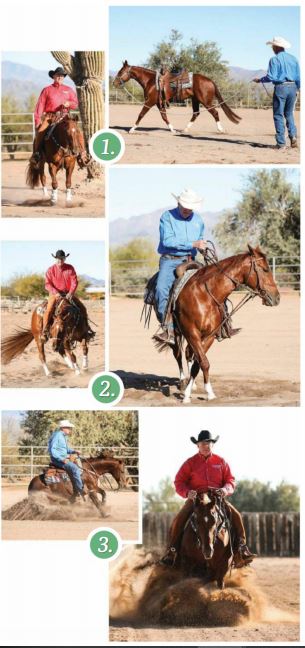 1. Go forward willingly.
A well-trained horse should go forward easily, willingly, and happily. I see a lot of horses who can't go forward in a straight line. They wiggle their tail, pin their ears, or cock their head. Your horse should go forward in a straight line, with his body in alignment. He shouldn't be swinging his rear end, and if he's arched one way or the other, it should be in a form of collection. He absolutely shouldn't be tossing his head.
Make It Happen: The safest way to get a horse to ride is to go forward. It's a really scary situation if you get on and your horse goes backward or sideways.
Therefore, when starting a horse with groundwork, instill in him what a cluck or smooch means. In the round pen, smooch to him and tap him with a whip, so by the time you want to put that first ride on him, he has a good idea about what the smooch means. When I first cheek a colt and get on for the first time, I immediately bend him and smooch to ask for forward motion. I carry that smooch throughout a horse's training.
2. Turn smoothly.
You can read up to 3 premium stories before you subscribe to Magzter GOLD
Log in, if you are already a subscriber
Get unlimited access to thousands of curated premium stories and 5,000+ magazines
READ THE ENTIRE ISSUE
Summer 2020