'The trophy had his name on it…'
Horse & Hound
|
May 07, 2020
This year marks the sixth occasion when Badminton has been cancelled. Emma Sewell and Pippa Roome trace those other "lost Badmintons" and how their absence affected the following years' events
Emma Sewell and Pippa Roome
"APRIL without Badminton is like Christmas without plum pudding," wrote H&H columnist Loriner in 1975. Unrelenting rain had left competitors and spectators wallowing in the mud and organisers with no choice but to cancel the event.
The event is now normally held in May, but Loriner's statement echoes the sentiments of many this week, with coronavirus denying us our annual pilgrimage to Gloucestershire for "The Great Event".
Badminton has been cancelled six times since its inception in 1949 and was run as a one-day event in 1963. So who has triumphed in the years following and what are the chances of combinations holding their form?
BADMINTON 1975 was already underway – 55 competitors had performed their dressage tests, with Lucinda Prior-Palmer (now Green) and Be Fair leading on a score of 39 – before it was abandoned.
"There is no doubt that when the rain came down in buckets on Thursday afternoon, many of the riders were thankful to hear that Badminton had been abandoned," wrote Badminton director and course-designer Colonel Frank Weldon. "Badminton Park would have been left looking like a battlefield."
But a year on and Lucinda's name was again at the top of the leaderboard, this time in the final reckoning with Wide Awake. However, sadly, her 1976 win was not the fairytale she had wished for when the horse collapsed and died on his final lap of honour (see p50).
IT was a happier result for the 1986 winner, Ian Stark, who also won in 1988, after Badminton's third cancellation.
Julian Seaman, who is now Badminton's media director, noted in H&H's form guide: "Few people have won these trials twice on the same horse, but it could happen this time."
Ian also wrote a new page in the history book by taking second on Glenburnie.
"No one was more surprised than me," recalls Ian. "It's one record I'm managing to hold on to."
But the loss of the 1987 running – which prompted a change to a slightly later date for the event – halted Sir Wattie's bid to win three times in a row.
"Wattie was on top form," says Ian. "It would have been a great chance to try the hat-trick, as he would be the only horse to have done that to date. But you never know what would have happened."
There would certainly have been strong opposition from the Olympic champions Mark Todd and Charisma (Podge).
"1987 was the year the Whitbread Trophy had Podge's name on it, or so I believed," said Mark in his first autobiography, So Far, So Good. "I was devastated.
"If I kept him in training the following year as a 16-year-old, it would be to defend his Olympic crown in Seoul, which would definitely rule him out of Badminton, so he'd missed his last chance."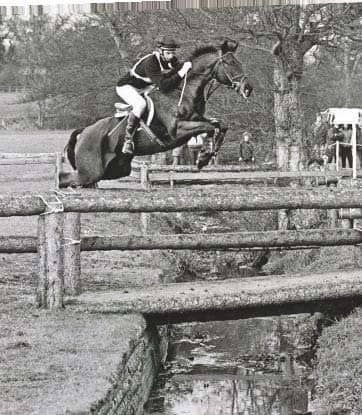 You can read up to 3 premium stories before you subscribe to Magzter GOLD
Log in, if you are already a subscriber
Get unlimited access to thousands of curated premium stories, newspapers and 5,000+ magazines
READ THE ENTIRE ISSUE
May 07, 2020