Petra Ingram
Horse & Hound|May 28, 2020
Brooke's CEO tells Sarah Jenkins about the charity's impact, changing attitudes and the effect of Covid-19 on animal welfare in the developing world
"MY role right now is crisis management," says Petra Ingram, as we speak remotely at the start of the UK's Covid-19 lockdown, but in the time she has worked at Brooke – 11 years this month – the organisation has been transformed, and in the process has prevented several crises.
"Brooke has changed from a charity doing good work to one making a lasting difference to the animals and people who depend on them," Petra explains. "When I joined, we were about hospitals and direct care. But over a decade we've developed into a charity that has a more lasting approach."
Brooke's work now focuses on building the capacity of local vets and health workers in the countries in which they offer support, so that they can provide training to people in the communities they help. The charity employs 150 vets worldwide whose role is to train more than 4,000 further local animal health workers and vets, increasing its impact.
"The people we employ are part of the day-to-day lives of the communities that we work in – they are part of the health system," says Petra. "We've developed our community work to make sure that the necessary service providers are there, and that handlers understand what good care looks like."
Brooke has allowed local respect and peer pressure to play a part in changing practices in countries such as India and Kenya.
"Groups are asked to assess the welfare of each others' animals. Those we help get good, positive feedback from the community, which is what they want," Petra explains.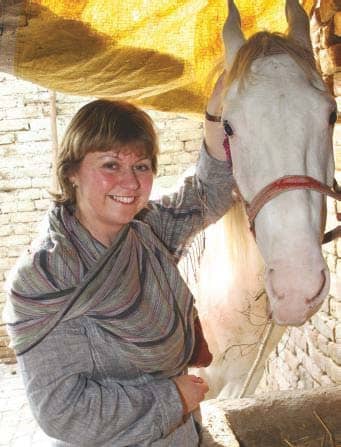 These groups also have saving schemes, with everyone paying a subscription to belong, on the understanding that if any one of them falls on hard times and their animal becomes sick they can use that funding. In India, if they've saved a certain amount over six months, their government will give them a grant – for example to set up a business buying and selling horse feed or saddlepads, which gives them opportunity to earn income.
This is all part of Brooke's strategy to create strong health systems and thriving equine communities.
The crux of it is: "People living in poverty need enhanced livelihood through their animals, which improves income and increases respect for those animals."
SINCE the change in strategy, the charity has started to make real, historic changes in the countries in which it works. "A country's people would previously dismiss a donkey – as a burden animal – and those who deal with them, but they are now seen as so much more important," says Petra.
You can read up to 3 premium stories before you subscribe to Magzter GOLD
Log in, if you are already a subscriber
Get unlimited access to thousands of curated premium stories and 5,000+ magazines
READ THE ENTIRE ISSUE
May 28, 2020